Lowry-Chesson's Department Store
Introduction
The Lowry-Chesson building was built in 1897 and housed a retail store on the first floor and the theater upstairs. The Chesson Building is one of the historic commercial buildings in downtown Elizabeth City. Later, the theater closed. Chesson's Department Store operated there from the 1930s to 1999. Structural failure caused the building to collapse from within. In 1933, the building was purchased by Ernest Sinclair Chesson (1868-1948) who moved his department store, E.S. Chesson Company (founded in 1901) into the building. The Academy of Music, Elizabeth City's first major theatre house of this size, was host to numerous shows and entertainments.
Images
The original Chesson's Department Store in the 1800s.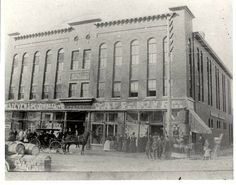 The Chesson's Department Store in the 1900s.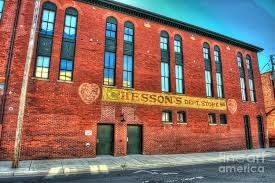 The Chesson's building is now known as "The Center."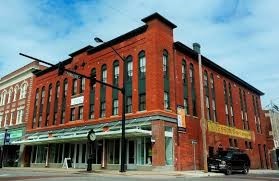 Backstory and Context
Although there is no known documentation, a local paper years ago reported that Clifton Webb of "Cheaper by the Dozen" movie fame and Thomas Mitchell, best known for his role of Gerald O'Hara in "Gone with The Wind" had once played here. The Academy was also used for many local events, including local commencement exercises, anti-saloon league meetings, and a variety of other meetings and recitals.

In March of 2009, the Arts of the Albemarle moved into the renovated historical Lowry-Chesson Building, now called The Center. The Center is in the beautifully renovated historical Lowry-Chesson Building, a flagship department store and cornerstone of commerce for downtown Elizabeth City, North Carolina, when constructed in 1895. The Center is now a world-class arts facility resulting from the community's $4 million preservation campaign. The Center houses The Jaquelin Jenkins Gallery, The Maguire Theatre and the School of the Arts.
Sources
1. Neighborhood Association, Elizabeth City Historic. From Chessons to the Center Three Lives. May 09, 2017. Accessed September 23, 2018. http://www.echna.org/documents/Program.pdf.

2. Hampton, Jeff. Grand old N.C. building gets brand-new start. March 29, 2009. Accessed September 23, 2018. https://pilotonline.com/news/article_4c309081-79b0-5f8a-a9ee-945264d522b0.html.
3. Company, North Carolina Limited-Liability. LOWRY-CHESSON BUILDING, LLC. February 29, 2016. Accessed September 23, 2018. https://www.bizapedia.com/nc/lowry-chesson-building-llc.html.