Isabelle Thursby House - 224 North Oak Avenue
Introduction
The residential structure was constructed in 1910 for the family of Louis P. and Mary Thursby. Today, the home is attributed to Louis' daughter Isabelle. "Belle" returned to her family's home after her retirement in 1949 from Florida State College for Women where she held the position as a Specialist in Food Demonstration. During her career, Isabelle conducted many experiments in budding, grafting, and laying of citrus. She was considered an authority on Florida fruits.
Images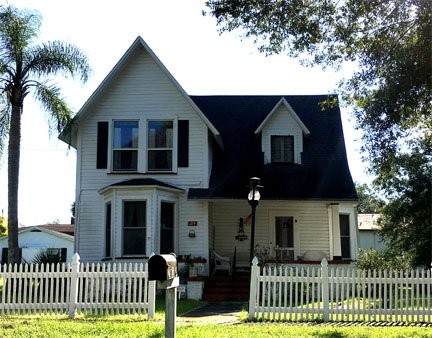 "C-22 Oak Ave., Looking South, Orange City, Fla." Post card c.1913. Thursby house is just visible on the left side. Courtesy postcard collection of Kimberly Reading.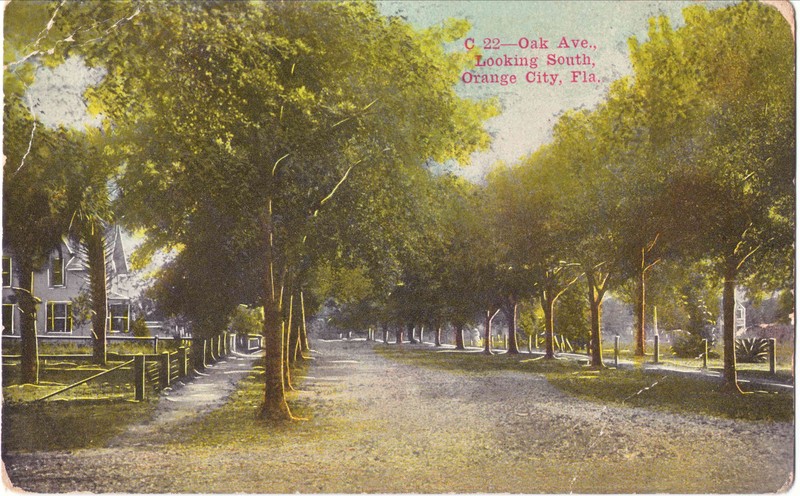 Backstory and Context
Louis P. Thursby built this house on North Oak Avenue as a winter home for his family as its location was close to the school. Their summer home was located at Blue Springs Landing where he was Landing-Master. Louis and his wife Mary had ten children.  Four children passed at birth or infancy, and Louis Jr. died at age six from a rattlesnake bite while putting the farm animals away for the night.
The home represents the Florida Frame Vernacular or Cracker architectural style, one of the characteristic styles of homes in the nineteenth and early twentieth-century in this area. The style is characterized by frame construction with clapboard or batten siding, one to two stories with either side gable, front gable, hipped or pyramidal roof with metal roofing. 
Today the house is known as the Isabelle Thursby House, the daughter of Louis and his wife, retired in 1949 to Orange City after a long career of teaching to her parents home.
Isabelle Thursby was educated at St Joseph's Academy in St, Augustine upon her graduation she taught a brief time in Georgia. Winning a scholarship in home economic from a private school in Worcester Massachusetts. Continuing her studies she attended the University of Chicago. While at the university she accepted a teaching position in Alaska where she remained for four years.
Her first position in Alaska was in Killinoos, a small fishing village in Juneau. She later moved to Juneau to teach home economic. Isabelle also went onto teach in California and then Arkansas in 1916 where she became the head of the Home Demonstration Department for the state.
Eventually Isabelle became a Specialist in the Food Demonstration Department at Florida State College for Women headquartered in Tallahassee. She traveled through out Florida for her work in food conservation. She found time to write bulletins for the Florida Agricultural Extension Services and Home Economics. Her bulletins can still be found on line today.She retired from the college in 1949.
In her retirement, Isabelle while at home and a grove she purchase on Merritt Island worked on budding, grafting and air layering of various citrus trees. She was very involved with civil rights and the Hollywood Cemetery in Orange City.
Isabelle died in 1970 at the age of 92.
Sources
https://lakehelen.com/Gateway/Frame%20Vernacular%20-%20Style%20Guide.pdf
Orange City (2018).Tour of Historic Homes and Buildings Saturday,December 8,2012 [Brochure]. Orange City,FL
LaFleur, J.(Ed.). (2000). Our Story of Orange City,Florida. Florida: Village Improvement Association, Inc.
Additional Information