Battle Of Kanawha Gap
Introduction
On September 25, 1861 Col. Piatt's Zouaves of the 34th Ohio marched on Confederate positions around Chapmanville.
Images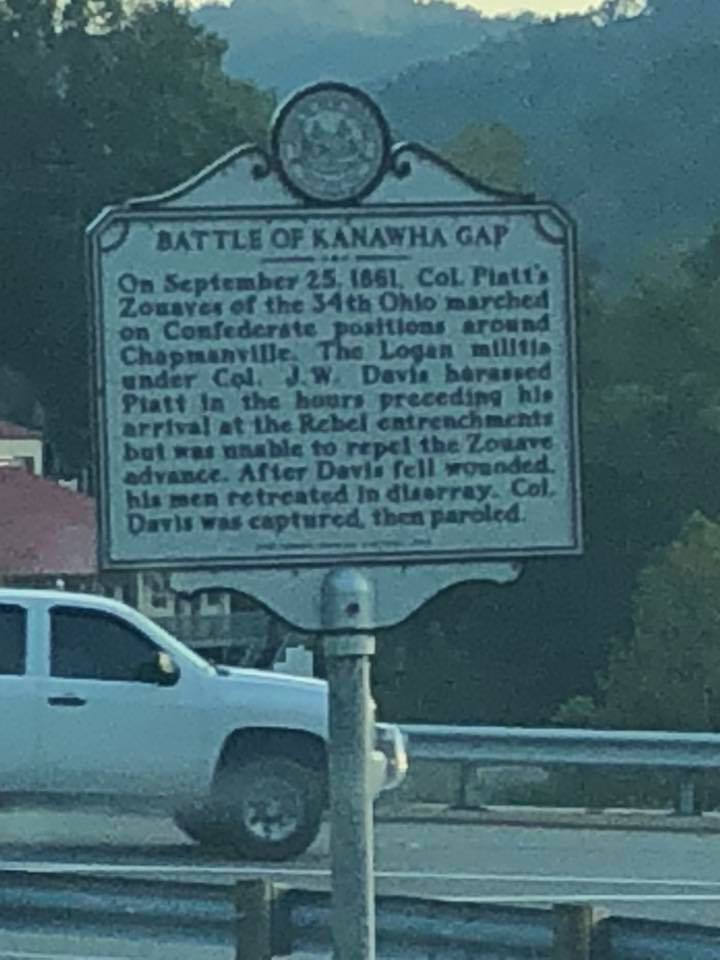 Backstory and Context
The force proceeded, meeting the enemy and exchanging shots with them briefly, and driving them back with increased confusion at each charge.
Being unable to know the exact position of the rebels, the entire force halted for a few minutes, and Colonel Piatt rode in advance and took observations, but could not see their force and position, as it was covered with a thick growth of underbrush. After these observations a command was issued to forward the troops. The scouts moved on quickly, the rest of the troops moved up the narrow road cautiously and quietly. The fire continued to increase, and shots were exchanged from the right and left with the enemy, until the advanced guard reached within sixty yards of their main force.
The troops were some eighty yards from the enemy when they received a perfect line of fire upon their right, indicating that the rebels were in that direction. Company A, commanded by Capt. Rathbone, was ordered to deploy as skirmishers to the right, up the side of the mountain, and if possible to flank the enemy on their left.
Company I, commanded by Capt. Anderson, was ordered directly up the ravine, on the left. In this position he drew the concentrated fire of the rebels upon his company, who made use of the knowledge thus obtained by rapidly charging upon and destroying the enemy's breastworks. The troops moved directly up the road. With this disposition of the forces, Col. Piatt routed them from their well-selected position, in confusion. Capt. Anderson was the first to mount their breastworks, his men following him in the face of a terrible fire without flinching or confusion.
The rebels, terrified by the strange bravery and almost wild enthusiasm that were exhibited by each advancing column, ran in confusion, leaving their dead, wounded, clothing, guns, horses, &c., making their escape by Capt. Rathbone's right, his company being too far up the mountain to cut off their retreat. Among interesting objects captured was a genuine secession flag, captured by Lieut. Brown. Col. Davis of North Carolina was captured and paroled.
Now all that is left of the site is a park and ride that sits above the little town.
Additional Information