Rockwood Cottage - 200 North Oak Avenue
Introduction
The Rockwood Cottage at 200 North Avenue is a contributing structure in the Orange City Historic District. The cottage was constructed in 1910 is an example of Florida Frame Vernacular or Cracker architectural style. Originally, the cottage had the classic front porch but due to much renovation the porch was enclosed with two large windows and shutters, a new entrance door and a small front porch. It is a two story dwelling with three upper bedrooms.
Images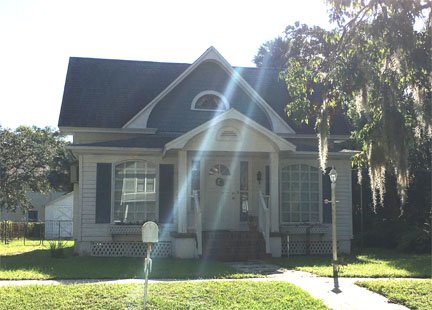 Backstory and Context
This residential structure was constructed in 1910 by an unknown owner. It represents a primarily Florida Frame Vernacular or Cracker architectural style, which is characteristic of the nineteenth and early twentieth century architecture in Florida. The style is known for its frame construction with clapboard or batten siding, one to two stories with either side gable, front gable, hipped or pyramidal roof with metal roof and a front porch.
In 1915 the house was owned by the Rockwood Family. Mr. Eugene Rockwood served as the president of the Orange City Tourist Club for two years. The Tourist Club was founded in 1935 to welcome newcomers to the city. The club usually had a short business meeting followed by socializing through card games, games dancing and sometime field trips.
Sources
https://lakehelen.com/Gateway/Frame%20Vernacular%20-%20Style%20Guide.pdf
Orange City (2018).Tour of Historic Homes and Buildings Saturday,December 8,2012 [Brochure]
LaFleur, J.(Ed.). (2000). Our Story of Orange City, Florida. Florida: Village Improvement Association, Inc.
Additional Information