Walden House - 110 North Oak Avenue
Introduction
The Walden House was one of the many houses built after the devastating freezes of the late 1890s. In 1904, James and Nella Walden purchased several lots along North Oak and East Graves Avenue. Included in their purchase was the former Pioneer Store building, which had fallen into disrepair. James demolished the building to make way for his new home in 1906.
Images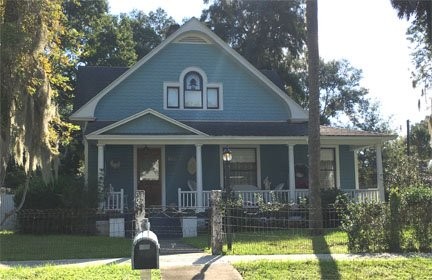 Backstory and Context
The residential structure was constructed in 1906 It represents a primarily Colonial Revival architectural style which was popular from 1880 - 1960. The style characteristics include a symmetrical facade,1-2 stories, porch with columns, a medium pitched roof, side gables with narrow eaves or hipped roofs and dormers.
Originally, the property was owned by Charles Smith who built the Pioneer Store in 1880. The city founders, in the upstairs of the Pioneer Store building, planned the incorporation of the city. They voted to name the town Blue Spring City, however, when John Stillman filed for the post office, he registered the name as Orange City. In 1904, James and Nella Walden purchased the building, which had been vacant for some time and demolished it to build their house. The Walden House was said to be a very modern cottage fitted with all the modern conveniences. The home survived the devastating fire of 1909 that destroyed many of the buildings on North Oak and East Graves Avenues.
The grounds contain the original woven wire fence and hand formed concrete posts, which were used to keep roaming livestock out of the yard. It also boasts native landscaping, which includes azaleas and sable palms making this structure and site an excellent example of Orange City's historic roots.
Sources
http://antiquehomestyle.com/styles/colonial-revival.htm
Orange City (2018).Tour of Historic Homes and Buildings Saturday, December 8,2012 [Brochure]. Orange City, FL
LaFleur, J.(Ed.). (2000). Our Story of Orange City, Florida. Florida: Village Improvement Association, Inc.
Additional Information