Tucker House - 447 North Oak Avenue
Introduction
Tucker House – 447 N. Oak Avenue This stately home was constructed in late 1909 for Richard M. and Julia Tucker. Their first home, located across Oak Avenue, was destroyed in Orange City's worst fire earlier that year. This two-story home exemplifies Classical Revival architecture with a symmetrical design and a semi-circular tiered portico on the primary façade.
Images
Tucker House, 2019. Photo by Ted Marsolek.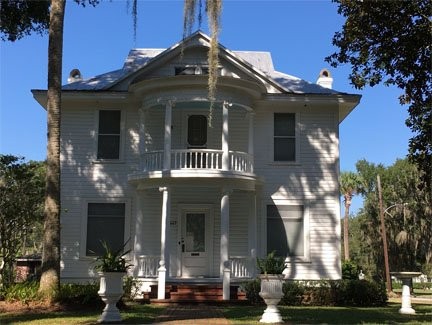 R.M. Tucker home - Orange City, Florida. ca 1910. Black & white photonegative. State Archives of Florida, Florida Memory. Accessed 2 Aug. 2019.<https://www.floridamemory.com/items/show/145556>.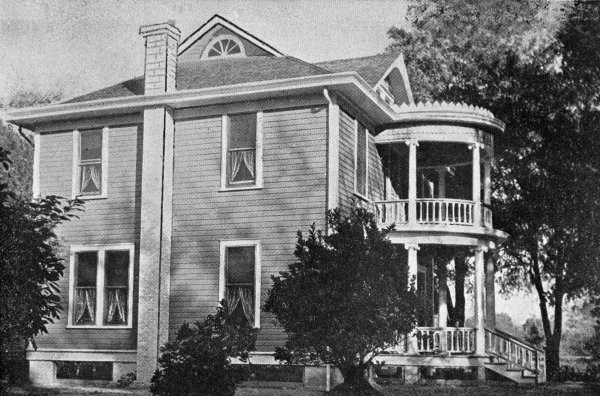 Backstory and Context
The original owners, Richard Madision Tucker and his wife Julia A. Phillips, came to Orange City during the winter months from Conway Massachusetts. They first arrived in the 1880s as investors in land and citrus. Julia's sister Mary also lived on North Oak Avenue with her husband Emmerson Markham in the former estate of William F. and Adele Leavitt. Mr. and Mrs. Leavitt had received the house as a wedding gift from her father Dr. Seth French. As winter residents, the Tucker's first residence in Orange City was a beautiful estate built about 1882. Their first home was often listed among "the finest homes in Volusia County". Unfortunately, the elaborate Folk Victorian wood framed house was reduced to ashes in a disastrous fire on March 9, 1909, along with seven other structures. The Tucker's did not wait long to use the insurance money rebuilding.
One of Orange City's most respected builders, Morris C. Wheldon, began construction of this two-story residential dwelling in July 1909. Mr. Wheldon had left Wisconsin in the 1870s to become an early pioneer of Orange City, contributing greatly to the development of town. His other remaining works include Reverend Halliday's home at 347 W. University Ave., the Wm. D. Heebner's packing house and barn at 620 Monastery Road, the Walden House at 110 N. Oak Ave., and the Congregational Church parsonage at 201 W. University Ave. He also is attributed to a home for James N. Proctor (of Proctor and Gamble) in Daytona as well as several structures at the Cassadaga Spiritualist camp.
This two-story dwelling represents Classic Revival architectural that was popular in Florida from 1895 to 1940. The gable-on-hip roof is surfaced with metal crimp panels. The semi-circular full-height portico directs your eyes to the entry. The columns are finished with iconic capitals and decorative shingles adorn the second-story frieze. The home is flanked by chimneys on the north and south elevations. Hardscape elements, such as a classical statue on the front lawn, compliment the styling of the home. The grounds contain native landscaping, including large oaks and a well manicure lawn making this structure and site an excellent example of Orange City's historic roots.  
Sources
Orange City (2018).Tour of Historic Homes and Buildings Saturday, December 8,2012 [Brochure]. Orange City, FL
Lafleur, Joan J.. Our Story of Orange City, Florida. Edition 4th. Orange City, FL. Village Improvement Association Orange City Woman's Club, 2000.
Johnston, Sidney. Goodwin, Gary V. Orange City Historic District. Tallahassee, FL. Bureau of Historic Preservartion, 2004. National Register of Historic places Registration Form.
Additional Information