Parkersburg Floodwall
Introduction
A four-year project completed by the Army Corps of Engineers in 1950, the Parkersburg floodwall is one of dozens of flood control projects initiated in West Virginia throughout the 1930s and 1940s to stem chronic seasonal disasters in key areas across the state. Still a key component in protecting the city today, the half-century old floodwall was in the limelight as recently as February 2018, when it failed to qualify for Corps of Engineers maintenance funding. Most of the wall's 10,400 linear feet are publicly accessible by a frontage road between the wall and the river, affording views of both the Little Kanawha and Ohio Rivers.
Images
A present-day view of the floodwall with its welcoming mural. Nearby is The Point, where a park allows visitors a recreational space at the confluence of the Little Kanawha and Ohio Rivers.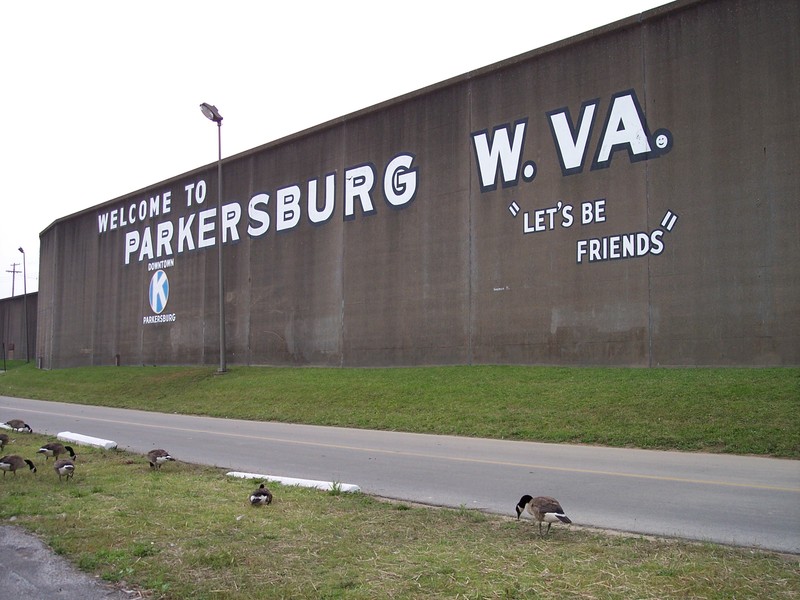 The 1913 flood still holds the record crest stage at 58.9 feet. This photograph from downtown Parkersburg illustrates its severity. Cities up and down the Ohio Valley were badly affected. Courtesy of HurHerald.com.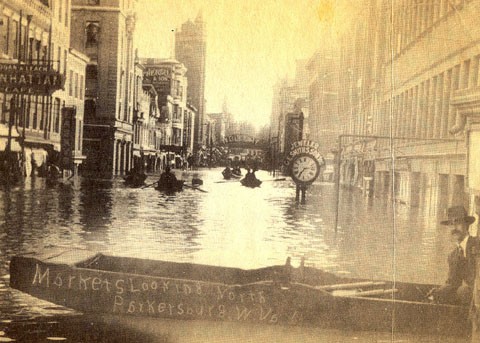 Framework and concrete pouring at the wall circa 1949-1950. The wall's concrete portion is two miles long. Courtesy of Artcraft Studio, Parkersburg, via ElectricEarl.com.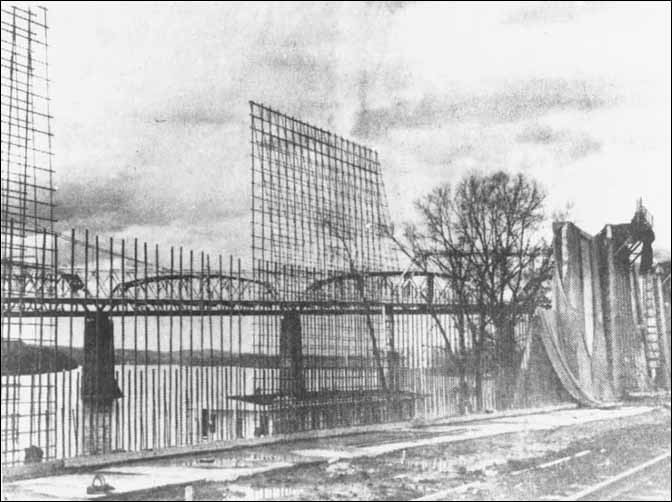 The Parkersburg riverfront in the early 1900s, devoid of protection and subject to frequent devastating floods.
A 1937 report from the U.S. Army Corps of Engineers detailing a comprehensive flood control plan for the region encompassing Parkersburg.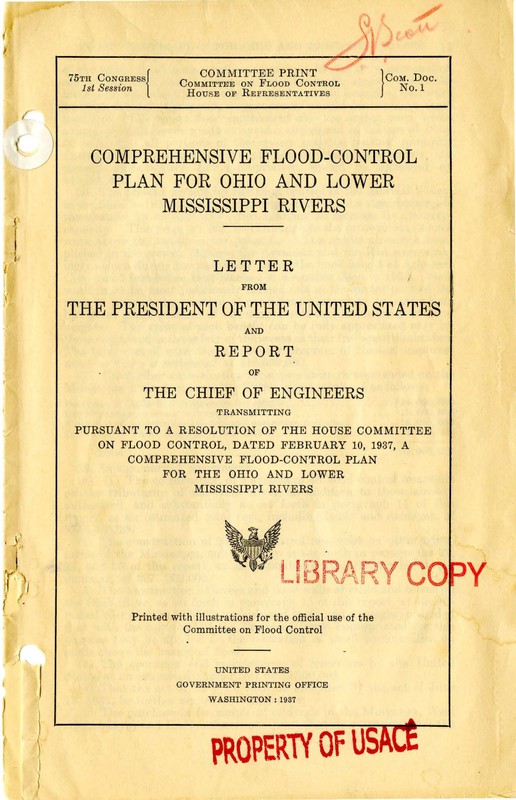 An excerpt from the above report, stating that flood control reservoirs throughout the region are not sufficient to protect Parkersburg, and that additional works will be needed.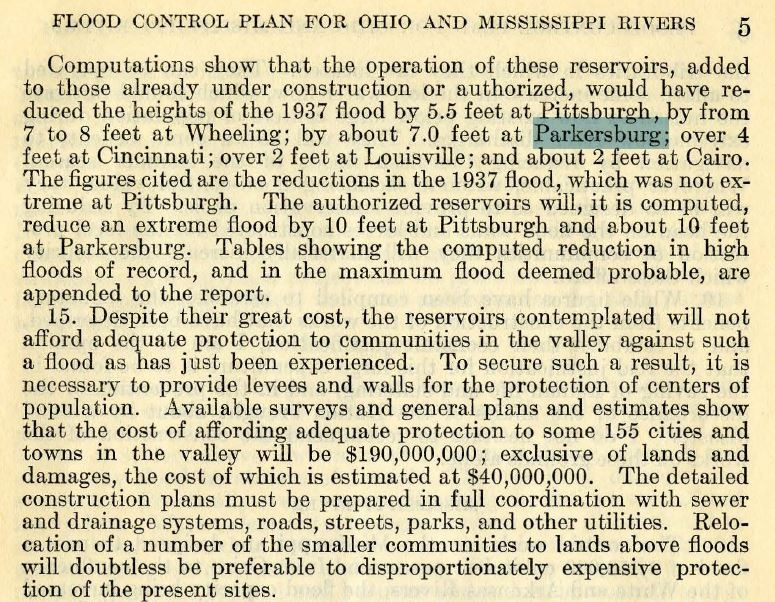 A panorama of the 1913 flood, which was included in a report of the same year by the U.S. Geological Survey (see links below). Library of Congress.

Aerial and caption from a 1979 report of activities in the Ohio Valley by the US Army Corps of Engineers. A later portion of the report states that damage prevented by the floodwall is estimated at over $18 million.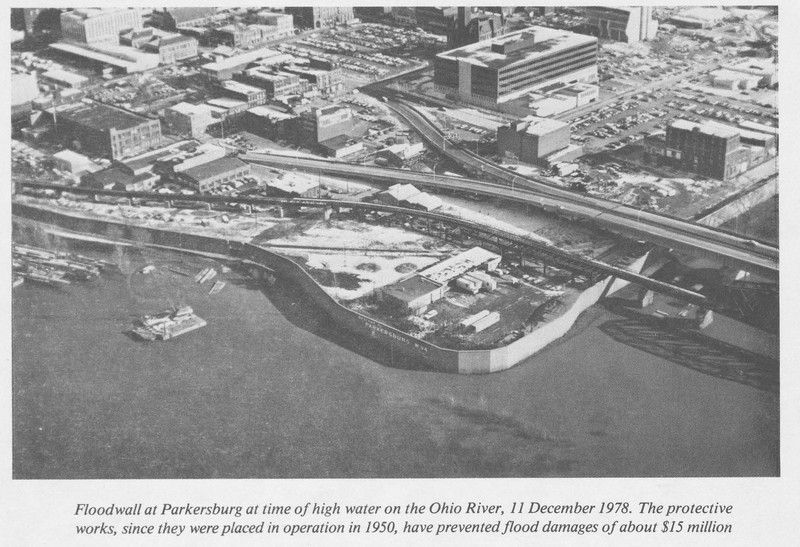 City personnel erect one of the gates to meet inspection requirements in 2017. Courtesy of News & Sentinel.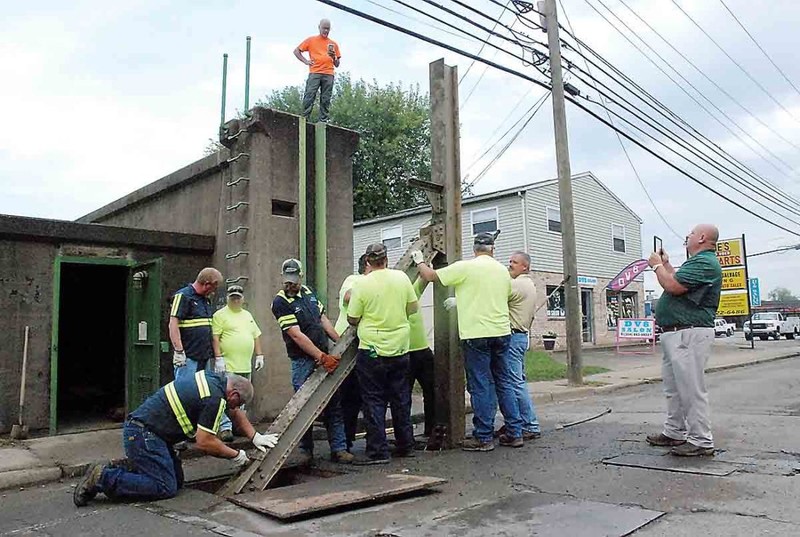 Excerpt from a 2010 report by the Mid-Ohio Valley Regional Council, showing flood levels since 1966.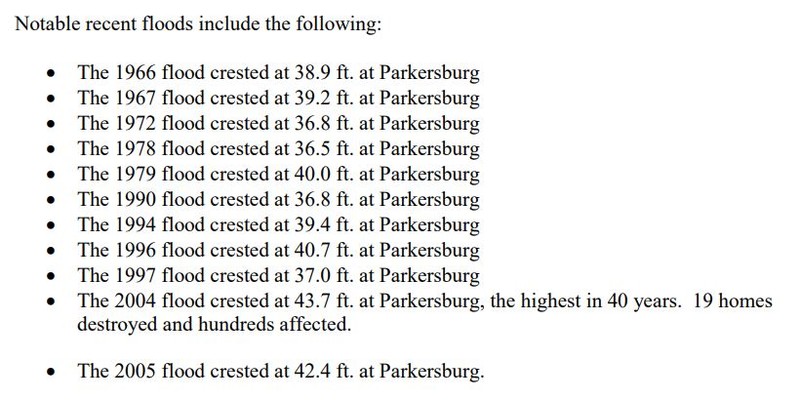 Backstory and Context
Like many cities in West Virginia, Parkersburg is no stranger to intense flooding. Its pedigree of historic inundations includes devastating deluges in 1884, 1913, and 1937, when finally the United States Army Corps of Engineers (USACE) began a broad slate of projects to curb catastrophic seasonal flooding throughout the Ohio Valley, Appalachia, and neighboring regions. Huntington, West Virginia, home to a slew of war industry plants during World War II, took priority and received a floodwall and other improvements not unlike those that would eventually protect Parkersburg.
As resources became available after war's end, the USACE began its extensive works at the confluence of the Little Kanawha and Ohio Rivers, protecting the city from the likeliest areas of flooding with 2 miles of concrete wall, 1.8 miles of earth levee, and 1,900 feet of diversion channel. The system has 6 pump stations and 14 gated openings for vehicular and pedestrian traffic. Excavations, concrete pouring, and other construction took almost exactly four years, from March 1946 to April 1950, but when complete it protected the heart of Parkersburg from a maximum flood height matching that of the record 1913 flood: 58.9 feet. The total cost was $6,953,000. Of this amount, $300,000 was furnished locally, with the remainder being provided by federal sources.
Since the installation of the wall, damage from flooding has been significantly reduced. As early as 1979, the USACE estimates the project as having prevented $18,748,000 in damages (though a caption earlier in the report estimates $15 million). Data gathered since bears out the importance of the bulwark: a 2010 Mid-Ohio Valley Regional Council report shows eleven floods between 1966 and 2010, only one of which (floodwaters resulting from 2004's Hurricane Ike) resulted in any significant damage.
In 2015, the city of Parkersburg was informed by the USACE that the state of the wall was "unacceptable" and would not be eligible for Corps of Engineers maintenance funds due to inspection shortcomings. In the intervening years, the city has worked to meet these requirements: assembling the gate at Murdoch Street, which had never previously been installed due to the resulting obstruction of traffic, and commissioning an inspection of underwater pipes and conduit, which was still underway as of early 2018.
Sources
Casto, James E. "Flood Control." e-WV: The West Virginia Encyclopedia. 21 March 2016. Web. 19 September 2018.
Blatz, William, Copyright Claimant. Flood view of Parkersburg, W. Va. Parkersburg United States West Virginia, ca. 1913. Photograph. https://www.loc.gov/item/2007663031/.
"Parkersburg floodwall deemed unacceptable; city disagrees."
Charleston Gazette-Mail
(Charleston)November 10, 2015. , News sec. https://www.wvgazettemail.com/news/parkersburg-floodwall-deemed-unacceptable-city-disagrees/article_d2fe901c-7235-50b9-a366-b2e1b4450e36.html
"Extreme Weather: Flood of 1913 was destructive in MOV."
Parkersburg News & Sentinel
(Parkersburg)April 25, 2018. . http://www.newsandsentinel.com/news/local-news/2018/04/extreme-weather-flood-of-1913-was-destructive-in-mov/
Additional Information