The Childhood Home of Vice Adm. Samuel Lee Gravely Jr.
Introduction
The Virginia Department of Historic Resources (DHR) plans to place a historical marker at this location, the childhood home of the first African American Naval Vice Adm. Samuel Lee Gravely Jr. The effort to create this marker dates back to 2011, and plans are in place to hold a marker dedication ceremony in 2019. Samuel Gravely made his mark by breaking racial barriers during his military career that started in 1942 and spanned 38 years. During those years, Gravely served in WWII, the Korean War, and Vietnam. Gravely joined a military during the era of segregation and rose to the rank of Vice Admiral. In addition to this marker, the Navy named a destroyer in his honor in 2010. The city of Richmond also renamed a street near his old home Admiral Gravely Boulevard.
Images
This marker has been approved to be placed at the site of Vice Adm. Gravely's childhood home in Richmond, VA in addition to the street that has already been named in his honor as Adm.Gravely Blvd.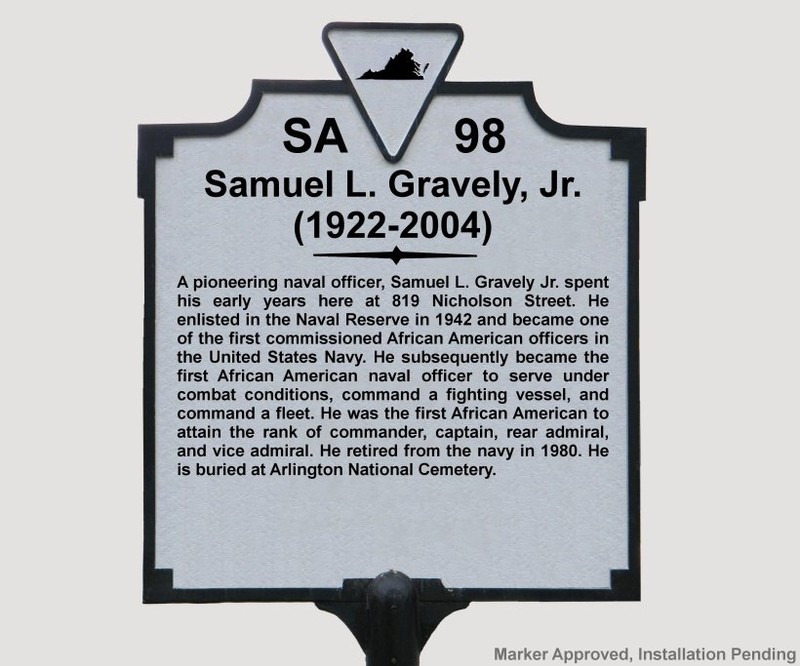 Vice Adm. Gravely is pictured beside the destroyer that, after his passing, was named in his honor as the USS Gravely in a ceremony at Norfolk Naval base.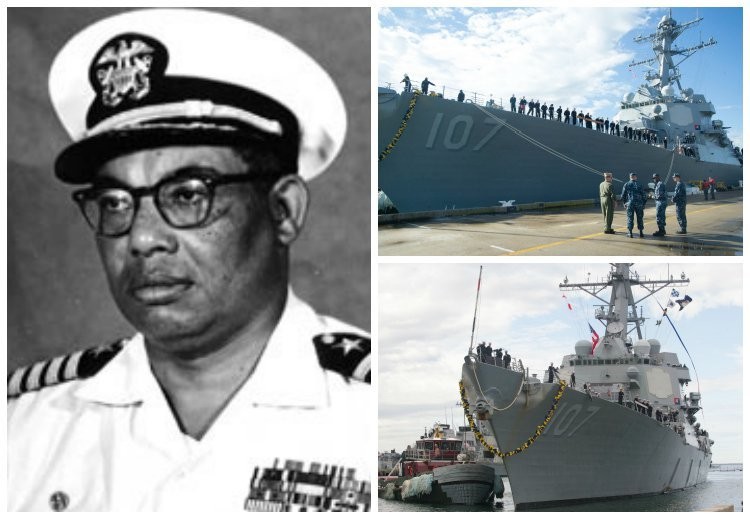 Vice Adm. Gravely died on October 22, 2004 due to complications from a stroke and was buried in Arlington National Cemetery.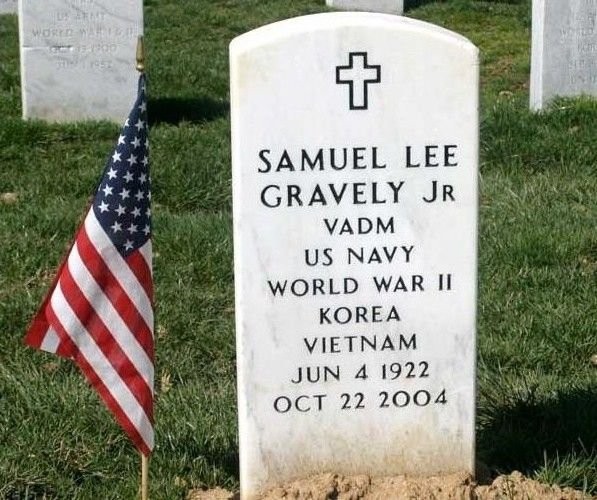 Backstory and Context
Future Vice Adm. Gravely grew up at this home on Nicholson Street. His mother passed away in 1937 when Gravely was 15 years old. He was raised by his father, a retired army veteran, and had three siblings. According to Gravely, in his memoir Trailblazer The U.S. Navy's First Black Admiral, living in this home instilled in him the values of hard work due to the fact that Gravely took an active role in the care of his younger siblings after his mother's passing. This was also the home in which Gravely heard of the attack on Pearl Harbor that effectively sent the United States into what would become one of the bloodiest conflicts in modern history.
Gravely soon realized that he was either going to be drafted into service which would result in an unfavorable placement or he could attempt to beat the system by enlisting ahead of the draft to get a better position. Before deciding on the Navy, Gravely attempted to enlist in the army, but was turned away because of a mysterious "heart murmur" that was undetectable to civilian doctors. Gravely decided to enlist in the Navy on September 15, 1942.
Gravely took advantage of a program similar to the ROTC and went to college at UCLA until 1944. He also went to midshipman's school and the Great Lakes training center. He was transferred six weeks later to his first assignment overseas. According to Arlington National Cemetery's article "African American History at Arlington Cemetery", Gravely's first assignment to PC1264 in 1945 made the future Vice Adm. the first African American to serve on a fighting ship. This submarine chaser was the only naval ship, other than the destroyer escort Mason, that had had white officers and Black enlisted sailors. Although the ship was stationed to be deployed to the Pacific, it and Gravely never saw combat in WWII due to the fact that the war against Japan ended in August of 1945 before the crew finished training.
At the end of WWII, Gravely married his wife Alma and was discharged to inactive duty from the Navy to finish school. His education and service record provided Gravely with the opportunity to continue his military service as a lieutenant before applying for active duty in 1949, one year after President Truman commissioned the desegregation of the military. The future admiral returned back to military service as a recruiter and finished his degree in history.
In 1955, Gravely left the naval reserves and went back to active duty. In 1962, Gravely became skipper of the destroyer USS Fairgot. This promotion made Gravely the first African American to be placed in charge of a warship. The main role of the Falgout was to patrol the US nuclear weapon test sights in the Pacific Ocean during the Cold War with Russia. After the closing of the Pacific Nuclear tests, and the fallout surrounding the Cuban Missile Crisis Gravely was promoted to commander. This placed Gravely in a position of authority over a predominately Caucasian crew.
On June 7, 1963, Gravely finished his time of the Falgout where he was sent to Naval War College and assigned a position with the Defense Communications Agency. He was later assigned to the Taussig in January of 1966 and served in Vie. On May 26, 1966, the Taussig was involved in a naval conflict on the Saigon River that involved trailing a Soviet ship. On November 25, 1966 Gravely and the Taussig crew returned to the states before being deployed again on December 28, 1967 which involved a show of force operation and a brief stint in Malaysia where Gravely was able to transfer command of the vessel to return home where he was promoted to captain.
Soon after returning home, Gravely found out that he had been chosen to head a major naval commanding position aboard the Jouett on May 22, 1970. The Gravely was assigned to monitor ships that tried to pass into the Tonkin Gulf and to monitor air traffic. After coming home from deployment at a change of command ceremony on June 2, 1971, Gravely was promoted to Rear Admiral and moved to Arlington where he served as the Director of Naval Communications and of Naval Telecommunications. This promotion made Gravely the first African American promoted to the rank of Rear Admiral in the Navy.
After about a year in Arlington, Gravely went on to get deployed to the be commander of Cruiser-Destroyer Group Two which was based in Charleston, SC. Gravely was in charge of the tactical commanding on exercises aboard the fleet due to his position as the senior flag officer. After leaving Charleston, Gravely went to San Diego to take Rear Admiral Filmore B. Gilkerson's position aboard the Eleventh Naval District before becoming Commander of the Third Fleet in Kahoolawe, Hawaii, in 1976. Gravely was placed in charge of training the fleet, conduct joint fleet exercises with the Canadian navy along the west coast, and served as a public figure for the navy. Gravely stayed on the Third Fleet until moving to a position with the Defense Communications Agency until the summer of 1980 when Vice Adm. Gravely retired with 38 years of service.
Sources
1. "African American History at Arlington Cemetery." Arlington National Cemetery, Accessed September 20, 2018. https://www.arlingtoncemetery.mil/Explore/Notable-Graves/Minorities/African-American-History-at-ANC.
2. Bayot, Jennifer. "Samuel Gravely Jr., 82, First Black Admiral in Navy, Dies." The New York Times, last modified October 26, 2004. https://www.nytimes.com/2004/10/26/obituaries/samuel-l-gravely-jr-82-first-Black-admiral-in-navy-dies.html.
3. Gravely Jr., Samuel Lee and Stillwell, Paul. Trailblazer The U.S. Navy's First Black Admiral. Annapolis, MD: Naval Institute Press, 2010.
4. Loux, Jennifer. Email message and to Virginia's DHR correspondent, September 25, 2018
5. Moody, Ron. "Adm. Samuel Lee Gravely, Jr." Find A Grave. Last modified 2018. https://www.findagrave.com/memorial/9701672/samuel-lee-gravely.
6. "Samuel Lee Gravely, Jr. (1922-2004) Marker, SA-98." Marker History.com. Last modified 2018. http://www.markerhistory.com/samuel-l-gravely-jr-1922-2004-marker-sa-98/.
7. Wise, Scott. "Named for Richmond vice admiral, USS Gravely returns to Virginia." CBS 6. Last modified November 19, 2013. https://wtvr.com/2013/11/19/uss-gravely-returns-to-Virginia/.



Additional Information