Trout Hall
Introduction
Built as a summer home for James Allen and his family in 1770, Trout Hall has also been part of a seminary, military academy, prep school and college. Built in the Georgian style, Trout Hall is the oldest home in Allentown and is now under the management of the Lehigh County Historical Society which uses it as a period and Revolutionary War Era museum. It stayed within the Allen family until it was sold to an outside interest in 1847. It was eventually purchased by the City of Allentown in 1908 and restored to its colonial status by 1918. It has been listed on the National Register of Historic Places since 1978.
Images
Trout Hall is considered the oldest surviving home in Allentown.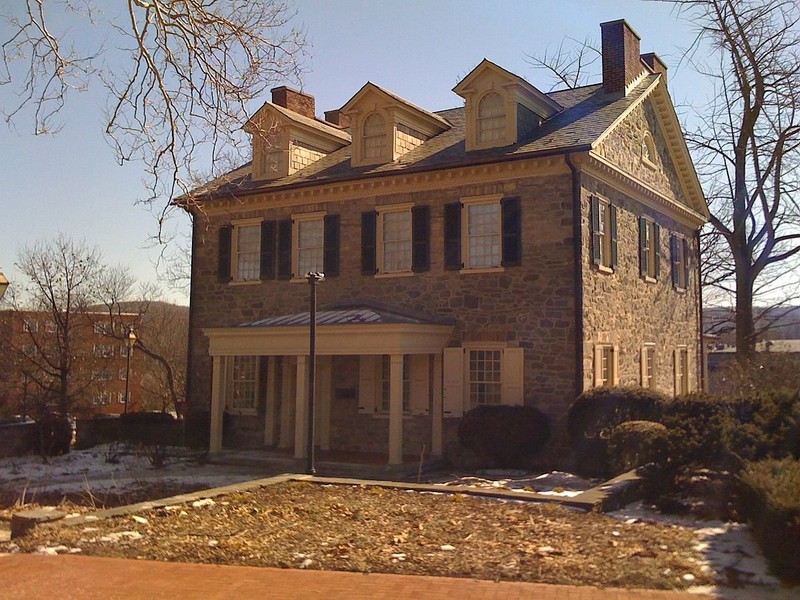 The restored parlor within Trout Hall, to include one of its numerous fireplaces.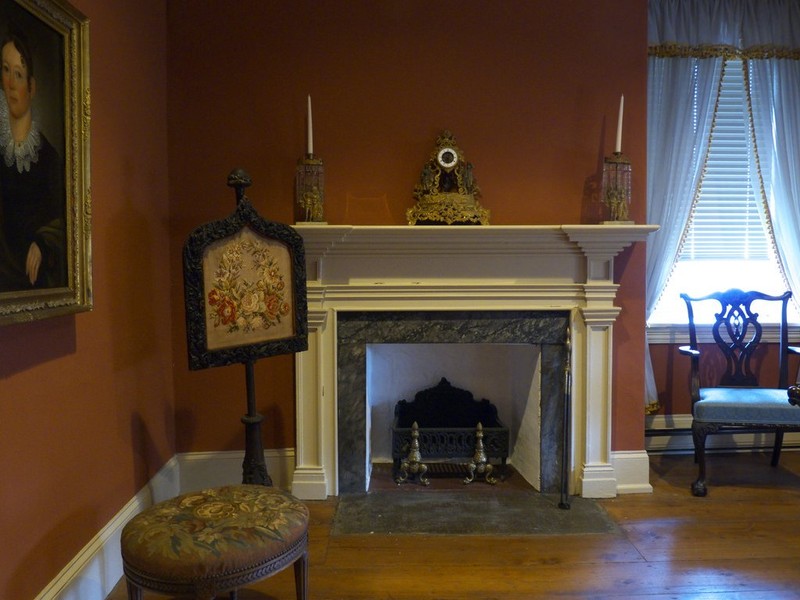 One of the bedrooms located in Trout Hall.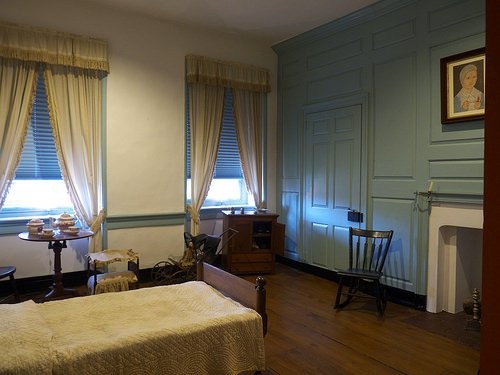 Trout Hall on a winter's day.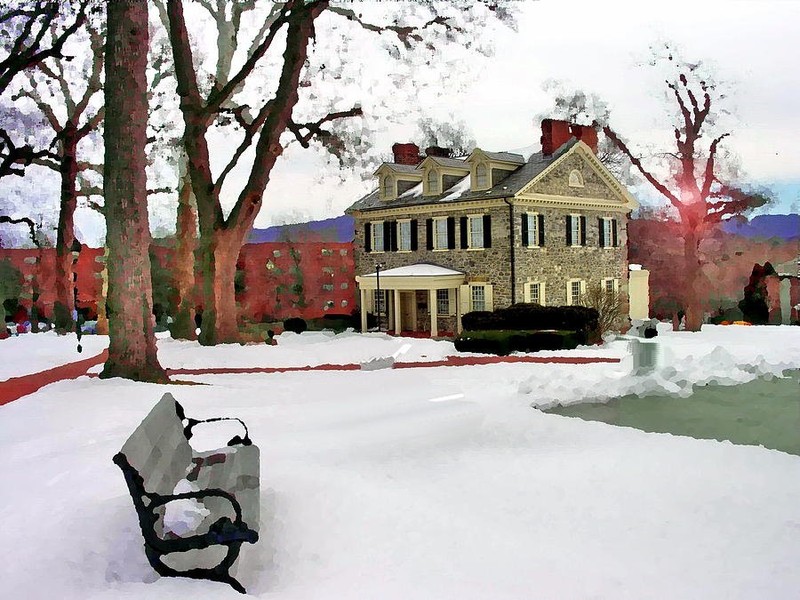 An artist's rendition of Trout Hall during the Colonial Era.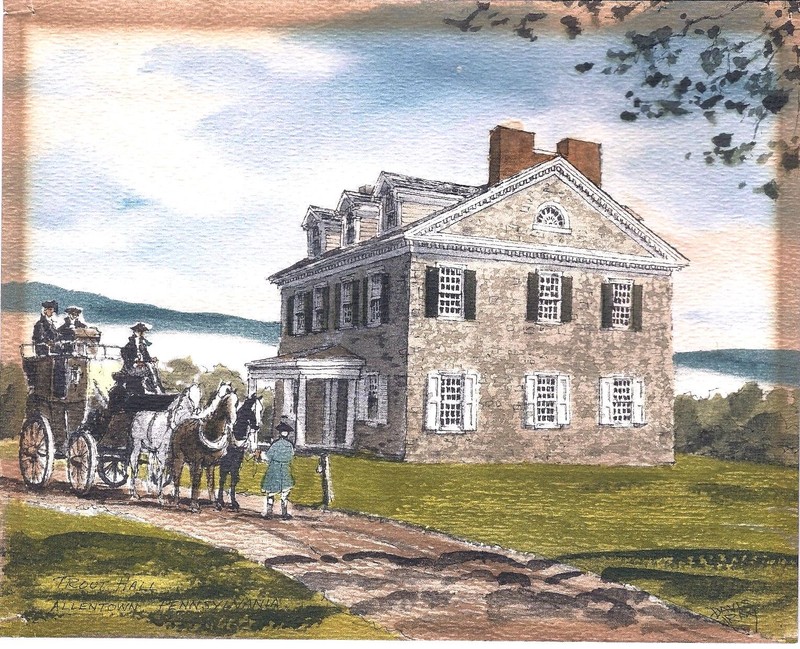 Backstory and Context
James Allen was the third son of wealthy Philadelphia merchant William Allen. William was also very much involved in colonial politics, serving as the mayor of Philadelphia, city councilman and provincial assemblyman, among other positions. William eventually purchased 5,000 acres about 60 miles north of Philadelphia in 1735 and laid out plans for a 42-block town that he called Northampton Town. However, most took to calling it Allen's Town and it officially became known as Allentown in 1838. William then bequeathed the town and land to his son, James, in 1767.
James graduated college in 1759 and attended law school in London. He was elected common councilman in Philadelphia in 1767 and later, assemblymen. As a result, he spent most of his time in Philadelphia, but managed to visit Allentown enough to warrant the construction of a summer home there. Trout Hall, named after his father's hunting lodge, was the result. The 2.5 -story, stone structure featured a basement kitchen with walk-in fireplace, while its first floor contained a living room or long hall, bedroom, and parlor, all with fireplaces. The second story was originally unfinished.
James Allen, a Loyalist, died of TB in Philadelphia during the Revolution in 1778, two years prior to the death of his father. After his death, his wife, Elizabeth nee Lawrence, and their daughters utilized Trout Hall and its surrounding 812 acres until 1789. It was then left vacant until 1825. In that year, Allen's eldest daughter, Anne Penn Greenleaf, gave the building and surrounding land to her daughter, Mary Allen Livingston, and it was renamed The Livingston Manor. It was sold in 1847 and sold again to the interests of the Allentown Seminary in 1848. It later became part of the Allentown Collegiate and Military Academy and later, the original site of Muhlenberg College. All three entities constructed significant additions to Trout Hall. When the college relocated, Trout Hall was leased to the Allentown Preparatory School and was purchased by the city in 1908. The prep school continued to occupy Trout Hall until 1915.
The Lehigh County Historical Society, founded in 1904, and the Daughters of the American Revolution then lobbied the city to restore the hall back to its colonial status and utilize it as a period museum. That restoration took place from 1916-1918 when the later additions were removed and Trout Hall took on its original appearance. Today, it sits adjacent to the Lehigh Valley Heritage Museum and serves as an 18th century period museum.
Sources
Maybe, Allen & Susan Zacher. "National Register of Historic Places Nomination Form." United States Department of the Interior/National Park Service. December, 1977. Accessed September 13, 2018. http://www.dot7.state.pa.us/CRGIS_Attachments/SiteResource/H000744_01H.pdf
Fallon, Dan & Kim Webster. "Allen's Town and Trout Hall." Pennsylvania Center for the Book. Spring, 2009. Accessed September 13, 2018. https://pabook.libraries.psu.edu/literary-cultural-heritage-map-pa/feature-articles/allens-town-and-...
Roberts, Charles. History of Trout Hall (1770-1918), Home of the Lehigh County Historical Society. Archives. 1918. Accessed September 13, 2018. https://archive.org/details/historyoftroutha00lehi
Additional Information