Montgomery Hall, Muskingum University
Introduction
Originally planned in 1917, the Administration Building was planned to be built. This changed when America joined World War I. The building plans had to be pushed back and the wait lasted 4 long years. After the war, the idea of an Administration building came back to the table and this time, the plans began. Completed in 1920, the Administration Building was alive and welcomed to the Muskingum campus. When classed began in 1921, the building was in full use and began its life at Muskingum. Later on down the road, the Administration Building will be renamed Montgomery Hall to honor the twelfth president of Muskingum, John Knox Montgomery. Still standing tall where it was originally built, it continues to perform its jobs as the homebased of the administrators.
Images
Twelfth president of Muskingum College, John Knox Montgomery.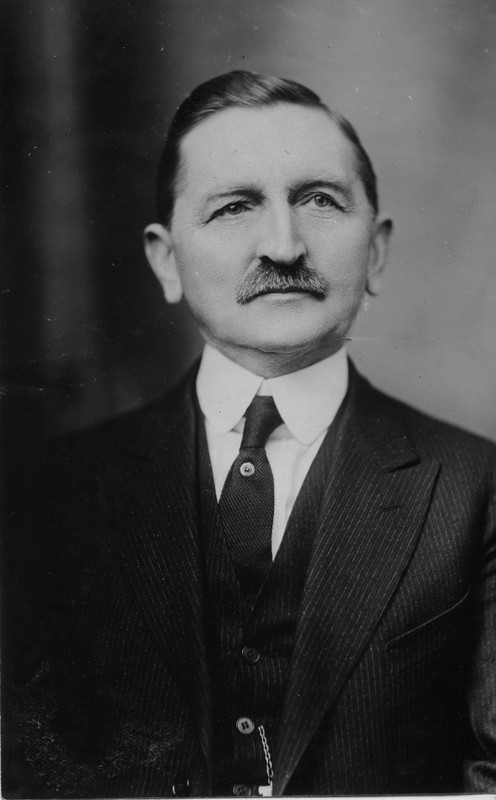 John Knox Montgomery walking in front of Montgomery Hall
Aerial view of Montgomery Hall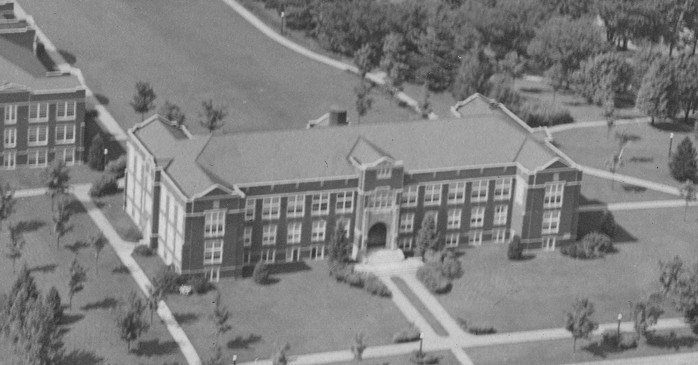 Backstory and Context
Before the dedication to Montgomery, the building was called the Administration Building. The anticipated date to begin on this new building was May 1917. This did not happen because of the outbreak of World War I and the cost for labor with supplies would exceed their limit. As the First World War came to an end, Muskingum was only beginning to expand. With young college men being drafted because of the Selective Service Act in 1917 by Congress, allowing President Woodrow Wilson to call a draft. Colleges like Muskingum had young men join the military and put college aside. When the war ended, soldiers were coming home, and schools were beginning to fill the classrooms again. Muskingum need to grow along with the mass of student that were attending.
The plans for Montgomery Hall were not approved by the Board of Trustees until June of 1919. November, later that year, was when Montgomery Hall began to arise. After a year of building, by January of 1921 the new Administration building was fully completed and was in complete use. Montgomery Hall is 190 feet in length and a width of 86 feet. The main floor of the building had 12 offices occupied by the administration, which two of them were fire proof vaults, and a factually room. On the main floor were also three lecture rooms, an office for a professor with eight classrooms and, the women's restroom. This building would contain executive offices, 18 recitation rooms, 4 literary society halls, and various rooms in the basement used for locker storage, department of economics, physician's office, mechanical drawing room, and a well-lighted room for the classes held by the agriculture department. This goal of Montgomery Hall was to be the best administration building in Ohio. The building had splendid and stunning hardwood with grand furnishings to set the building to the top.
Montgomery Hall was named after the twelfth President of the University, John Knox Montgomery. Dr. Montgomery began his presidency in September of 1904, however, his inaugurated wasn't until a few months later that took place on November 8th. John Knox Montgomery was a Minister originally from Charlotte, North Carolina and moved to New Concord, Ohio after accepting the President position from Muskingum College. This was a change to the Montgomery family in 1904 when John Knox became President. New Concord, at this time, was a small village with no electricity and pluming. Arriving to an undeveloped town from a well-established and well-known town was something that the Montgomery family had to work with. John Knox Montgomery transformed Muskingum to an institution of faith and excellent education. Dr. Montgomery also expanded Muskingum from a one-acre campus to an eighty acres campus of endless opportunities. The Administration Building was dedicated to John Knox Montgomery by the Trustees of the College during his presidency at Muskingum.
With a new build in mind, there is usually a budget that comes with that build. The original funding goal for this Montgomery Hall was to 250,000. If Muskingum did not wait to build Montgomery Hall until after the war, the prices of supplies would have been twice as expensive to use. Montgomery Hall came to a total of 200,000 dollars (50,000 under the original goal), which today will be equal to 2,520,060 dollars. John Knox Montgomery was able to achieve his goal to build more building, like Montgomery Hall, for Muskingum by the good will of small donations to the College. Montgomery Hall was built mostly on the funds that a Miss Arbuckle donated. Miss Arbuckle donated a total of 290,000 to the College in 1919. 290,000 would be converted to 4,224,378.03 dollars in today's funds. Without the help of Miss Arbuckle, it would have been harder to come up with the money Muskingum did.
Today the building still stands where is was originally built. With no incident of a fire, natural disaster, or war, Montgomery Hall still looks the same on the outside as it did before. While taking a step inside might show a different picture from how it originally was built. There have been some renovations done to the first and second floors. The second floor of the building is still used for classrooms, but some offices have been moves up to the second floor for more space on the first floor. The basement of the building is where a lot of storage for the offices are held, however, there are also some offices that use the basement like Human Resources, Muskingum's Counseling Services and the men and women's restroom.
Sources
Giffen, Heather. Kerrigan, William. & Worbs, Ryan. The Campus History Series: Muskingum College. Charleston, SC. Arcadia Publishing, 2009.

Fisk, William L. A history of Muskingum College. New Concord, OH. Muskingum College, 1978.

College Catalog. Vol. 3. 80. New Concord, Ohio. Muskingum College, 1917-1918.

College Catalog. Vol. 13. 81. New Concord, Ohio. Muskingum College, 1918-1919.

College Catalog. Vol. 2. 84. New Concord, Ohio. Muskingum College, 1921-1922.