Veteran's Park Memorial
Introduction
This memorial was built in Baldwin County Bicentennial Park to commemorate those who gave their lives in the Revolutionary War, War of 1812, Indian Wars, Confederate Wars, WWI, WWII, the Vietnam War, the Korean War, and the War on Terrorism. There is a separate monument for each war with an inscription on it around an American Flag in the center of the semicircle formed by the monuments.
Images
Photo of the reverse side of the War on Terrorism marker. Taken by Mark Hilton, August 22, 2018.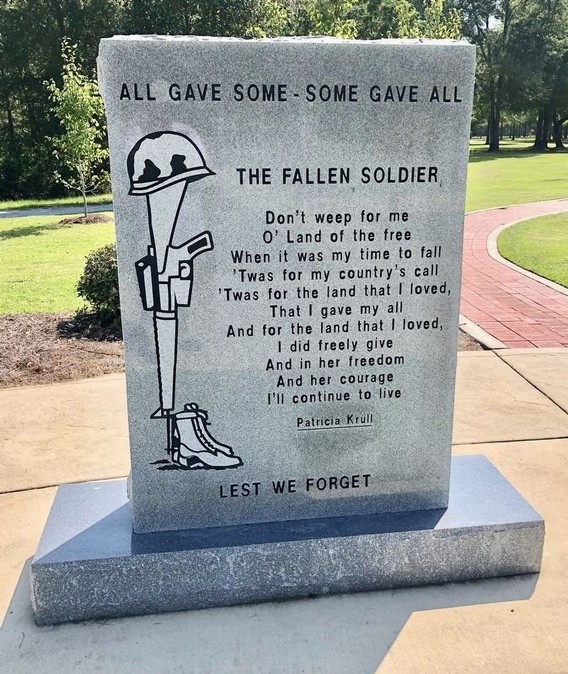 Backstory and Context
There are 10 stone markers in the small section of Baldwin County Bicentennial Park. These markers were erected to commemorate those who fought in the worst wars of humanity, defended freedom when tyranny threatened, and selflessly gave their lives for those reasons.

The War on Terrorism marker reads: "From the bitter cold winter at Valley Forge to the mountains of Afghanistan and the deserts of Iraq, our soldiers have courageously answered when called, gone where ordered and defended our nation with honor."

The reverse side of the War on Terrorism marker bears another inscription for the all fallen soldiers which consists of the following poem by Patricia Krull: "Don't weep for me O' Land of the free when it was my time to fall 'twas for my country's call 'twas for the land that I loved that I gave my all and for the land that I loved, I did freely give and in her freedom and her courage I'll continue to live".

Sources
Veteran's Memorial Park. . Accessed September 13, 2018. http://baldwincountyal.gov/departments/archives-history/historic-bicentennial-park/exhibits/veterans-memorial-park.

Hilton, Mark. All gave some - Some gave all. HMdb.org. August 28, 2018. Accessed September 13, 2018. https://www.hmdb.org/marker.asp?marker=122607.