Treasure Island Naval Base and Museum
Introduction
Treasure Island military base closed in 1993 and its museum followed suit four years later. Local historians maintain its collections and the heritage of the island and its military base. Community members hope to support the creation of a new museum in its former location, a historic structure known as Building 1.
Images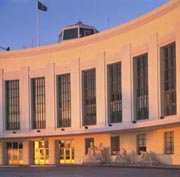 Backstory and Context
During the tensions of World War II, Treasure Island became part of the Treasure Island Naval Base and operated as a communications training school for electronics and radio. The base was also used as the Navy's main departure and receiving point for sailors out in the pacific and also served as an auxiliary airfield for airships, planes, blimps, and seaplanes.
The man responsible for developing the naval station and airfield was Rear Admiral Hugo Wilson Osterhaus, for whom the square in front of the Administration Building was named in his honor. The three theater complexes on the base were dedicated in honor of fallen World War II heroes Doris Miller, Edward O'Hare, and Gunnery Sergeant John Basilone.
After the war was over, the government established a center for nuclear decontamination on the island. The center was used primarily to train crews in radioactive detection and cleanup, with a full-scale replica of the USS Pandemonium built as a training area. This ship was used until 1969 when it was moved from the island, before being scuttled in 1996.
After being selected for closure in 1993, Treasure island and the Presidio Army Post were decommissioned from service in 1996 and opened up to public control. The island is now part of District 6 of the City and County of San Francisco, though it's still owned by the navy.
Sources
Treasure Island Bases. Former Bases. Accessed April 13, 2017. http://www.formerbases.com/cal_no_treasureisland_history.htm.

Historic California Posts, Camps, Stations and Airfields Naval Station, Treasure Island. Military Museum. Accessed April 13, 2017. http://www.militarymuseum.org/NSTI.html.

Full text of "The Naval history of Treasure Island". Archive. Accessed April 13, 2017. https://archive.org/stream/navalhistoryoftr00unitrich/navalhistoryoftr00unitrich_djvu.txt.


Additional Information