Pinehurst Golf Resort
Introduction
Pinehurst Golf Resort has been the site of some of golf's major championships. The Number 2 Course is considered to be one of the most important golf courses in history because of its value in those championships, especially because of those who won there. There are nine courses and one short course that anybody can play. One can stay in several inns, hotels, and condos while enjoying their visit at the gold resort. The Number 2 Course was designed by legendary golf course architect Donald Ross, who designed other well-known golf courses, such as Oakland Hills in Michigan.
Images
The 17th hole at Pinehurst #2.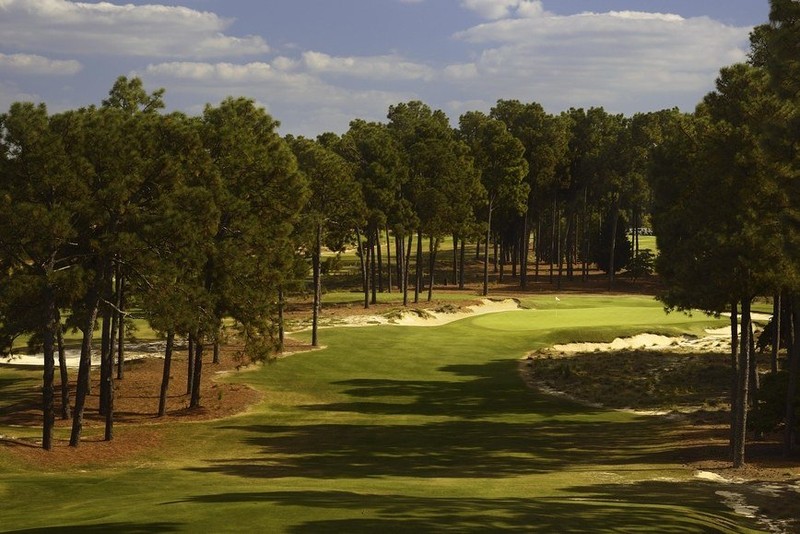 Backstory and Context
Pinehurst Golf Resort is a very famous stop since the Number 2 Course has hosted several major championships. It had the unique distinction of hosting the US Men's and Women's Open in the same year: 2014. It also hosted the US Men's Open in 1999 and 2005. The 1999 US Open was the last major victory for Payne Stewart, who died later that year in a plane crash.
The course was designed by Donald Ross, a legendary golf course designer. In addition to Pinehurst #2, he also designed the Oakland Hills South Course in Michigan, another legendary site for major championships. After several redesigns, the course was returned to its original condition by legendary golfers Ben Crenshaw and Bill Coore, who were in a golf course architecture business at the time.
In 2014, Martin Kaymer won the US Men's Open and the US Women's Open was won by Michelle Wie. Both winners won on Pinehurst #2.
Arnold Palmer had this to say about Pinehurst #2:
... I have great memories of visiting Pinehurst in the old days. For a kid from Latrobe to visit the golf capital of the world was a special treat.
The resort also offers a spa, and the iconic clubhouse and Carolina Hotel. The Holly Inn was the first hotel on the property, being established in 1895. Other places to stay include the Manor Inn and the condominiums.
There are nine courses and a short course that anyone can play, which were designed by the likes of Ross, Tom Fazio, and Jack Nicklaus.
The US Men's Open will return to the #2 Course in 2024.
Sources
Beall, J. (2015) The 10 Best Golf Courses From Donald Ross. Golf Digest. Accessed September 08, 2018. https://www.golfdigest.com/gallery/the-10-best-golf-courses-from-donald-ross.
Pinehurst 2. (2108). Pinehurst, LLC. Accessed September 08, 2018. https://www.pinehurst.com/golf/courses/no-2/.
Pinehurst Resort. Plan Your Stay. Accessed October 28, 2018. https://www.pinehurst.com/plan-your-stay/?nck=8557031137&gclid=CjwKCAjwvNXeBRAjEiwAjqYhFmIYkmQ8BtVSyoL_nI1BWxlV-wLQtq2vcQCZAOVi3SgezfNFAMHF4xoC89wQAvD_BwE.
Pinehurst Tournament History. (2018). Pinehurst LLC. Accessed September 08, 2018. https://www.pinehurst.com/golf/pinehurst-tournament-history/.
Remembering Payne Stewart 15 Years After Tragic Death. (2014). PGA of America. Accessed September 08, 2018. https://www.pga.com/news/golf-buzz/remembering-payne-stewart-15-years-after-tragic-death.
Image Sources
Photo: Golf Digest

https://www.golfadvisor.com/destinations/91-pinehurst-nc/

Additional Information