A. Schwab's General Store
Introduction
A. Schwab is a dry goods shop located along Beale Street in Memphis, TN. The store was opened by Jewish immigrant Abraham Schwab in 1876 and is the only remaining original business on the street. For these reasons, it is a contributing property to the Beale Street Historic District, which is listed on the National Register of Historic Places.
Images
A. Schwab's General Store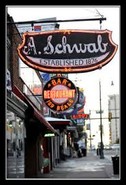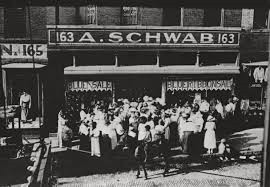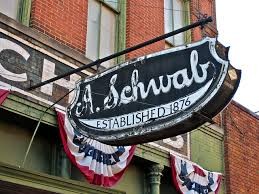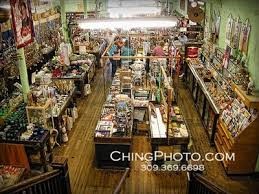 Street view of A. Schwab's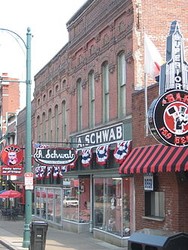 Backstory and Context
A. Schwab's historic General Store has stood the test of time on Beale Street in downtown Memphis, TN and is a great historical stop when visiting the area.
A man named Abraham Schwab in 1876 founded the store. He was a Jewish Immigrant who would bring a legendary store to the Memphis area. This store is the only original store on historic Beale Street in Downtown Memphis. The store opened as a men's haberdashery, began selling dry goods, and transitioned to selling memorabilia and trinket oddities. It was the only store that remained open during the closure and boarding up of most of the stores during the late 1960s and 1970s.
The store is a three-story legend in the town. Schwab's sells a very wide range of goods. It has everything from food, candy, clothing, and tons of Memphis souvenirs. The store also sells records, voodoo/magic potions, and Sun Records memorabilia. The store also contains several historic artifacts pertaining to the store and area like vintage cash registers, time clocks, and scales. There is also a vintage style soda shop on the bottom floor to round out the cultural experience with the past. The Schwab family sold the business in late 2011 but the current owners continue to uphold the values and traditions so closely associated with A. Schwab.
A. Schwab's is a great authentic and historic place to visit and experience what a dry good/general store was really like in the Memphis region from the past.
*Please note that the store's website is not working as of November 2017.
Sources
"A. Schwab's General Store." TNVacation. Accessed August 14, 2014. http://www.tnvacation.com/vendors/a_schwab_dry_goods_store.
Additional Information