Stax Museum of American Soul Music
Introduction
The Stax Museum was originally a business called Satellite Records, owned and operated by Jim Stewart. The museum's purpose is to show the heart and soul that was poured into the record company and the musical history. Even though the company shut down in 1975 due to bankruptcy, the legacy lives on and is still impacting people today. Stax Museum is run by Soulsville Foundation, who helps people recognize the beauty of soul music.
Images
The front of the Stax museum at night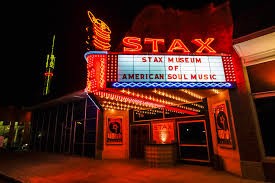 Stax Museum of American Soul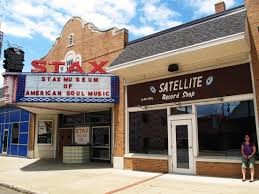 Historic Marker- Where Stax Record Company originally stood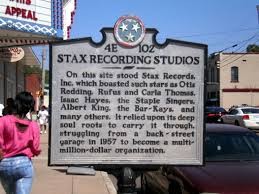 Sign that was in the original Stax Record Company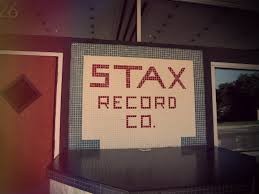 Backstory and Context
Before the Stax Museum was a museum, it was Satellite Records. Jim Stewart, a banker, knew he would never become a famous musician, but believed he could become a producer. Stewart opened Satellite Records in 1957 and produced the country song "Blue Roses" as its first record. The record was of low quality, but Stewart was not financially stable to buy more advanced equipment. Jim asked his older sister Estelle Axton for financial support for the record company, so Estelle donated money to update Satellite Records equipment. By 1960, Estelle was still financially helping with the studio and provided the way for Satellite Records to move from Brunswick to what was formerly known as the Capitol movie theater on McLemore Ave. in Memphis. Due to the slanted floors in the old movie theater, it gave the company their signature sound while recording. Since Estelle Axton was now involved in the record company, the company was renamed Stax for Stewart and Axton in 1960.
By the 1960s, Stax was booming. Estelle Axton transformed the theater's concession stand into a record shop and this helped the company know which records would sell and which ones would sit on the shelf. The record store gave Stax an advantage so they could produce music they knew people would buy. The studio had produced records from artist such as Rufus and Carla Thomas, William Bell, Otis Redding, and even some neighborhood people Axton and Stewart came in contact with at the record shop. Stax Records caught the attention of Jerry Wexler who owned Atlantic Records. Atlantic took control of Stax record distribution, making it easier for Stax to get their records on the market.
With Stax Records growing and becoming more available to the public, the demand grew for more songs. Otis Redding quickly became the label's biggest star in 1962 through his unique sound. However, as things were going well in the Stax world, outside of those four walls came much turmoil. Racism was a pressing issue in the 1960's but especially in Memphis, Tennessee, and many public businesses were segregated. The interesting thing about Stax is how they had always been integrated. It did not matter what the color of a person's skin was; if they could make good music, they were allowed to work for Stax.
In 1967, Stax had become so widely known that it took its first international tour to Europe. Artists such as Otis Redding, Eddie Floyd, Carla Thomas, and the MG's traveled to Europe to perform in front of crazed fans. The European tour was a huge success and only made Stax more popular in the U.S.
Even though Stax was becoming a huge record company, its distributor, Atlantic Records, was bought out by Warner Brothers in 1968. Jim Stewart tried to negotiate a deal with the new company, but no deal was agreed on. Warner Brothers refused to give Stax their master tapes back causing Stax to become an independent label. Eventually Stax cut a deal with CBS for distribution, but in 1972, the deal with their new distributor fell through preventing Stax from distributing their records. Since the public could no longer get ahold of the music produced by Stax, the company fell into deep debt and closed in 1975.
Even though Stax closed down, its memory is still impressed on people today. Not allowing the spirit to die, the Stax Museum was founded in 2003. The museum tells the story of soul music and how it can truly change lives.
Sources


Stax Museum of American Soul Music. Accessed 2/21/17. http://staxmuseum.com/1957-1968/.

1976-Present. Stax Museum. Accessed 5/1/17. http://staxmuseum.com/1976-present/.


Additional Information