"The Squaring of Circleville" Historical Marker
Introduction
This historical marker was dedicated in 2002 and tells the history of the prehistoric circular earthworks that were created by Native peoples prior to the arrival of people of European descent. The first town incorporated these large mounds into the city plan and this included a courthouse shaped like an octagon and communities built around and on top of the prehistoric Hopewell-era earthworks.
Images
This marker tells the story of a round city moving to a standard grid in 1837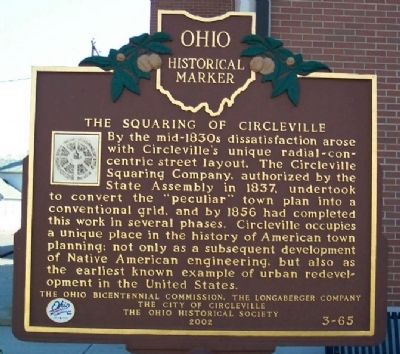 Backstory and Context
Established as the County seat of Pickaway County in 1810, Circleville derives its name from the circular portion of a large Hopewell era earthwork upon which it was built. The Circleville earthworks described in 1772 comprised of a 1,100-foot diameter circle connected to a 900-foot square. Town Director, Daniel Dresbach, platted the town directly atop the earthworks, integrating the town plan into the prehistoric landscape. An octagonal courthouse stood directly in the center.
By the mid-1830's, dissatisfaction arose with Circleville's unique radial concentric street layout. The Circleville Squaring Company authorized by the State Assembly in 1837, undertook to convert the "peculiar" town plan into a conventional grid. By the Civil War, the town was re-platted on a grid and the mounds essentially obliterated.
Sources
John W. Reps, "Urban Redevelopment in the Nineteenth Century: The Squaring of Circleville." Journal of the Society of Architectural Historians Vol. 14, No. 4, Town Planning Issue (December 1955), 23-26.
Image Credit: Remarkable Ohio http://www.remarkableohio.org/picture.php?/7136
Additional Information