West Virginia Botanical Garden
Introduction
Once the 82-acre site of the Tibbs Run Reservoir, West Virginia Botanic Garden, Inc has managed the now 85-acre site since 2000 and has since expanded it to 85 acres. Today the West Virginia Botanica Garden site, in addition to the old water works, features hiking trails, gardens displaying Appalachian flora, wetlands, a pond and a visitor center in an otherwise mostly undisturbed forest area. The site also hosts numerous educational activities such as nature walks, STEAM and nature camps for children, and school programs. The West Virginia Botanical Garden also holds various recreational activities and workshops in areas such as yoga, painting, and gardening.
Images

The reservoir that once provided water to Morgantown is now reclaimed as a wetland at the Botanic Garden. Photo by Pamela Curtin.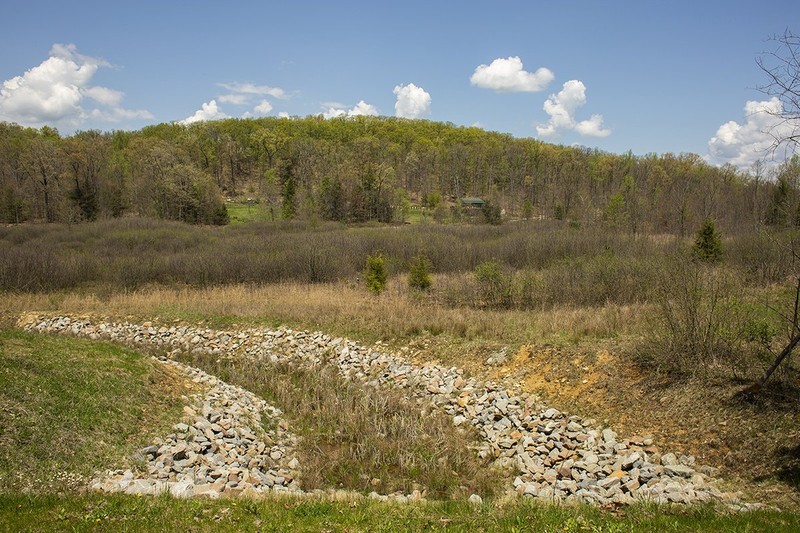 The Botanic Garden preserves natural landscapes like this forest and stream. Photo by Pamela Curtin.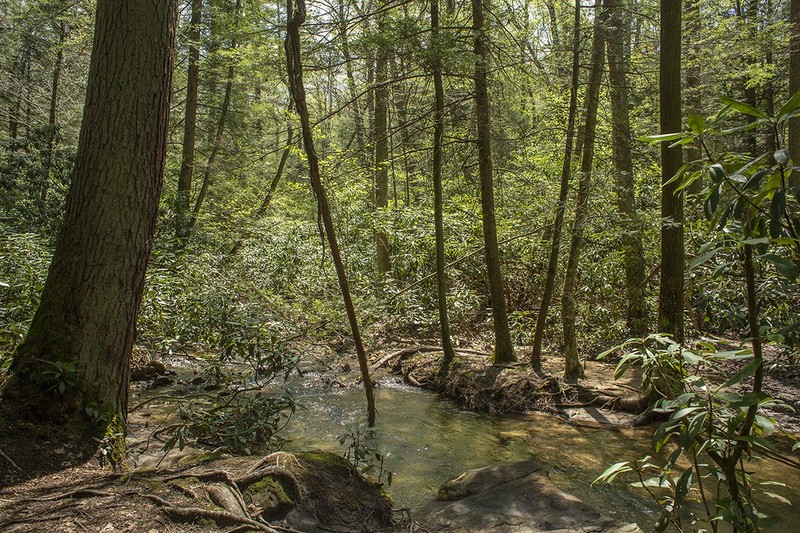 Backstory and Context
In 1892, the land that would become the Tibbs Run Reservoir was purchased and small reservoir built on site. This reservoir expanded considerably to meet the needs of the growing city of Morgantown between 1912 and 1925, with more than 7 miles of pipe laid in 1925 connecting the reservoir to the city. After the city constructed a new water system in 1969, the Tibbs Run Reservoir no longer supplied water to the city, serving as a picnicking and swimming destination before being drained in 1980. The water works continued to stand on site.1

The organization that would become West Virginia Botanic Garden, Inc formed in 1981 under the name The Landscape Arboretum Task Force as a group of volunteers speared headed by WVU professor George Longenecker. After changing the name and incorporation in 1983, the organization spends more than a decade looking for a site, first meeting with the Morgantown Utility Board to discuss the Tibbs Run Reservoir in 1988. After a proposal by the Morgantown Utility Board to strip-mine the area is voted down in 1990, the Morgantown Utility Board announced a plan to log the area in 1995. This resulted in the formation of the Tibbs Run Coalition to manage the area. In 1996, the Tibbs Run Coalition presented a plan before Morgantown City Council suggesting the land be the site of a botanic garden. Negotiations followed until ultimately the West Virginia Botanic Garden, Inc, now a non-profit, takes possession of the 72-acre property in 1999.1,2

Since taking over management of the land in 2001, the West Virginia Botanic Garden has strived to "foster learning, inspiration, and well-being through the beauty and wonder of plants, the natural environment, and culturally enriching experiences." Volunteers have helped in the construction and maintenance of the garden as well as worked to educate visitors. There are five trails, an eclectic garden, a butterfly garden, and a shade garden, and a rhodendrum garden, as well as various natural habitats on site including wetlands, a pond, and meadow. The West Virginia Botanic Garden is free to the public with the exception of special events. 1, 2, 3
Sources
1. WVBG Timeline. West Virginia Botanic Garden. Accessed August 29, 2018. https://www.wvbg.org/index.php/about-us/wvbg-timeline.

2. Howe, Barbara J. West Virginia Botanic Garden. e-WV: The West Virginia Encyclopedia. May 28, 2013. Accessed August 29, 2018. https://www.wvencyclopedia.org/articles/2413.

3. Activities and Events. West Virginia Botanic Garden. Accessed August 29, 2018. https://www.wvbg.org/index.php/activities-events




Additional Information