Chevalier Theatre (Old Medford High School Auditorium)
Introduction
The Chevalier Theatre building was constructed as the auditorium for Medford High School in the 1930s as a WPA project. Renamed in 1940 in honor of Medford High School graduate and World War I Navy aviator Godfrey DeCourcelles Chevalier, the theater is adjacent to the old high school, which is listed on the National Register of Historic Places and now houses condominiums. The Chevalier serves as a venue for plays, musical performances, and comedy shows (1; 2).
Images
Chevalier Theater, once the auditorium of Medford High School (image from Wicked Local)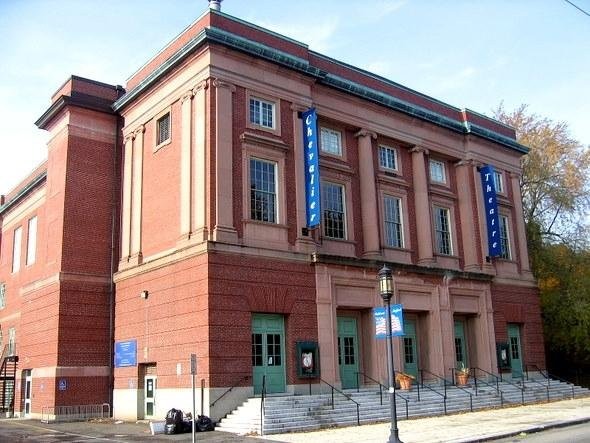 Medford High School, 1910 (image from family-images.com)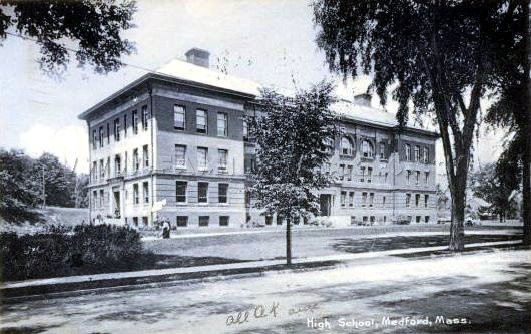 Backstory and Context
Education in Medford
The first public school was established in Medford in 1719. The elementary school was housed in Thomas Willis, Jr.'s home, with Henry Davidson hired as the first teacher. A second school opened in West Medford the following year, taught by Caleb Brooks, who hosted the school in his home. The first official schoolhouse was constructed in 1732, replaced in 1771 and again in 1795. Subjects consisted of reading, writing, and arithmetic, and girls were not allowed to attend until 1766. Even then, girls were only given two hours of classes, after the boys finished for the day. It was 1790 before girls were allowed to study with the boys at all, and then only during summer. The same year, William Woodbridge opened a private boarding school in the Royall House, and Dr. Luther Steams of Harvard opened a private school in Medford in 1791. A co-ed private school was run by Joseph Wyman around the beginning of the 19th century, and a Female Academy was in operation in 1789 (5).
As Medford grew, so did the number of its students. In 1835, the town decided to grade the schools, and construction of the first high school began, along with two grammar schools and at least one additional primary school. Tufts College, established by the Universalist denomination, opened in Medford in 1852 (5). The brick building which is today referred to as Old Medford High School was constructed in 1896 by Cutting, Bardwell & Co. Continued growth of the city as a suburb of Boston led to the addition in 1914 of a rear wing which doubled the school's size, adding classrooms, a gymnasium, and a 1,200 seat auditorium. A north wing was added in 1929 and a south wing in 1939, both in a Renaissance/Colonial Revival style. The south wing included a new, almost 2,000-seat auditorium which was the largest of its kind in Massachusetts when it was built (3; 4). This Greek Revival style auditorium is today the Chevalier Theatre. The Art Deco elements of the interior includes a double elliptical ceiling for improved acoustics. The auditorium was named for Godfrey Chevalier in 1940 (2).
Unfortunately, in 1965, the rear addition of Medford High School was destroyed by fire, leaving only the north and south wings available for classes. The current Medford High School was built in 1971, and Old Medford High became a municipal office space until its abandonment in the late 1970s. In 1983, the building was listed on the National Register of Historic Places, and soon after was sold for development into condominiums (3; 4).
The Chevalier's Namesake
Godfrey DeCourcelles Chevalier graduated from Medford High School and went on to become a Lieutenant Commander in the U.S. Navy. In 1910, he rescued 20 sailors from an overturned barge in the Hudson River, and during the First World War became the commanding officer of the U.S. Naval Air Station in Dunkirk, France. Chevalier was awarded the French Legion of Honor and the Distinguished Service Cross for his service in the war. Afterward, in 1922, he became the first U.S. Naval aviator to land a plane on a moving ship. Sadly, only a month later he suffered severe injuries from a plane crash in Virginia, and did not recover (2).
The Chevalier Today
Today, the Chevalier Theatre is the sixth largest in the Greater Boston area. Programming is operated by Bill Blumenreich Presents, sister company of Boston's Wilbur Theatre, and includes theatrical, music, and comedy performances (1; 2). The lower level houses the Gene Mack Gymnasium, a youth center for ages 6-14 which is operated by the Boys & Girls Clubs of Medford and Somerville. Offering educational, recreational, and sports activities as well as tutoring, mentoring, and homework help, the youth center is named for Eugene McGillicuddy, a Medford sports cartoonist for the Boston Globe (2).
Sources
1. Chevalier Theatre. Official website. Accessed September 22, 2018. http://chevaliertheatre.com. 2. Friends of the Chevalier Theater. Official website. Accessed September 22, 2018. http://www.friendsofchevaliertheater.org/chevalier-theater/. 3. Hamill, Kyna. "A Blast from Medford's Past." Medford Historical Society Newsletter. Winter 2013. Accessed September 22, 2018 at http://www.medfordhistorical.org/wp-content/pdfs/newsletter2013winter.pdf. 4. Old Medford High Condominiums. Official website. Accessed September 22, 2018. http://www.oldmedfordhigh.org/pb/wp_3c8eaad3/wp_3c8eaad3.html. 5. Seaburg, Carl and Alan Seabburg. Medford on the Mystic. By Carl Seaburg and Alan Seaburg. Published by The Medford Historical Society, April 1980. Excerpts available at http://www.medfordhistorical.org.
Additional Information