Merchants Bank Building, Providence
Introduction
Constructed in 1857, this uniquely narrow six-story building was home to Merchants Bank, a financial firm that was integral to the economy of Providence in the 19th century. Upon completion, the Italianate structure stood as the tallest building in Providence and as a hub of the city's financial district. The bank occupied this building until 1920.
Images
Merchants Building, from Kite Architects.
Merchants Building -- it's unique narrow design provided for unique design opportunities. from Kite Architects.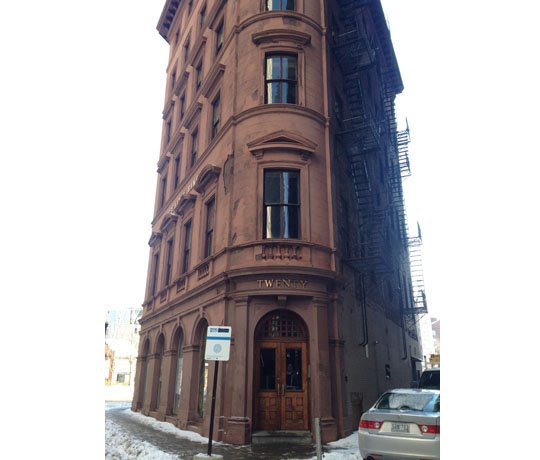 Merchants Building -- a closeup of its lavish design features. from Kite Architects.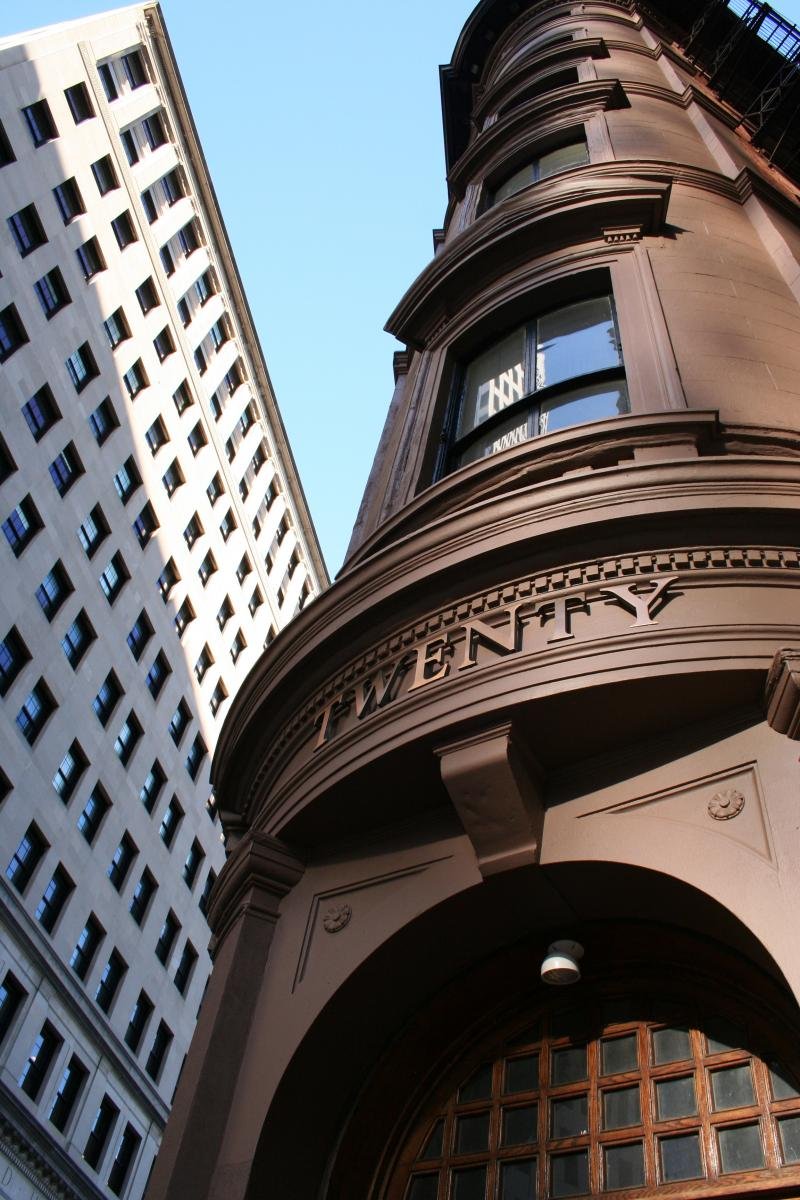 Looking southwest on Westminster Street from the bridge over the Providence River, in 1865. Image courtesy of the New York Public Library.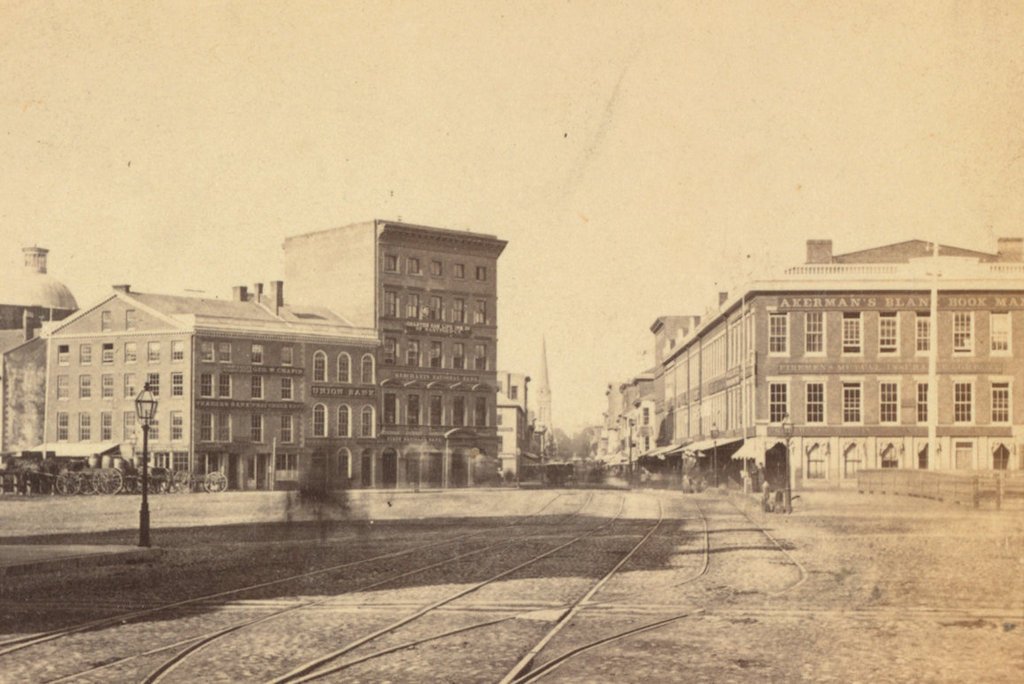 2016: The Merchants Bank Building remains, now seeming oddly out of place.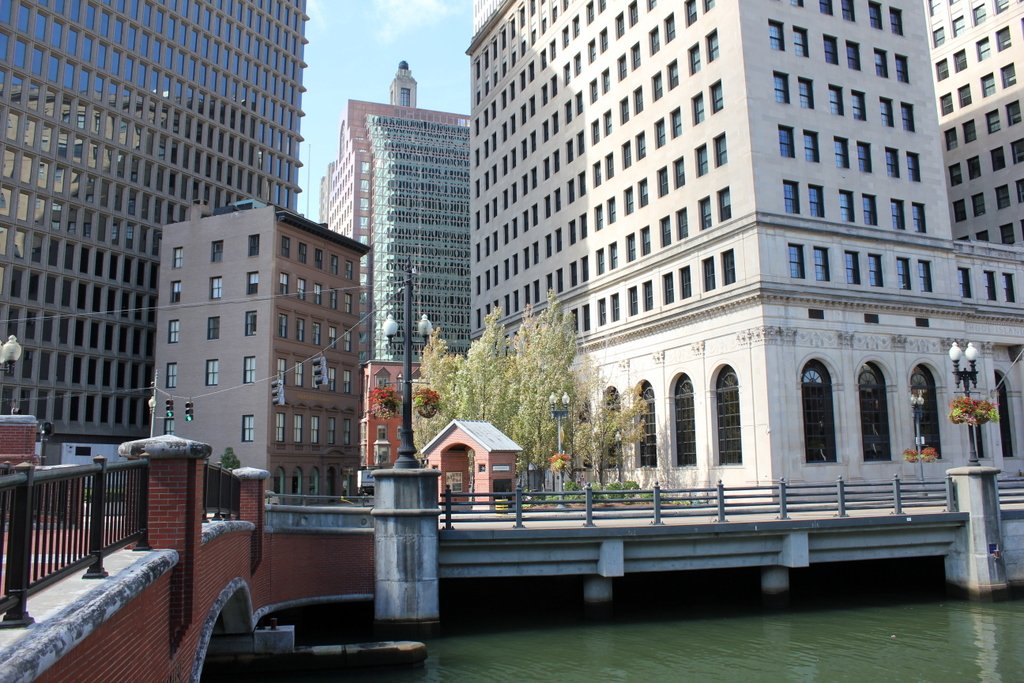 Backstory and Context
Situated within the heart of what is now downtown Providence, amidst the backdrop of modern skyscrapers, is the exceptionally narrow, six-story Merchants Building, built in 1855-57. When completed, it stood as Providence's tallest building and played a pivotal role in the city's economy, notably its vital maritime activities; the bank's location on the banks of the Providence River allowed it to cater to merchants arriving with cargo.
By the 1850's the neighborhood at the intersection of Westminster and Weyhosset streets emerged as the commercial and financial center of Providence. This reflected the centraility of the maritime economy coupled with increasing industrialization along the river and throughout this part of Rhode Island. Numerous financial institutions emerged in the area, including Merchants Bank. Locals referred to the area as "Bank Street" by the time of the Civil War.
The building functioned as the home of Merchants Bank from 1857 until it corporation's merger with the Providence National Bank in 1920. The first floor continued to be used by banking institutions until the Automobile Association of America occupied the space. Meanwhile, the upper floors served as professional offices for several decades. The building was also utilized by the Rhode Island School of Design Works.
Over time, vacancies and increased maintenance costs led to an uncertain fate for the historic building. Rather than demolition, the building was preserved with renovations that facilitated a transition to mixed retail and residential space. The first floor of the building is now home to a restaurant while the upper floors are upscale apartments.
Sources
Coleman, Peter J. The Transformation of Rhode Island, 1790–1860. Providence: Brown University Press, 1963.

"Merchant's Bank Building: 20 Westminster Street." Kite (Architects). Accessed August 26, 2018. https://kitearchitects.com/portfolio/merchants-bank-building.

Woodward, William McKenzie. "Nomination Form: Merchants Bank Building." National Register of Historic Places. November 21, 1977. https://npgallery.nps.gov/GetAsset/5f0e7ae0-c3e8-47e0-bfd1-326df6e30519/

Photo Sources

Merchant Building Pictures from Kite Architects: https://kitearchitects.com/portfolio/merchants-bank-building

Historic comparison, 1865 vs. 2016: Lost New England (blog): Westminster Street, Providence, RI http://lostnewengland.com/2016/11/westminster-street-providence-ri/
Additional Information