James J. Braddock
Introduction
James J. Braddock, "Cinderella Man", was an Irish-American boxer during the Great Depression. He became the world heavy weight champion after his 1935 victory against Max Baer. He held that title until 1937, when he lost against Joe Louis. He retired in 1938, and was inducted into the International Boxing Hall of Fame in 2001.
Images
James J. Braddock Statue (in the making)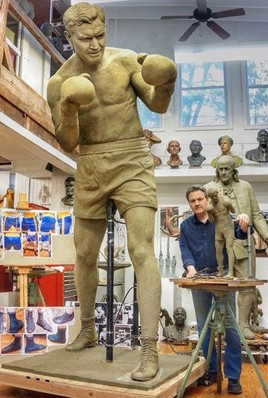 Backstory and Context
James J. Braddock, "Cinderella Man", was a Irish-American boxer during the Great Depression. Standing at 6'2" and 193 lbs, Braddock was a sensational boxer, and very popular.
During a fight against Tommy Loughran that lasted 15 rounds, it was decided that Braddock had lost. Only months after this fight the stock market crashed and he lost everything, like many others at the time. Braddock would continue to fight, participating in 22 total fights, only winning 6 of them, during the Great Depression. After his 22nd fight, he was kicked out of competitive boxing, leaving him with no job. He then had no choice but to fight for shifts on the docks. 
In 1934, Braddock had gotten a chance to fight again after a fighter cancelled a fight with John "Corn" Griffin. Braddock was given only a few days notice for this fight. After winning the fight, with a 3rd round K.O., Braddock was given his status as a competitive boxer back and was then able to fight again. He had many fights and by 1935, Braddock had won the nations heart back too. He was nicknamed "Cinderella Man" for his fairytale like comeback. 
After his win against Art Lasky, a heavyweight contender, Braddock was considered the new heavyweight contender and was set to fight the current heavyweight champion, Max Baer. On June 13, 1935 Braddock and Baer were set to fight and with 10-1 odds. James J. Braddock won after 15 rounds and a unanimous decision. This win earned him the World Heavyweight Champion title. 
In 1937, Braddock was set against Joe Louis. Braddock lost because of his arthritis medication that numbed his left arm, making him unable to raise his arm above his head. Joe Gould, Braddock's manager, struck a deal with Louis that would give Braddock 10% gross of Louis' earnings for the next 10 years. This added up to $150,000, the equivalent to 2 million dollars today. In his career, he had 85 fights and 51 victories. 
Sources
James J. Braddock. James J Braddock. Accessed August 26, 2018. http://www.jamesjbraddock.com/.
Songalia, Ryan. 'CINDERELLA MAN' JAMES BRADDOCK GETS STATUE TREATMENT IN HOMETOWN. July 14, 2018. Accessed August 27, 2018. https://www.ringtv.com/539280-cinderella-man-james-braddock-gets-statue-treatment-in-hometown/.
James J. Braddock. . Accessed August 27, 2018. https://www.findagrave.com/memorial/1805/james-j.-braddock.
Additional Information