Shinn House
Introduction
"The Shinn's, in partnership with Dr. Clark, started one of the first nurseries in California. They imported rare trees and plants from the Far East and other parts of the world."
Images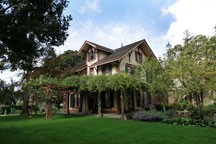 Backstory and Context
"Eliza Sim, wife of William Sim (who called himself "Captain"), sold 250 acres of their Ex-Mission San Jose land to Dr. Joseph Clark in 1856 at a price of $2,280.00. Captain Sim built the small cottage that is located at the park's entrance, on the left, from two schooners abandoned at Mayhew's Landing in Newark during the Gold Rush. In 1860 he sold the ranch to James and Lucy Shinn (Dr. Clark's sister)...
The "Big House" was started in 1865 and completed in 1876. It is a rare Victorian Farm Style with Bavarian influence. The house is structurally sound even after several earthquakes and has never been destroyed by fire, flood or earthquake. The foundation is of fieldstone, brick and concrete. The joists, structural elements, casework and exterior are all constructed of heart redwood. The interior arrangement followed the typical Victorian plan of a 2-1/2-story rectangular with one-story back kitchen wing. The first and second floor have four rooms that surround a central hall, there is also an attic and a full basement.
Joseph and Florence Mayhew Shinn constructed the two-story Bungalow located to the right side of the entrance to the park, in 1910. Florence did extensive remodeling to the Big House, after Lucy died in 1916. The family moved from the bungalow to the Big House in about 1922. Joseph Shinn passed away in 1947 while swimming in the quarry ponds between the house and Alameda Creek.
The City of Fremont, in 1962, accepted the gift of a 4-1/2-acre portion of the Historic Shinn Ranch from Florence Shinn with approval of her children. Florence continued to live in the house with a companion/housekeeper until November 1968, when Florence became seriously ill. Florence lived with her daughter in Marin for a while and passed away while living in a nursing home in 1971."
Additional Information