Candance Allen House
Introduction
Candace Allen was a part of Rhode Island's prominent Allen family, which included her brother Phillip who served as the Rhode Island governor and a U.S. Senator and Zachariah who made a name as a textile manufacturer, scientist, doctor, lawyer, writer, and inventor. Candace's fiance was killed during the War of 1812, so her family built her the now historic home in 1818. She never married and lived there the rest of her life. The house remained in the family for more than 150 years.
Images
Candace Allen House, 1958.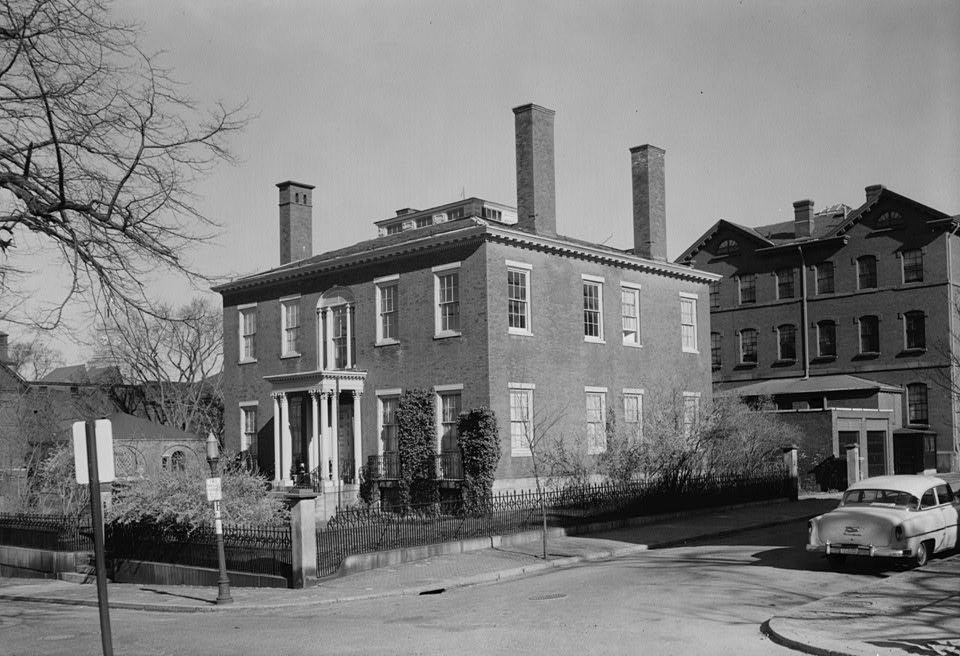 2012 Photo of the Candace Allen House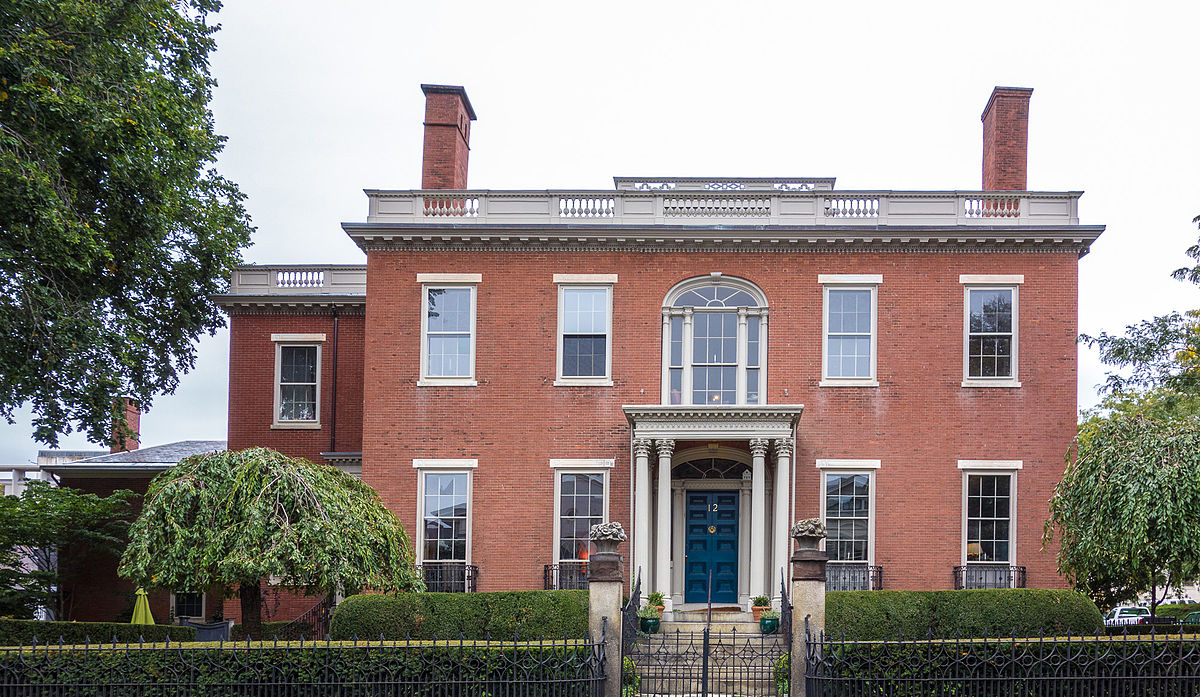 1958, Interior of Candace Allen House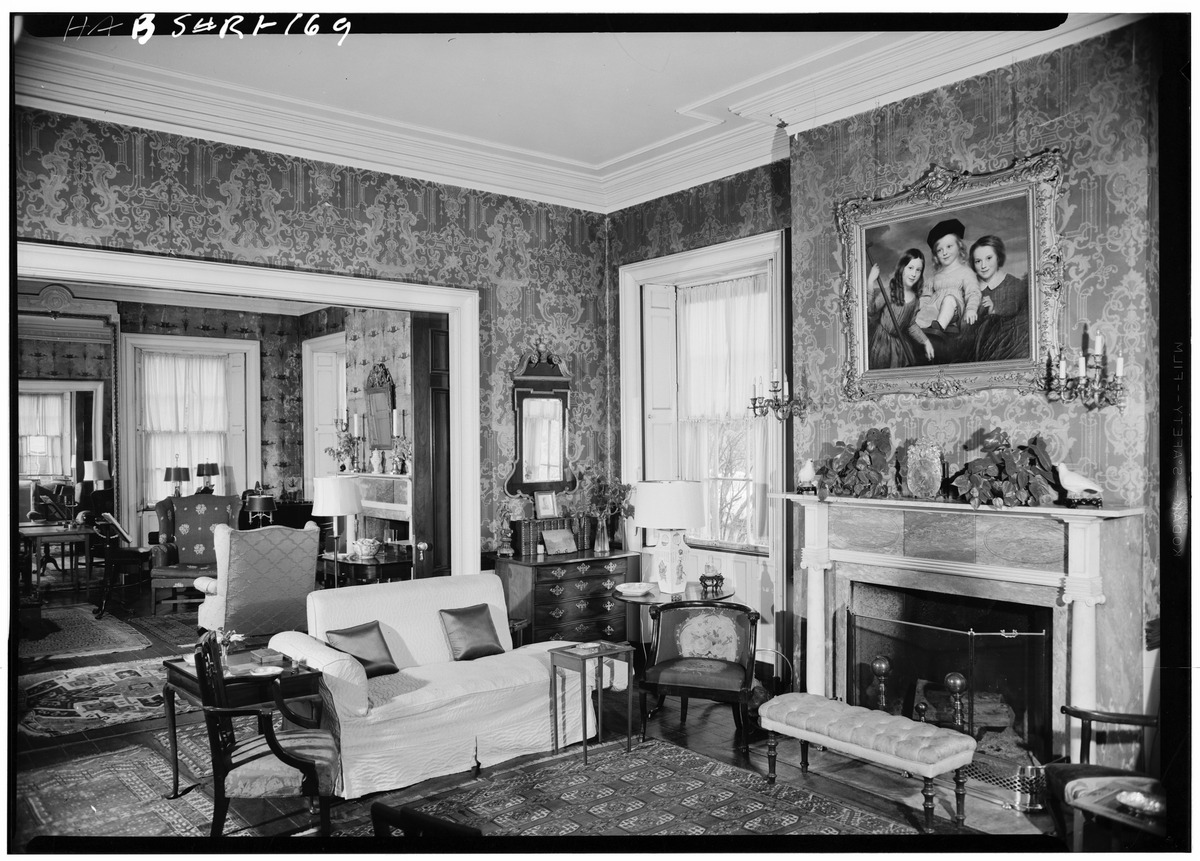 Backstory and Context
Candace Allen had two prominent brothers: Philip served as Rhode Island Governor (1851–1853) and as a United States senator (1853–1859), and Zachariah was a mill-owner, a textile manufacturer, scientist, lawyer, writer, and inventor. Their father died in 1801 and mother in 1808, and then Candace lost her fiance during the War of 1812. Consequently, her wealthy siblings built her the now historic Federal-Style house, which transpired from 1818 to 1820 under the direction of local architect John Holden Greene. The Brown Faculty Club, located across the street, was built by her brother Zachariah in 1864 and his portrait remains hung inside the building.
The physical nature of the house is typical of the Federal-style dwellings built during the early part of the nineteenth century. Generally symmetric, minus the westward extension, the brick house sits on a granite foundation and rises two-and-a-half stories, and then topped with four tall end-wall chimneys necessary for homes built before the development of central heating. As well, The Candace Allen House features a projecting central bay main facade adorned with roman-style columns. The interior, meanwhile, is comprised of a typical four-room layout typical of that Federal style, which was a carryover from the architecture common during the eighteenth century.
Candace remained in the house unmarried until she passed in 1860 at the age of 71 years old. Candace's nephew, Crawford Allen, inherited the home and made several changes to the house. In 1887, the house was acquired by Anne C. Allen, who also made a few, mostly decorative changes. The house continued to pass from Allen to Allen through the bulk of the 20th century.
Sources
Kurneta, Anthony E. and Richard B. Harrington. "Nomination Form: Candace Allen House."
National Register of Historic Places.
September 30, 1972.
http://www.preservation.ri.gov/pdfs_zips_downloads/national_pdfs/providence/prov_benevolent-street-1...
"Portrait Collection: Allen, Zachariah (1795-1882)." Brown University Office of the Curator.
Brown.edu.
Accessed August 21, 2018. https://library.brown.edu/cds/portraits/display.php?idno=45.
Woodward, William McKenzie.
PPS/AIAri Guide to Providence Architecture.
Providence: Providence Preservation Society, 2003.

Photo Sources

Candace Allen House, 1958: By Laurence E. Tilley - Library of Congress, Prints and Photographs Division, Historic American Buildings Survey, HABS: RI,4-PROV,69-1, Public Domain, https://commons.wikimedia.org/w/index.php?curid=6487923

2012 Photo: By Kenneth C. Zirkel - Own work, CC BY-SA 3.0, https://commons.wikimedia.org/w/index.php?curid=21764859

Interior, 1958: By Laurence E. Tilley - https://www.loc.gov/pictures/item/ri0132/, Public Domain, https://commons.wikimedia.org/w/index.php?curid=22661681

Additional Information