Seneca Post Office
Introduction
Seneca, in 1938, was a city awakening from the Great Depression; the construction of a new post office was a sign that things were improving. This Colonial Revival building is noteworthy for its lobby mural painted in 1940 under a New Deal arts program.
Images
City of Seneca (KS) Post Office Building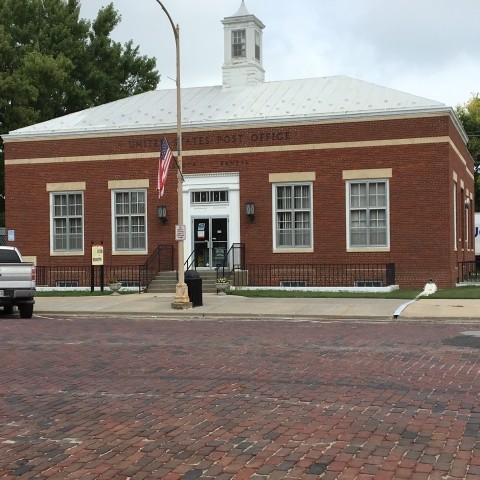 Walking Tour Sign City Of Seneca (KS) Post Office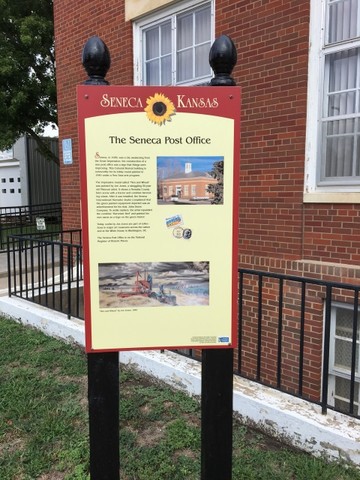 "Men and Wheat" Mural painted by Joe Jones City of Seneca (KS) Post Office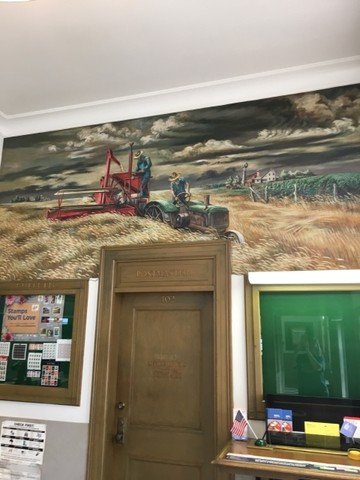 Backstory and Context
This building, located at 607 Main Street, is listed on the National Register of Historic Places. Federal financial aid contributed to the construction of the new Post Office in 1938. According to the building cornerstone, Louis Simon was the supervising architect and Neal Melich was the supervising engineer. This is one of twenty-four post offices listed as part of a Kansas Post Office Art Work Thematic Resources nomination (1936-1942) for its mural "Men and Wheat." The Post Office was selected in a national competition to receive a mural from the Treasury Department's Section of Fine Arts. The Seneca Post Office is an example of one of many smaller class C or D type post offices that received artwork in Kansas.

The impressive mural called "Men and Wheat" was pointed by Joe Jones, a struggling 30-year old Missouri artist. It shows a Nemaha County farm scene with a tractor and combine harvesting wheat. After it was installed, the Seneca International Harvester dealer complained that the green painted equipment depicted was an advertisement for his rival, John Deere Company. To settle matters, the artist repainted the combine 'Harverster Red" and painted his own name as a logo on the green tractor.
Today, works by Joe Jones are part of collections in major art museums across the nation and at the White House in Washington, DC.
The Seneca Post Office is on the National Register of Historic Places.
Sources
City of Seneca. Points of Interest. . Accessed August 15, 2014. http://seneca-kansas.us/community/points-of-interest/.

"The Seneca Post Office." Seneca, Kansas Walking Tour Sign. Seneca, Kansas Walking Tour Sign. . produced as a project for the Kansas Humanities Council


Additional Information