Carrier Dome; Previously Archbold Stadium (1907-1980) Syracuse University
Introduction
Archbold Stadium opened in 1907 and featured a design inspired by the Roman Coliseum. Archbold was the home of the Syracuse Orange football team from 1907 to 1978, an era when football legends Jim Brown and Ernie Davis, who led Syracuse to an undefeated season and national championship in 1959. The stadium was built with a gift from John D. Archbold and was replaced by Syracuse's current stadium, the Carrier Dome.
Images
Archbold Stadium. Photo: Syracuse University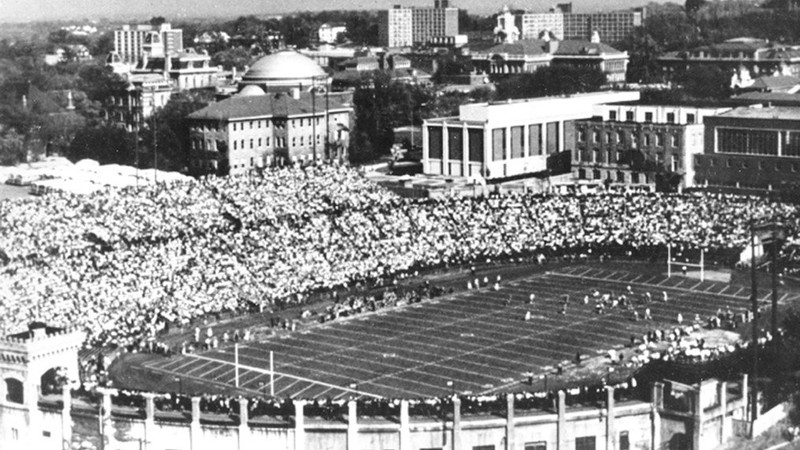 Backstory and Context
Archbold Stadium was built using classical Roman architecture in a natural hollow in the campus which became the west end of the stadium. The stadium's location at a high elevation allowed for a view of downtown Syracuse, Onondaga Lake, and the Onondaga Valley. The stadium had a main entrance with a 40-foot cement arch and two tall towers. Once inside, fans climbed to the promenade level. On the north side of the stadium, fans on horse-drawn carriages (and soon, automobiles) could go directly to the promenade level.
The stadium was paid for by a gift of $600,000 from John D. Archbold, a former Syracuse board of trustees member and the vice-president of Standard Oil. The stadium's grandiose structure became the perfect venue for running back Jim Brown's many feats. Perhaps the greatest of Brown's moments as a college football player took place in his final game at Archbold Stadium in a 61-7 blowout of Colgate. Brown scored all of Syracuse's points in the first half, with the press box announcer saying, "The score is now Brown 27-Colgate 7. Brown would score a whopping 43 points, which would stand as the record for most points by an individual in a National Collegiate Athletic Association (NCAA) until Illinois Howard Griffith scored 48 points in 1990.
Ernie Davis followed in Brown's footsteps. Davis was the first African American to win the Heisman Trophy in 1961. As the successor to Jim Brown, Davis led the Ben Schwartzwalder-coached Syracuse to the National Championship in 1959, defeating Texas in a bitter, racially-charged Cotton Bowl. He also had two more great seasons at Archbold, culminating in his Heisman Trophy win. Tragically, Davis died in 1963.
Football was not the only sport played at Archbold, and baseball legends such as Babe Ruth played several exhibition games at Archbold. Archbold Stadium hosted its last game in 1978 when the Orange beat Navy 20-17.
Sources
Nack, W. (1989). A Life Cut Short. Sports Illustrated. Accessed August 12, 2018. https://www.si.com/vault/1989/09/04/106780587/a-life-cut-short.
The Legend Of Archbold Stadium. Cuse.com - Syracuse University. Accessed August 12, 2018. https://cuse.com/sports/2011/9/28/TheLegendOfArchboldStadium.aspx.
Walker, R. (2016). Ernie Davis becomes the first African-American to win the Heisman Trophy. The Undefeated. Accessed August 12, 2018. https://theundefeated.com/features/ernie-davis-becomes-the-first-african-american-to-win-the-heisman....
Werden, L. (1956). Jim Brown's Farewell: 6 Touchdowns.
The New York Times.
Accessed August 12, 2018. http://archive.nytimes.com/www.nytimes.com/packages/html/sports/year_in_sports/11.17.html?scp=25&sq=....
Additional Information