Viejas Arena
Introduction
Completed in 1997, this arena is unique in its design and location as it is built within a canyon hillside. The stadium is home to San Diego State Basketball and has also hosted a variety of sporting events, concerts, and university events. The stadium capacity is 12,414 people and was originally known as Cox Arena following the acquisition of naming rights by Cox Communications. The Viejas Band of Kumeyaay Indians acquired naming rights in 2009. The stadium is located at the location of the former Aztec Bowl stadium which was constructed in 1936 and served as the home of San Diego State football until 1967. The stadium is also the location of a ten-ton granite boulder that commemorates John F. Kennedy's 1963 commencement address at the former football stadium.
Images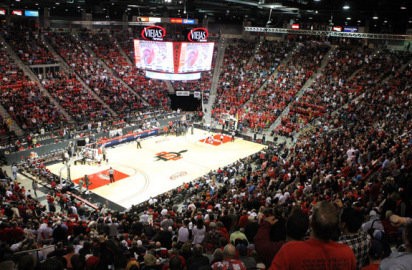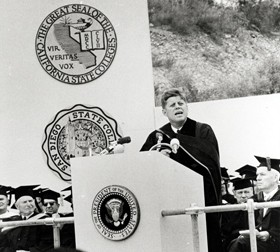 Backstory and Context
Opening as Cox Arena in 1997, this stadium is the home to the San Diego State Aztecs and hosts graduation and other university events as well as concerts and intercollegiate basketball games. The arena features an open-air concourse that allows fans and crowds to enjoy the temperate climate of San Diego.

In 2009, the indigenous Kumeyaay Indians acquired naming rights leading to the current name of the facility Viejas Arenas (Viejas meaning old). The arena is situated on the site that was the Aztec Bowl, The structure was built directly into a canyon and almost encloses what once was the Aztec Bowl. That stadium included a 1963 graduation address by President John F. Kennedy, an event commemorated by a boulder that is an official California landmark. Many leading musicians have performed at this arena from Drake to Fleetwood Mac. Past performers include Billy Joel, Janet Jackson, and Eric Clapton, as well as many more. The arena has also hosted several first and second rounds in the NCAA Men's Basketball Tournament.

Sources
Schrotenboer, Ben. NCAA tournament 2018: Marshall makes program history with upset of Wichita State. USA Today. March 16, 2018. Accessed September 10, 2018. https://www.usatoday.com/story/sports/ncaab/2018/03/16/marshall-makes-program-history-upset-wichita-state/433285002/.

VIEJAS ARENA - HOME OF AZTEC BASKETBALL. Facilities. April 02, 2014. Accessed August 09, 2018. http://www.goaztecs.com/facilities/viejas-arena.html.