Rainier Brewing Company
Introduction
The Rainier Brewing Company has been a part of Seattle for more than a decade. The business was in operation from 1878-1999 when Stroh's acquired the brewery. The iconic red neon "R" logo is still poised atop the historic building in the Georgetown district. This plant was the largest brewery west of the Mississippi in the early 1900s. German immigrant Andrew Hemrich founded the brewery which was succesful until the state of Washington enacted prohibition four years before the 18th Amendment was enacted nationwide.
Images
Seattle Brewing & Malting Co., Georgetown, WA 1904 – Photo by Asahel Curtis, Courtesy Washington state Historical Society (1943.42.4516)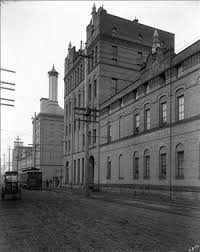 Official Logo of Rainier Brewing Company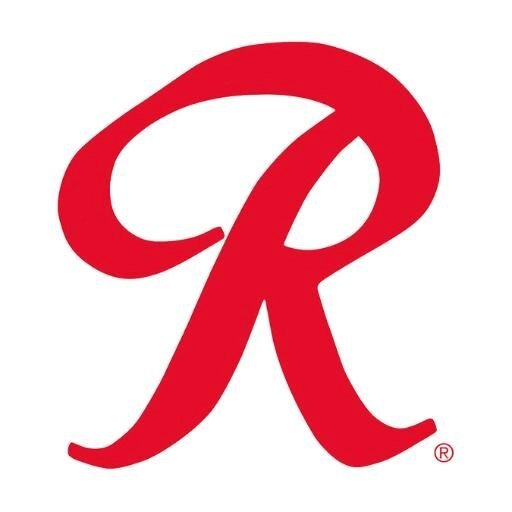 1939 Photo - Courtesy of Brewery Gems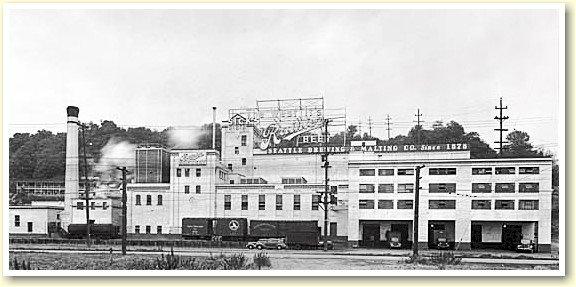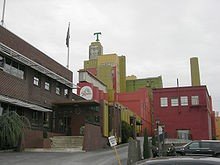 Rainier Brewery ca. 1990 - Photo Courtesy of Dale Sleeman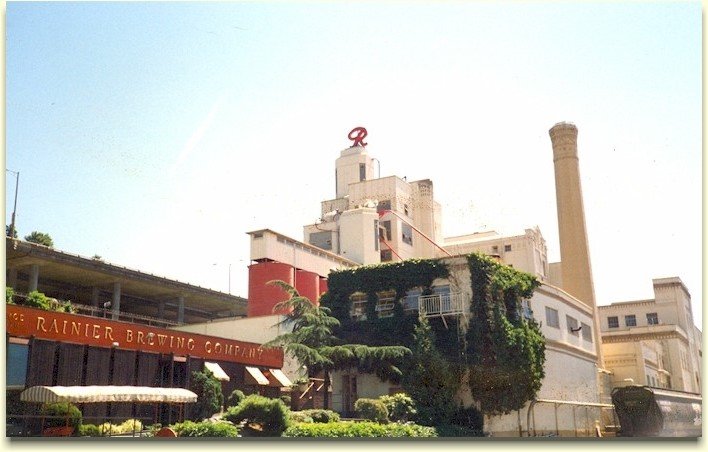 Backstory and Context
Prohibition in Washington lasted from 1916 to 1933. The beer industry quickly rebounded and with the acquisition of the Rainier brand in 1916 from Hemrich, Fritz Sick and his son Emil began marketing and selling their new version of the Rainier Beer which was soon sold throughout California and Oregon. The Georgetown brewery expanded and acquired the rights from the San Francisco Rainier Brewing Company to use the name "Rainier" in Washington, Idaho, and Alaska with a royalty being added to each barrel sold. In 1953, the company acquired the exclusive right to use the name Rainier worldwide.
After the death of Fritz, Emil was named Chairman of the Board of Sick's Rainier Brewing Co. and President of Sick's Brewery Enterprises. He was also a director on several other breweries. He remained active until his death in 1964 when his adopted son took over the business. In 1977 the brewery closed its doors and was sold to the G. Heileman Brewing Company. The company and Ranier brand exchanged hands a few more times before being bought by Pabst. This brewery closed for good in 1999 and Rainier beer is now brewed in Irwindale, California.

The brewery had an iconic red "R" that remained atop the former brewery building for many long after the building ceased operating as a brewery. In 2000, the building was taken over by the Tully's corporation and the "R" was replaced with a green "T" leading to public outrage. The green "T" was removed in 2013 and a replica of the original "R" replaced it. The original "R" was refurbished and is on display at the Museum of History and Industry (MOHAI).
Sources
Kerssen, Julie. 2006. "Rainier Brewing Company Advertisements and other Materials." 1935-1998. Accessed on August 1, 2018 from http://archiveswest.orbiscascade.org/ark:/80444/xv44472
Star, Rick. "Rainier Brewery: Rest in Peace." August 1999. Accessed on August 1, 2018 from https://web.archive.org/web/20071225113417/http://www.beernotes.com/northwest/articles/000409.html
Dorpat, Paul. "Now & Then – Rainier Brewery." February 26, 2001. Accessed on August 4, 2018 from http://www.historylink.org/File/3001
Bhatt, Sanjay. "Georgetown worries it'll be the next big thing." The Seattle Times. March 26, 2008. Accessed on August 3, 2018 from https://www.seattletimes.com/seattle-news/georgetown-worries-itll-be-the-next-big-thing/
Additional Information