Quonset Hut (Columbia Studio B)
Introduction
Author-Uploaded Audio
The Quonset Hut, later known as Columbia Studio B, was the first music recording studio in the historic Music Row district of Nashville. In 1954, music producer Owen Bradley and his brother, musician Harold Bradley, converted a house and a surplus Quonset hut into a makeshift music studio on 16th Avenue. Noted musicians such as Brenda Lee and Johnny Cash recorded at the Quonset Hut, known for the superior acoustics it provided. As the studio became more successful, other music labels moved into the neighborhood and it became known as "Music Row." After Bradley sold Bradley Studios and the Quonset Hut in 1962, Columbia Records owned and operated the studio until 1982, repurposing a portion for offices. In the 2000s, music producer and philanthropist Mike Curb purchased the land and office space, and it currently houses facilities for Belmont University's Curb College of Entertainment and Music Business.
Images
The original studio consisted of a former residential home and an Army surplus Quonset hut. The house was demolished and replaced with a brick structure in the 1960s.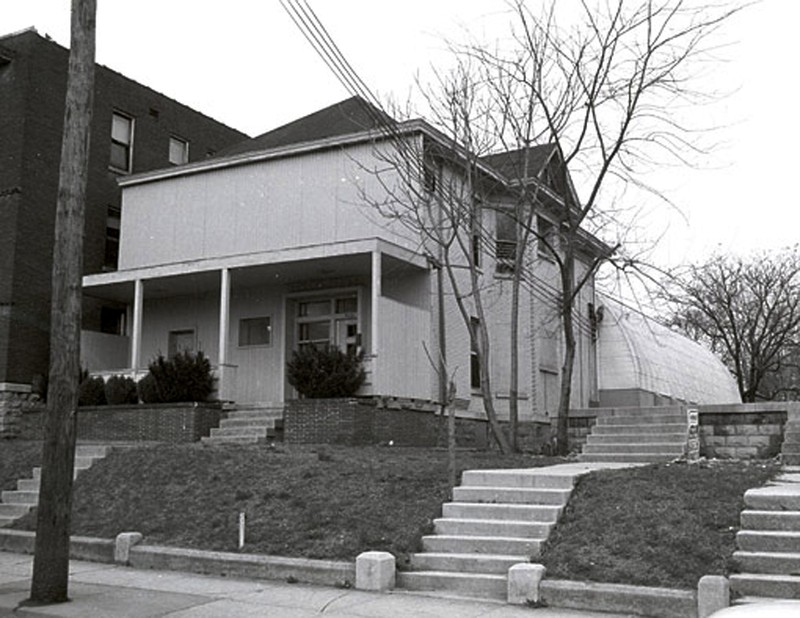 The Quonset Hut seen from the back alley of 16th Avenue.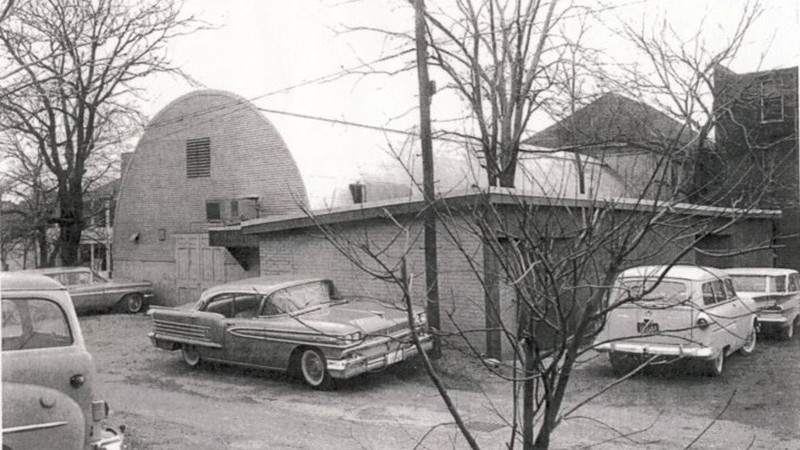 The Quonset Hut and the surrounding brick structure today houses Belmont University's Curb College of Entertainment and Music Business.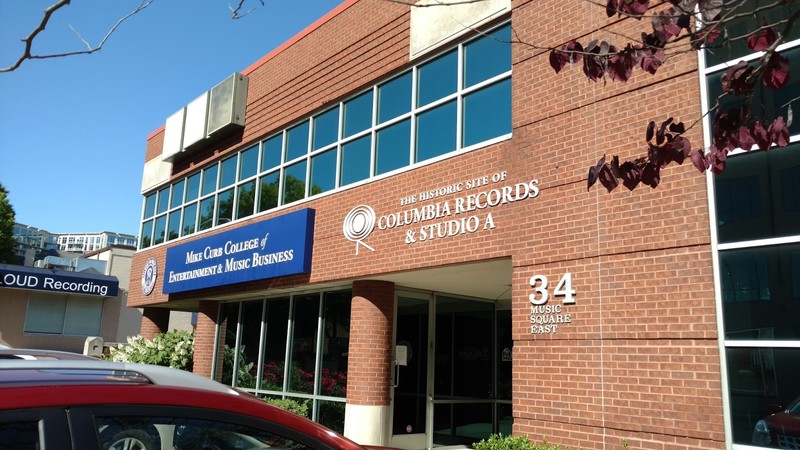 A historical marker near the site commemorates its role as the first music recording studio on Music Role. Image obtained from the Historical Marker Database.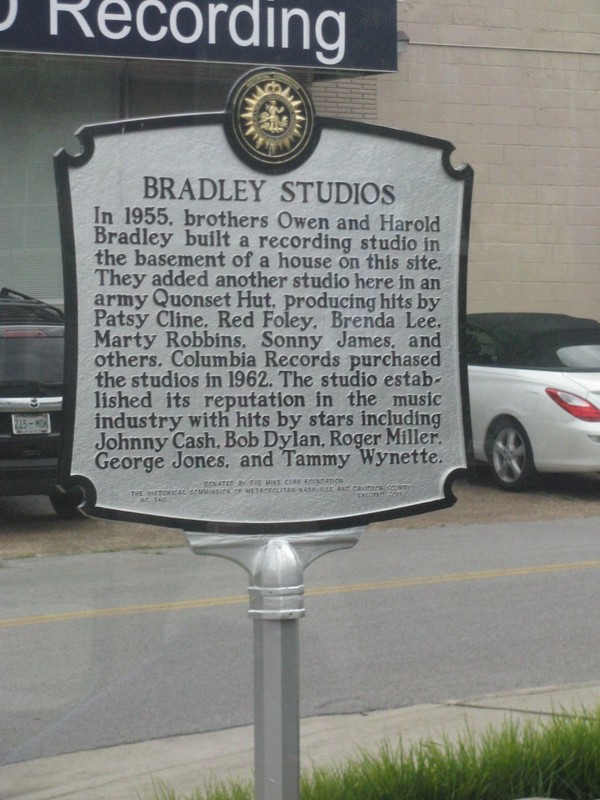 Backstory and Context
Author-Uploaded Audio
In 1952, musician and producer, Owen Bradley, and his brother, Harold, formed a film and music studio, Bradley Studios, which they operated from a rented space in Lodge Hall at Lindsley and Second Avenue. They were forced to leave a year later after the rent tripled and briefly moved to a space at Hillsboro Village. In 1954, the Bradleys purchased a house at 804 16th Avenue and converted it into a recording studio. At the time, 16th Avenue was mostly a residential neighborhood, making Bradley Studios the first recording studio in what became known as Music Row.
Soon afterward the Bradleys erected the Quonset Hut at the back of the house. Quonset huts were large, barrel-shaped, steel structures widely used by the military during World War II. They were easy and cheap to mass produce, and a large surplus of them remained after the war. Originally the Bradleys intended for the Hut to serve as a film studio while the main house would be the recording studio; however, they soon found that the Hut provided unique acoustics for recording music.
The Bradleys' Quonset Hut studio quickly became a success and served clients from music labels such as Decca, Columbia, Mercury, and Capitol. Many prominent musicians like Brenda Lee, Johnny Cash, Patsy Cline, George Jones, Tammy Wynette, Bob Dylan, Roger Miller, Elvis Presley, and Loretta Lynn recorded at the Hut. Notable songs recorded here include Patsy Cline's "Crazy," Brenda Lee's "I'm Sorry," and Elvis Presley's "Indescribably Blue."
The Bradleys' success drew numerous other music labels and recording studios to 16th Avenue during the 1950s and 60s, giving it the name Music Row. The Bradleys sold their studio in 1962 to Columbia Records. The original house was replaced with a brick building, while the Quonset Hut remained. Columbia referred to the brick building as Columbia Studio A and the Quonset Hut as Columbia Studio B.
Columbia closed the facility in 1982, and it was soon converted into an office space. Around 2009, the building was purchased by Mike Curb, founder of Curb Records and an advocate for the preservation of Music Row. Under the Mike Curb Foundation, the location of the former Quonset Hut is once again serving as a recording studio. In 2014, Curb gifted a 40-year lease on the studio to Belmont University for music education and recording. The facility currently houses classrooms, a learning lab, and recording studio for Belmont's Curb College of Entertainment and Music Business.
Sources
Cooper, Peter. "Nashville Skyline, November 2009." Mix. November 1, 2009. Accessed August 7, 2018. https://web.archive.org/web/20130304164029/http://mixonline.com/studios/design/nashville-skyline-november-1109/
"Curb Records lets Belmont have 40 years on Music Row property." WSMV. May 12, 2014. Accessed August 7, 2018. http://www.wsmv.com/story/25492761/curb-records-lets-belmont-have-40-years-on-property
Dempsey, Brian. "Music Row, Nashville." Tennessee Historical Society. October 8, 2017. Accessed August 7, 2018. https://tennesseeencyclopedia.net/entries/music-row-nashville/
Flynn, Katherine. "Nashville's Music Row is Waiting for You."National Trust for Historic Preservation. November 28, 2017. Accessed August 7, 2018. https://savingplaces.org/stories/nashville-music-row-is-waiting-for-you#.W2o0Y-v3arV
Fox, Randy. "Back at the Quonset Hut." Nashville Public Radio. March 20, 2012. Accessed August 7, 2018. https://nashvillepublicmedia.org/blog/2012/03/20/back-at-the-quonset-hut-2/
"Historic Columbia Studio A Reopens as Educational Space for Belmont Students." Belmont University. May 9, 2014. Accessed August 7, 2018. http://news.belmont.edu/historic-columbia-studio-a-reopens-as-educational-space-for-belmont-students/ 
Maness, Jessi. "The history of Music Row: 60 years of greatness." Sports & Entertainment Nashville. October 13, 2015. Accessed August 7, 2018. http://sportsandentertainmentnashville.com/the-history-of-music-row-60-years-of-greatness/
Net Radio Dogs. "Lou Bradley discusses the beginnings of Quonset Hut, Bradley Studios, Columbia B studio." (video). July 20, 2015. Accessed August 8, 2018. https://www.youtube.com/watch?v=qmVwRIdWBE0
Skates, Sarah. "Quonset Hut Hosts Reunion Celebration." Music Row. June 30, 2011. Accessed August 7, 2018. https://musicrow.com/2011/06/quonset-hut-hosts-reunion-celebration/
Snaith, Holley. Conversation with Music Producer & Historian Steve Buckingham, April 1st 2022. Accessed April 17th 2022.
Image Sources
Sports and Entertainment Nashville Magazine

Tyler Mahan Coe

Douglas Jones Music

The Historical Marker Database

Additional Information