Mary Bethune Complex (Bethune High School 1920-1970)
Introduction
Constructed in 1956 and serving as a high school for African American students until school integration began in this Virginia community in 1969, what was known as Mary Bethune High School and later served as a middle school is now a county government complex. The origins of this school date back to 1872 when the Banister Baptist Association created a boarding school for African American children. In 1920, the county began to support the former boarding school which became Halifax Training School. In 1956, the current building was constructed and named after early 20th-century civil rights leader Mary McLeod Betune. Bethune was an educator who created a school in her home that grew into a university. She was also a civil rights leader, an advisor to President Franklin D. Roosevelt, and an entrepreneur.
Images
Mary M. Bethune High School Marker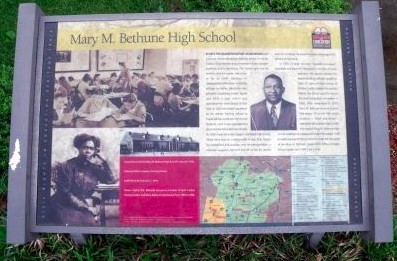 Mary M. Bethune Government Center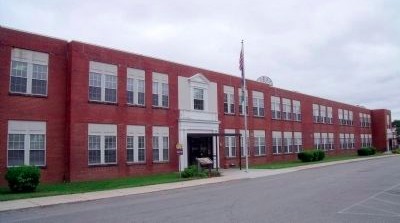 Portrait of Mary M. Bethune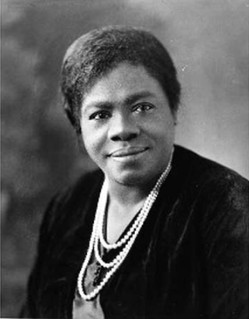 Backstory and Context
In 1872, the Banister Baptist Association, also named for a prominent African American, formed a board consisting of eleven middle and upper class African American men from the community. The organization's purpose was to build a private African American training school in Halifax County which initially consisted of four rooms and a dorm. Parents who lived throughout the area sent their children to the private academy which represented the only formal educational opportunity for African Americans in the region at that time.
The school term was six months long and went up to the ninth grade. The school started out as a boarding school because Halifax County was too large for students to travel to and from home. It cost two hundred dollars per year to attend the school, which was a pretty exorbitant amount at the time for African Americans. Therefore, only a tiny percentage of African American students could attend the school. The boarding school grew to include Halifax Normal Institute which trained teachers.
In 1920, the County School Board acquired the formerly private school which opened as Halifax Training School. In 1948, the Halifax Training School merged with the Booker T. Washington High School of South Boston. Within the next two years, the combined school became one of Virginia's largest rural Black high schools. Although underfunded, forty two percent of the graduates attended college.
The current school building was completed in 1956. Although the Supreme Court outlawed segregation, white school leaders believed that providing a more equal school facility would satisfy Black families. This school included a gym, library, and a science lab and was named in honor of Mary M. Bethune. Bethune was a noted educator, civil rights leader, presidential advisor, entrepreneur and the creator of a number of African American organizations for women.
The high school closed in 1969 when the county began the process of integration of the high schools. This school building then became home to Halifax Junior High from 1969 to 1980. Currently, the old Mary M. Bethune high school building was converted to a government building that provides social services such as Snap which provides food for underprivileged citizens. It also houses a child care and school system centre. The official name of the new centre is called the Mary M. Bethune Government Office Complex, School System and Child Care Centre.
Sources
Mary Mcleod Bethune School. . Accessed August 06, 2018. https://bethune.philasd.org/.

Mary M. Bethune High School. African-American Heritage Trail of Halifax County, VA. . Accessed August 06, 2018. http://www.gohalifaxva.com/mary-m-bethune-high-school.

Mary M. Bethune Complex. African American Historic Sites Database. . . http://www.aahistoricsitesva.org/items/show/268?tour=5&index=31.

Edwards, W. C.. Mary M. Bethune High School. Historical Places. . . http://www.oldhalifax.com/county/MaryBethune.htm.

Mary McLeod Bethune, Civil Rights Activist. YouTube. February 06, 2018. . https://www.youtube.com/watch?v=gnI0RhtE9jY.

Mary McLeod Bethune. YouTube. February 03, 2009. . https://www.youtube.com/watch?v=kkM_YcJXF7g.


Additional Information