Childress-Ray House
Introduction
The Childress-Ray House is a historic residence on North Academy Street. It is notable for reflecting the changing architectural tastes in Tennessee during the nineteenth and early twentieth centuries. Originally built in 1847 as a Greek Revival dwelling, it underwent renovations over the years that consequently gave it elements of Italianate and Colonial Revival architecture. The house is named after two of its most prominent occupants: John Childress, a businessman, statesman, and brother-in-law of President James K. Polk; and Alice Newsom Ray, a founding member of the Rutherford County Historical Society who lived in the home from 1927 until her death in 2015. Today the house remains privately owned and is available for short-term rents on Airbnb. It was added to the National Register of Historic Places in 1979.
Images
Built in 1847, the Childress-Ray House displays elements of Greek Revival, Italianate, and Colonial Revival style architecture. Image obtained from Wikimedia.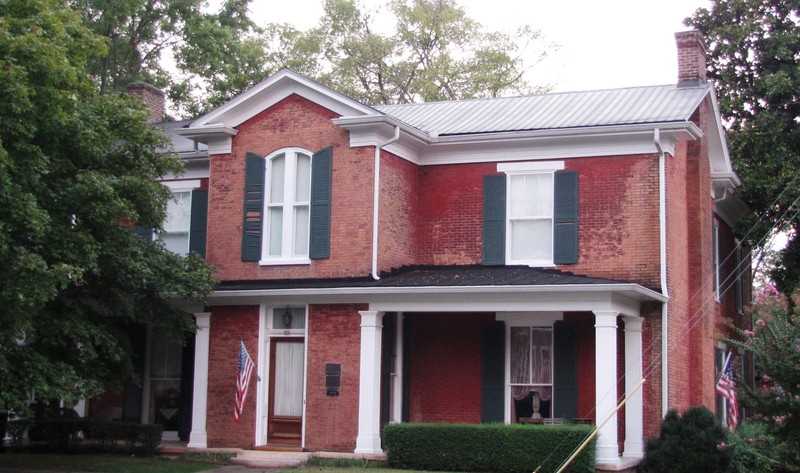 First Lady Sarah Childress Polk (1803-1891) was the sister of John Childress, and occasionally visited his home. Image obtained from Wikipedia.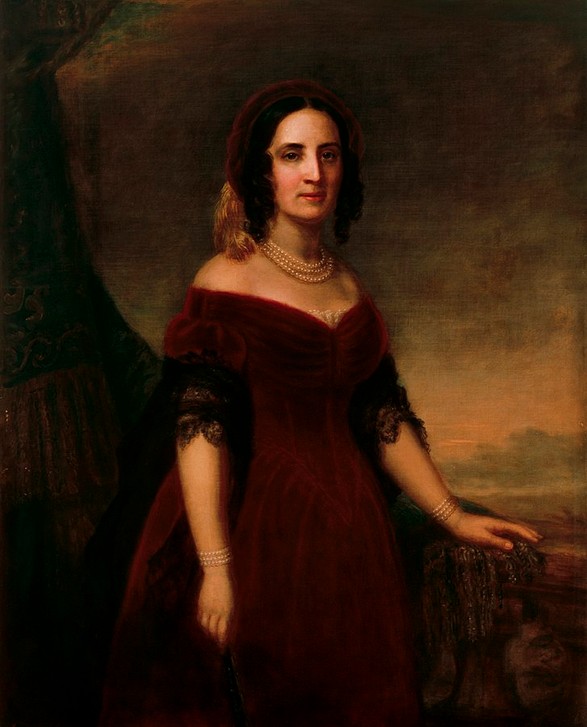 Backstory and Context
John Whitsett Childress was born in Sumner County, Tennessee in 1807 and moved to Murfreesboro with his family in 1819. He graduated from the University of North Carolina and returned to Tennessee to begin a career as a lawyer and farmer. In 1824, his sister Sarah Childress married James K. Polk, the future eleventh President of the United States. John Childress had a distinguished and varied career in Tennessee; besides practicing law and farming, he served at different times as attorney general pro tem, circuit judge in Nashville, director of the Nashville and Chattanooga Railroad, director of the Bank of Tennessee, president of the Planter's Bank of Tennessee, and president of the First National Bank of Murfreesboro. During the Civil War Childress moved his family to Griffin, Georgia for safety. Around this time his daughter Betty Childress married Confederate General John Calvin Brown, who later became governor of Tennessee.
In 1874 Childress returned to Murfreesboro after spending several years in Nashville and purchased a home on North Academy Street. The two-story, brick, Greek Revival style home was constructed in 1847 by contractor Jim Fletcher for Jim Bevins. When Childress bought the house he made some renovations, adding features of the popular new Italianate style such as a center pavilion. Sarah Childress Polk, now widowed and living in Nashville, was reported to have visited her brother at the house on occasion. Her visits were often marked by parties and social gatherings. John Childress died in 1884; his family sold the house in 1900 to P. R. Miller. In 1913 a tornado destroyed the front porches, which Miller replaced with new ones in the Colonial Revival style. Miller sold the house to circuit court clerk Barclay Rucker in 1920.
In 1927 the house was purchased by Thomas B. Newsom and his family. Among them was Thomas' youngest daughter, Mary Newsom Ray. Ray would live in the home, first with her parents and later her husband Thomas Kelly Ray, for over eight decades. She became a founding member of the Rutherford County Historical Society and was an avid antique collector. At the time of her passing in 2015 she had amassed a collection consisting of thousands of rare and valuable items, including some from the Andrew Jackson administration. During Ray's lifetime the house became recognized for its historic value by the National Register of Historic Places, the Association for the Preservation of Tennessee Antiquities, and the Murfreesboro Architectural and Zoning Society. Today the Childress-Ray House remains privately owned and is currently being used for short-term rents.
Sources
Alfs, Lucy. "'Rare' estate sale showcases Tennessee history." Tennessean. August 17, 2015. Accessed July 27, 2018. https://www.tennessean.com/story/money/2015/08/17/rare-estate-sale-showcases-tennessee-history/31860051/
"Alice Ray." Daily News Journal. June 6, 2015. Accessed July 27, 2018. https://www.legacy.com/obituaries/dnj/obituary.aspx?n=alice-ray&pid=175017919&fhid=11029
Casteel, Brit. "Childress-Ray House." National Register of Historic Places Inventory-Nomination Form. 1979. Accessed July 27, 2018. https://npgallery.nps.gov/GetAsset/0dc06e51-5544-4053-9f23-f773daa9a035
Childress, John Williams. "The Childress Family Of Tennessee." 1960. Accessed July 27, 2018. http://digital.mtsu.edu/utils/getdownloaditem/collection/rchs/id/41/filename/45.pdf/mapsto/pdf
DeFiore, Jane Crumpler. "Sarah Childress Polk." Tennessee Encyclopedia. October 8, 2017. Accessed July 27, 2018. http://tennesseeencyclopedia.net/entries/sarah-childress-polk/
"The Childress House – 225 North Academy." Frow Chips 45, no. 5 (May/June 2016): 9-10. Accessed July 27, 2018. http://www.rutherfordtnhistory.org/wp-content/uploads/2013/11/Frowchips-45-5-May-and-June-2016.pdf
"The John Whitsett Childress House." Rutherford County Historical Society. Summer 1980. Accessed July 27, 2018. https://www.scribd.com/document/95076928/John-W-Childress-Publication-Ruth
Image 1: https://commons.wikimedia.org/wiki/File:Childress-ray-house-tn1.jpg
Image 2: https://en.wikipedia.org/wiki/Sarah_Childress_Polk#/media/File:Polk_sarah.jpg
Additional Information