Edwin S. Hartwell Building
Introduction
Built in 1885, this Pearson Street building was constructed by lumber salesman Edwin S. Hartwell as part of his investment in real estate. Architect Julius H. Huber designed the building in the Queen Anne style and it included profound ornate details, typical of buildings in an area of Chicago that catered to its middle class and financial elite. Hartwell built the building for the purposes of selling it, demonstrating that lumber in Chicago was a profitable business that allowed him to invest his earnings in other areas.
Images
The Building at 14-16 Pearson Street in Chicago (1885). It was built in 1885 for Edwin S. Hartwell, a lumber salesman seeking to expand into real estate.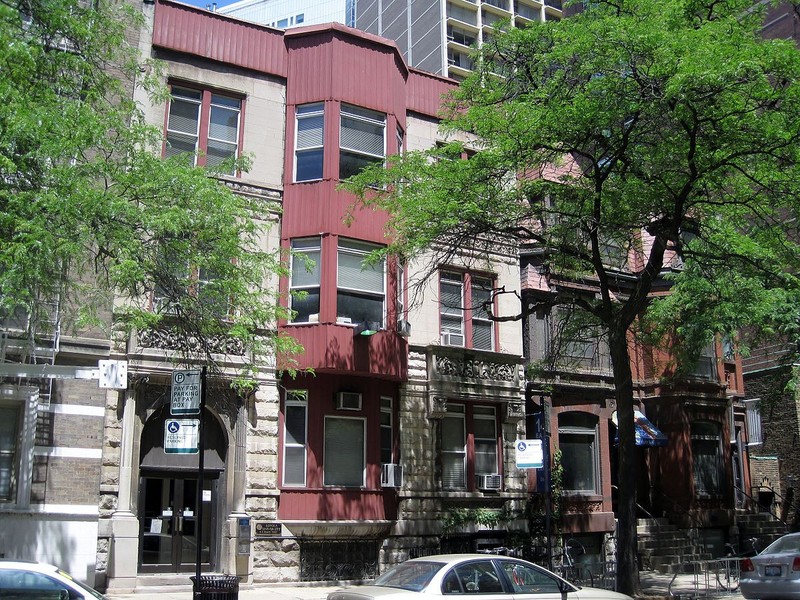 Decorative panel on the building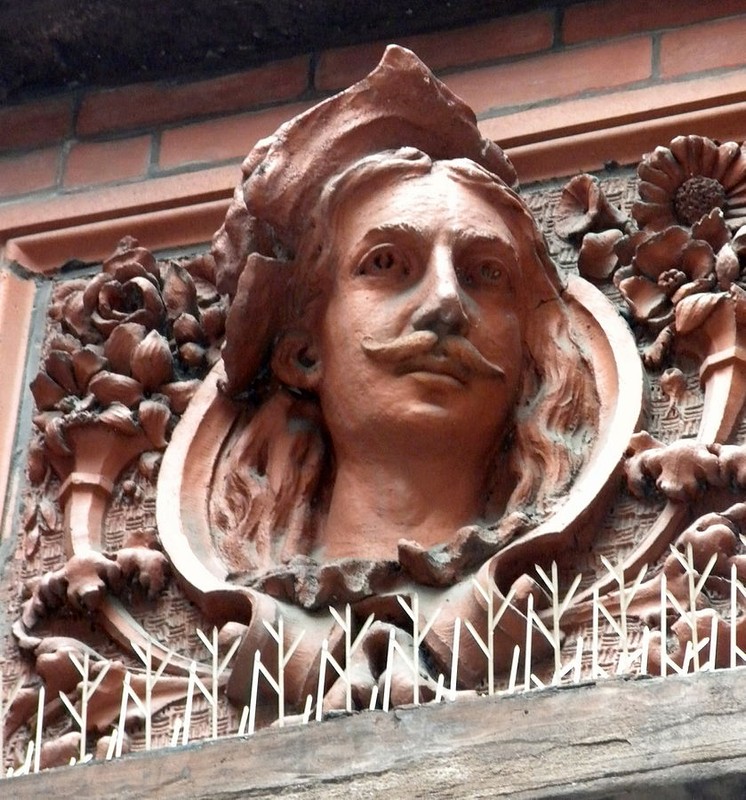 Backstory and Context
This 1885 building located in Chicago's Near North Side neighborhood was built by future lumber magnate Edwin S.Hartwell (1846 - 1915). At the time, Hartwell worked as a lumber salesman and he would not operate his own lumber yard until 1896. Harwell delved into real estate to supplement his money as a salesman. That a salesman could secure the resources to build this ornate building demonstrates that Chicago had grown into the world's largest lumber market by the late nineteenth century. He built the home to include lavish decoration on its exterior to appeal to the wealthy, many of whom lived on Chicago's Near North Side and Gold Cast neighborhoods.
Along with grain and meatpacking, lumber served as one of the city's "big three" commodities during the nineteenth century. Chicago's favorable geography included a maritime connection to both New York and New Orleans among other places as well as to the dense forests located in the Upper Great Lakes. Chicago also grew to become one of the nation's most important railway hubs. Those variables, along with the lumber used to build the rapidly growing Chicago, allowed Chicago to mature as an indispensable hub for advancing and processing forest products. In fact, Chicago was the world's largest lumber market in the last half of the nineteenth century, and Edwin Hartwell.
Harwell, a native of Denmark, New York and came to Chicago at the age of 18, in 1864. He first took a job at the wholesale lumber firm, F.B. Gardner & Company, where he remained for a dozen years. In 1876 he worked in management for the Peshtigo Lumber Company (based in Wisconson, but with yards in Chicago). By 1887, he began to make plans to create a lumber firm, which came to fruition in 1896 as the Edwin S. Hartwell Lumber Company , though he only managed the company for seven years before selling his interests and moving to yet another lumber company. His slow rise through the ranks meant that, at times, he looked for other opportunities with real estate being one of them -- his understanding and access to lumber made real estate an attractive side venture.
In 1887, Hartwell sold the west half of the now-historic Pearson building to the Chicago Avenue Independent Church which used it as the residence for its minister and his wife. The east half was sold twice in seven years to two different couples. But, it's not who lived in it that makes the building notable, it is the design, an exceptional, yet rare example of the Queen Anne style, rendered in masonry and richly detailed. Two bays topped with dormers adorned the building's facade while the western bay featured ornate details including corbelling, hipped roofs over the windows and a metal pinnacle atop its dormer. The second floors of both bays included decorative panels.
Sources
Johnson, Bolling Arthur. "Chicago Lumberman."
Chicago Lumber Review
, vol. 28. Published July 10, 1915. https://books.google.com/books?id=LEkhAQAAMAAJ&pg=RA5-PA35&lpg=RA5-PA35&dq=Lumber+salesman+Edwin+S.+...
Karamanski, Theodore J. "Lumber." Newberry Library Enyclopedia of Chicago. Accessed July 22, 2018. http://www.encyclopedia.chicagohistory.org/pages/767.html.

Westfall, C.W. "Nomination Form: Building at 14-16 Pearson Street." National Register of Historic Places. October 3, 1979. https://archive.org/stream/NationalRegisterNominationsForChicago/14-16E.PearsonStreetNrNom#page/n1.

Photo Sources

The Building at 14-16 Pearson Street: Teemu008 from Palatine, Illinois - Building at 14-16 Pearson StreetUploaded by AlbertHerring, CC BY-SA 2.0, https://commons.wikimedia.org/w/index.php?curid=29480723

Decorative Panel: By Smallbones - Own work, Public Domain, https://commons.wikimedia.org/w/index.php?curid=9426041


Additional Information