Slocum Massacre, 1910
Introduction
Slocum was a small and growing town in east Texas that was notable for its sizeable African American population. Following two minor altercations between white and Black residents in which the white residents were angered by the commercial success of their Black neighbors, whites in area towns fomented racial strife and called on their neighbors to retaliate. On July 29, 1910, hundreds of armed whites descended on the Black residents of Slocum, killing as many as 25 people.
Images
Read the story of the Slocum Massacre in E. R. Bills' book, available by clicking the link below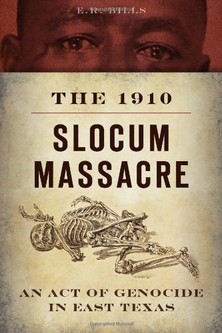 Backstory and Context
In 2011, the state legislature adopted a resolution acknowledging the incident, yet few Texans know about the tragic massacre that occurred here in 1911.
Additional Information