Montgomery Ward Company Complex
Introduction
The Montgomery Ward Complex was built 1907 and included two massive buildings that offered 400,000 and 2,000,000 square feet. This complex served as the distribution point and national headquarters of the world's first catalog-based general retailer, the Montgomery Ward Company. Not long after, Sears & Roebuck was formed in Chicago and the city became the center of the catalog-based retail sales world. Marshall Field and several other department store companies also maintained their headquarters in Chicago, making the Windy City the center of the mail-order and department store industry.
Images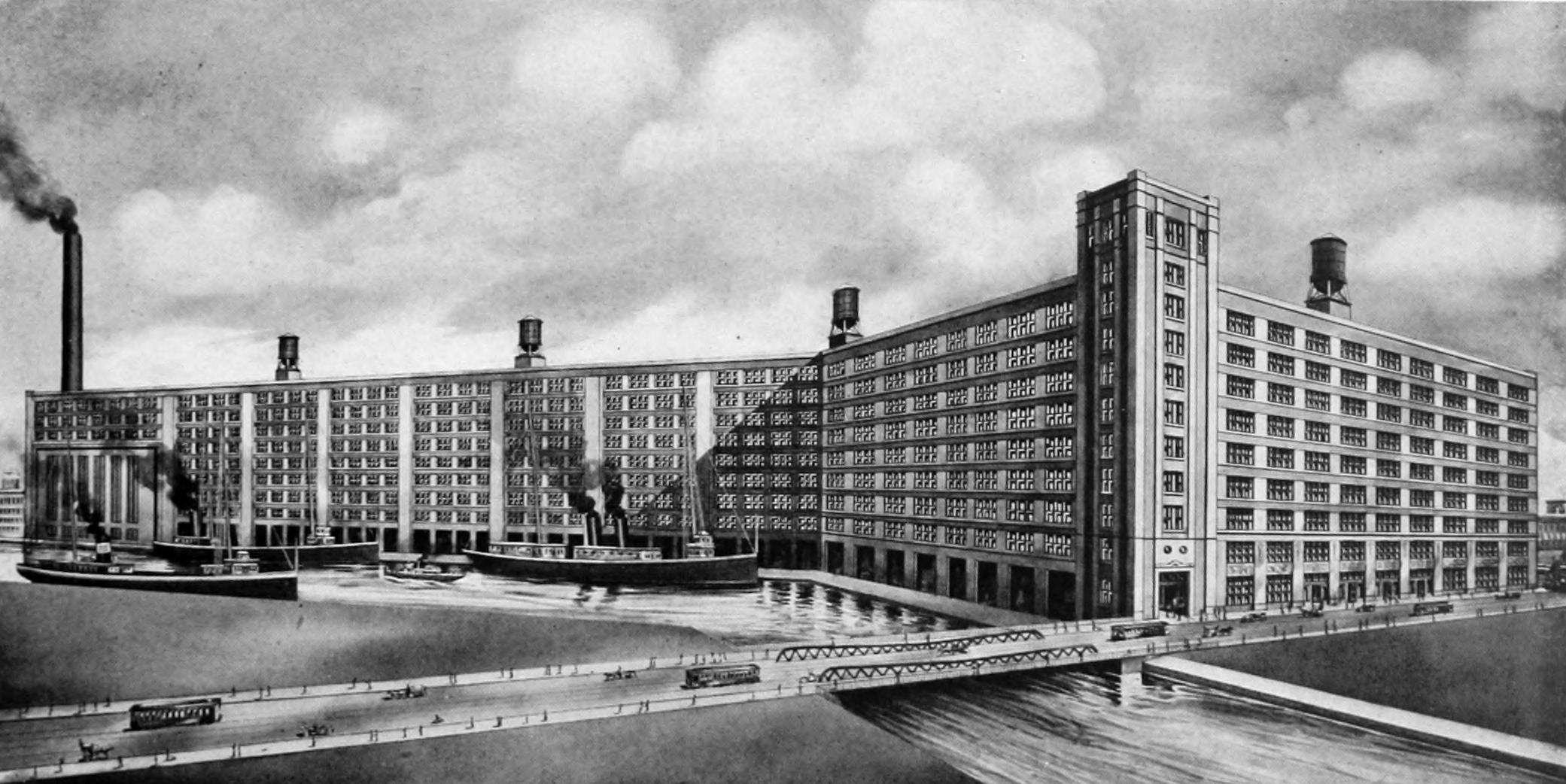 Montgomery Ward & Co. Catalog House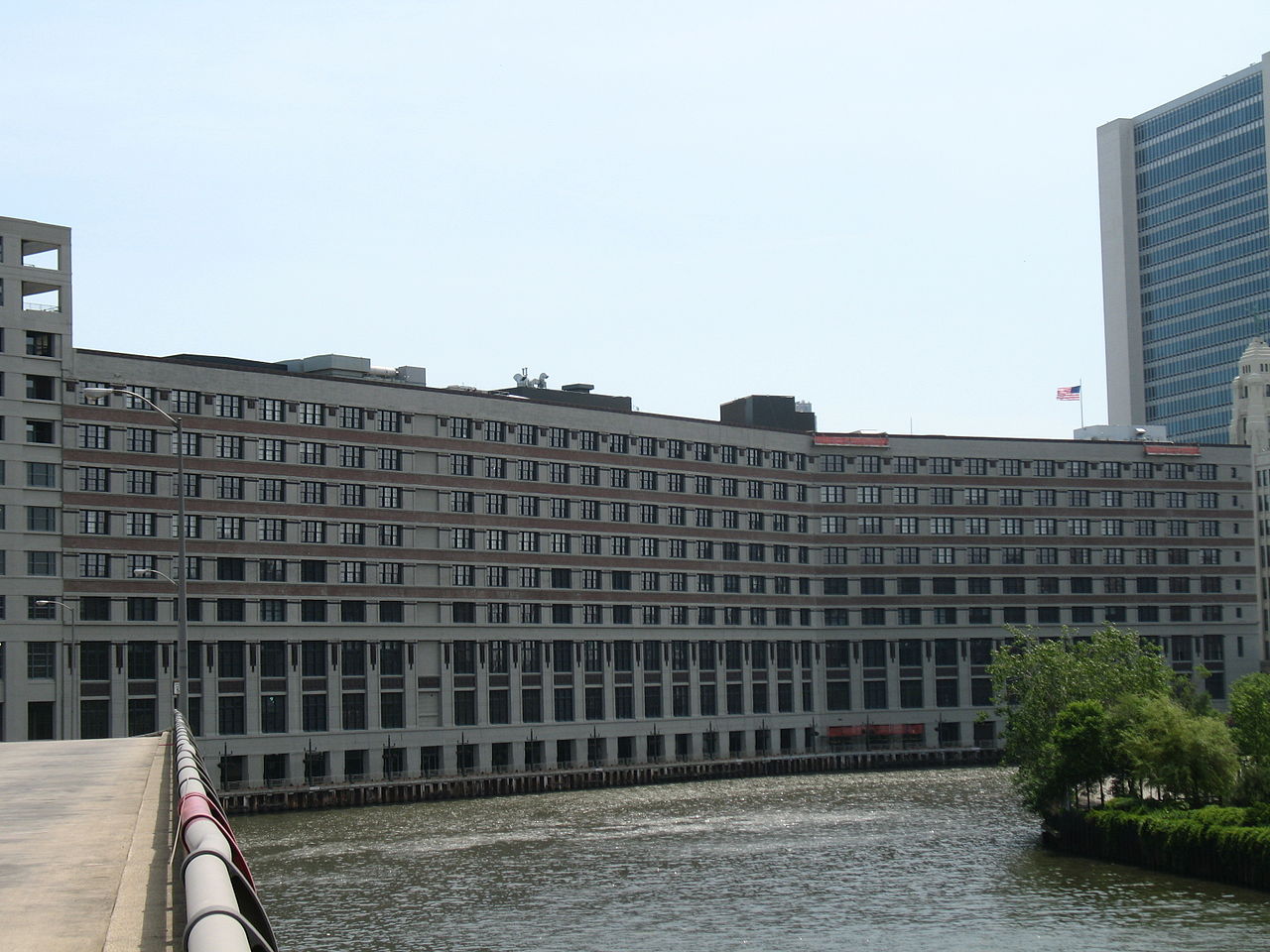 Backstory and Context
Comprised of a 400,000-square-foot, eight-story administration building and a nearly two-million-square-foot warehouse, the Montgomery Ward Company Complex (built 1907) functioned as the national headquarters of Montgomery Ward, the nation's oldest mail order firm and the world's first great mail-order retail company. Aaron Montgomery Ward founded the company in Chicago in 1872, which was followed later by another successful, colossal mail-order company: Sears & Roebuck.
Aaron Montgomery Ward was born February 17, 1843, in Chatham, N.J., but his parents moved to Niles, MI a few years later. It was in Michigan that Ward's father, Sylvester, opened a cobbler shop. In 1857, Ward began work as a cobbler's apprentice, but his dislike for the trade pushed him to seek other opportunities. After brief stints as a laborer in a barrel factory and a brickyard, he eventually set his sights on a career in retailing.
In 1862 Ward moved to St. Joseph, MI and worked as a clerk in a general store and by 1865 served as the store manager; his salary grew from $5 to $100 per month. Despite that success, his ambitions drove Ward to leave the store in 1866 and head to Chicago.
At first, his work in Chicago required him to return to clerking, which he did for two years at a dry goods firm headed by another famous Chicago retailer, Marshall Field. From there, he took a position as a traveling salesman for a St. Louis firm known as Walter M. Smith and Company. His travels to cities and several rural locations offered him an opportunity to learn about retail practices. Specifically, he realized that many general stores marked up prices on merchandise he viewed as inadequate, an observation that inspired Ward to conceive of an idea to create a large store in a central location (read: Chicago) where a company could buy quality goods in bulk directly from manufacturers and sell them inexpensively by mail to the nation.
At first, Ward returned to Chicago and went to work for S. W. Pardridge Company, a State Street dry goods firm. While there, he accumulated a variety of merchandise, but the Great Chicago Fire (1871) destroyed his stock, but Ward refused to give up on his dream. One year later, with $1,600 in capital and two fellow employees from the Pardridge Company, he launched Montgomery Ward and Company from a small rented room on North Clark Street; the first catalog consisted of a mere single page listing 163 items. Early success did not materialize; thus Ward lost his two partners and had to keep his job at the Pardridge Company.
In 1873 the Company received a much-needed boost when Ward's brother in law, George R. Thorne, became a partner and helped back the company, financially with a $2,400 investment. By 1874 Montgomery Ward published its first bound catalog -- thirty-two pages long, instituted a "money back guarantee" and allowed for installment payments, which made it much easier for modest-income families to buy expensive items. As well, Ward targeted rural farmers and Southern Blacks (who were not allowed to shop in white-only stores). All told, the new catalog and strategies sales exceeding $100,000; and many consumers dealth with a new problem -- consumer debt.

Two years later, sales passed the $300,000 mark. By 1887 sales reached $1 million; by 1897, $7 million; and by 1910 nearly $20 million. Over time, Ward employed more than 7,000 Chicago-area residents and grew into a need for an extensive distribution and office center, which is now the complex along the Chicago River.
However, by the turn of the century, Sears, Roebuck & Company had surpassed Montgomery Ward as the U.S.A's largest mail-order firm. But, Ward had already stepped away from his active role within the company years earlier; had sold his controlling interest in 1893 to his business partner, George R. Thorne, who subsequently handed management duties off this his five sons.
After 1903, Ward stopped attending board meetings but retained the title of president until his death in 1913. Instead, he turned his attention to a passionate cause -- a crusade to save Chicago's lakefront from commercial encroachment. Consequently, the areas now known as Grant Park and Millenium Park were preserved for future generations to use for leisure, those spots are generally viewed as one of the city's most attractive features.
Mongomery Ward never surpassed Sears in sales again, but the two powerhouses turned Chicago into a catalog hub, and along with Marshall Fields and other stores, a booming center for retail. In fact, by 1926, Mongomery Ward Company followed its rival, Sears & Roebuck and opened retail stores to complement its catalog operations. By 1931, the company operated more than 530 stores nationwide.
The Great Depression did not thwart the growth of Montgomery Ward; sales increased from $200 million to $600 million between 1928 and 1941 and the company employed more than 70,000 people by the start of World War II. However, during the war, the company's board refused to recognize an employees' union backed by the government's War Labor Board and, as a result, the U.S. Army seized much of the company's property, which slowed the company's growth and popularity, though annual sales did pass $1 billion in 1956.
Changing cultures and consumer habits eventually ate away at Ward's dominance, though one could argue that it did not decline nearly in the same fashion as Sears. By 1968, Ward merged with Chicago-based Container Corp. of America, and in 1974 with about 450 stores across the country and nearly $900 million in annual sales, Ward was purchased by the Mobil Oil Corp. At that point, the historic complex no longer served as the company's home.
Mobil sold War in 1985 and again became a private company. Sales exceeded $7 billion in the first two years of the twenty-first century, and the company still employed 7,000 people. Still, it proved to be not enough and was forced to shut down permanently in 2001. After nearly 130 years in business as a significant Chicago company and leading American retailer, the company founded by Aaron Montgomery Ward vanished.
Sources
Christian, Ralph J. "Registration Form: Montgomery Ward and Company Complex." National Register of Historic Places. https://npgallery.nps.gov/GetAsset/c18b356c-7ff4-4ab3-a3db-cc1dd1561ece/

Forbes.com Staff. "Aaron Montgomery Ward (1843-1913)." Forbes.com. https://www.forbes.com/2005/07/08/montgomery-ward-sears-debt-cx_0708ward.html#3686ef9c3ba2

Wilson, Mark R.along with contributions from Stephen R. Porter and Janice L. Reiff. "Ward (Montgomery) & Co." Newberry Library: Encyclopedia of Chicago. Accessed July 22, 2018. http://www.encyclopedia.chicagohistory.org/pages/2895.html

Photo Sources
1911 Photo: https://chicagology.com/skyscrapers/skyscrapers034/
Montgomery Ward & Co. Catalog House: By TonyTheTiger at English Wikipedia, CC BY-SA 3.0, https://commons.wikimedia.org/w/index.php?curid=7394276




Additional Information