Emmel Building
Introduction
The Emmel Building, built in 1875 for German Immigrant Peter Emmel, was one of many buildings constructed as the city rebuilt following the 1871 Great Chicago Fire that decimated the city's Near North Side neighborhood. The building is a quintessential example of a "store and flat" style building, with the lowest floor comprised of commercial space and the upper floors intended for residential use. However, a few of its designs point to its location amidst some of Chicago's wealthier residents, notably in the nearby Gold Coast neighborhood. Peter Emmel, arrived in Chicago from Germany in 1854 and worked as a painter and interior decorator; he had the building built for his business and family.
Images
Emmel Building, 1357 N. Wells Street on Near North Side of Chicago, or broadly speaking "Old Town"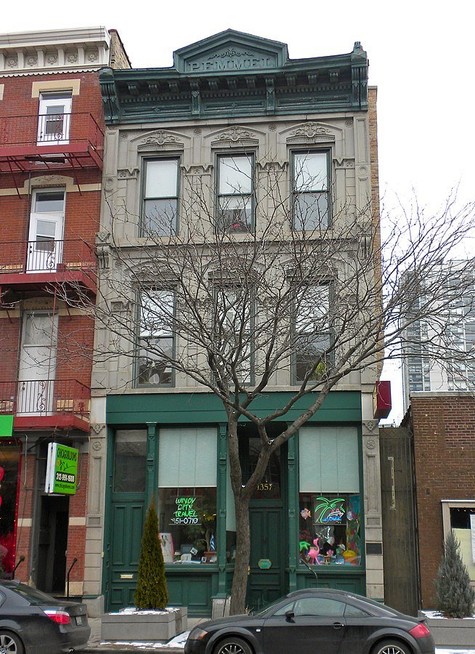 Backstory and Context
In 1875, German Immigrant Peter Emmel sought to recover from the 1871 Great Chicago Fire by building a "store and flat" house for his business and family. typical in Chicago during that time; his business would operate out of the lowest floor while his family would occupy the floors above. Its location in Chicago's Near North Side (near the Gold Coast area) indicates that he enjoyed some level of wealth, demonstrated by its detailed stonework and Italianate structure that serve to distinguish it from other store and flat buildings in Chicago.
Peter Emmel was born in Frankfurt, Germany in (it is believed) 1831, arrived in Buffalo at the age of 16 (1847) and then finally moved to Chicago in 1854, settling in a predominantly German neighboorhood. While in Buffalo, he became involved in the trade of artistic decorating. Consequently, he set up his first business in Chicago in 1855, working as a painter and interior decorator (mostly as a painter). With an influx of Germans arriving into the neighboorhood during that time, many of whom existed among the middle and upper classes, Emmel enjoyed no shortage of work opportunities -- his business performed well.
The Great Chicago Fire of 1871 damaged Emmel's business. Nevertheless, in the wake of that fire, he built the now historic home in 1875. Emmel operated his business out of the first floor while his family and he occupied the top two floors, a design known as a store and flat. Though many existed in Chicago in the late 19th century, Emmel's flair for design, his money, and the location of his house amidst many of Chicago's prosperous residents meant that his store and flat exhibited greater elegance than many simplified versions located in the city. The Emmel building included stone Italianate structure, richly detailed stone and brick exterior, a projecting metal cornice, and a gable bearing the name "P. Emmel."
Sources
Half-Century's Progress of the City of Chicago: The City's Leading Manufacturers and Merchants. History of Illinois, pt. 1.Chicago and New York: International Publishing Company, 1887.

HIlli, Melvin and Peter d'Alroy Jones, eds. Ethnic Chicago: A Multicultural Portrait. Grand Rapids, MI: Eerdman's Publishing, 1995

Hubbard, Nancy J. "Nomination Form: Emmel Building." http://gis.hpa.state.il.us/pdfs/201225.pdf. National Register of Historic Places. July, 1984.

Seligman, Amanda. "Near North Side." Newberry Library: Encyclopedia of Chicago. http://www.encyclopedia.chicagohistory.org/pages/876.html. Accessed July 19, 2018.

Photo Source

Emmel Building: By Smallbones - Own work, Public Domain, https://commons.wikimedia.org/w/index.php?curid=9438180
Additional Information