Portsmouth Raceway Park
Introduction
Portsmouth Raceway Park was established in 1990 by Boone Coleman, though the first year of racing was 1991. The land was previously a part of the town of Alexandria, which was largely abandoned in 1813 due to repeated flooding. Afterward, the land was used as farmland until being transformed into a dirt race track.
Images
A birds-eye-view of the Portsmouth Raceway Park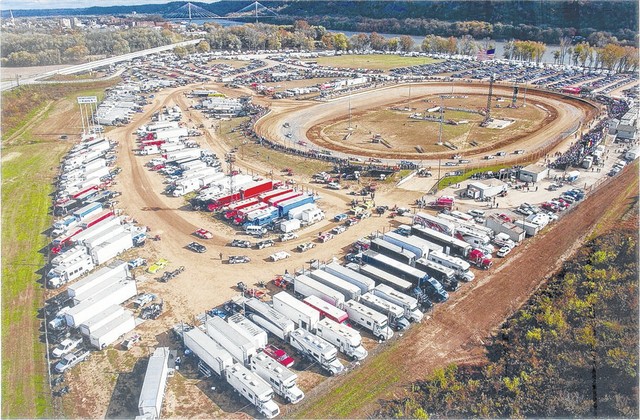 An aerial shot of the raceway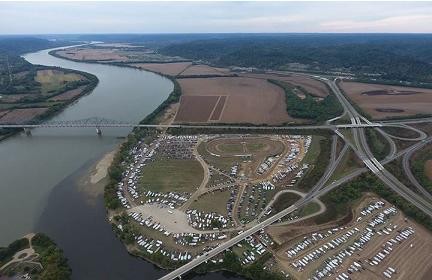 Backstory and Context
The one-hundred acres where Portsmouth Raceway Park now sits was once the property of the Shawnee people. White settlers came into the area in the final years of the 18th century and through treaties signed under duress, acquired area lands. On June 3, 1799, a town called Alexandria was plotted out in this area. A series of heavy floods in the early 1800s soon forced residents of Alexandria to move to nearby towns, such as Portsmouth. What they left behind simply became farmland.
Over a century later, in 1990, Boone Coleman, the owner of this farmland, decided to turn his property into a racetrack for his son to practice on. As the cost of this project climbed, Coleman decided to open it to the public. Since he knew nothing about races himself, Coleman brought in a friend who did have experience with the industry.
The Portsmouth Raceway Park opened in the fall of 1990 with only two races. 1991 saw the first full year of racing. In 1992, workers were preparing for an extravagant two-day show for the Fourth of July. The night before, unfortunately, vandals used an on-site bulldozer to destroy buildings and the grandstand area. With the help of the community, the raceway was rebuilt and ready for action in just two weeks. There have been many improvements to the track and its facilities since then. In 1999, the dirt track was lengthened to 3/8 mile. The Portsmouth Raceway Park still operates today.
Sources
The History of PRP. Portsmouth Raceway Park. Accessed July 19, 2018. http://www.portsraceway.com/history.html.

The history of Portsmouth Raceway Park. Portsmouth Daily Times. October 16, 2017. Accessed July 19, 2018. https://www.portsmouth-dailytimes.com/news/20214/the-history-of-portsmouth-raceway-park. Information and photo source.

Photo Gallery - 2017. Portsmouth Raceway Park. Accessed July 19, 2018. http://www.portsraceway.com/photos.html. Photo source.


Additional Information