Bley House Museum of the Dorset Historical Society
Introduction
Since 1963, the Dorset Historical Society has offered exhibits that include historical artifacts related to lives of colonial settlers to contemporary residents, including galleries of art by area residents. The museum also includes a library with thousands of documents, photographs, and other one-of-a-kind materials such as Fenton stoneware. Highlights of the museum include artifacts related to the history of agriculture, marble quarrying, genealogies and creativity in Dorset, Vermont.
Images
Huntington Pratt Gilbert, "Edith Harwood Raking," July 25, 1913.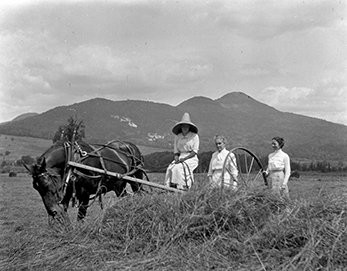 Backstory and Context
The museum offers a variety of exhibits in addition to a research library. The organization also sponsors a local history lecture series and walking tours of Dorset, a town that was chartered in 1761.
Additional Information