Johnson Hall, Muskingum University
Introduction
There once was a building that stood tall over Muskingum's entrance overlooking the beautiful village of New Concord. Johnson Hall was built in 1899 and became the second building on Muskingum's campus. Following Paul Hall, Johnson Hall became a building that was advanced Muskingum into what it has become today. Although Johnson Hall is no longer with the campus, the memory of its beginning and final days will stay with Muskingum forever. There is a steel beam that once took place in Johnson is now placed in Philip and Betsey Caldwell Hall that lays in memory of its previous home.
Images
Johnson Hall on the hill looking over New Concord.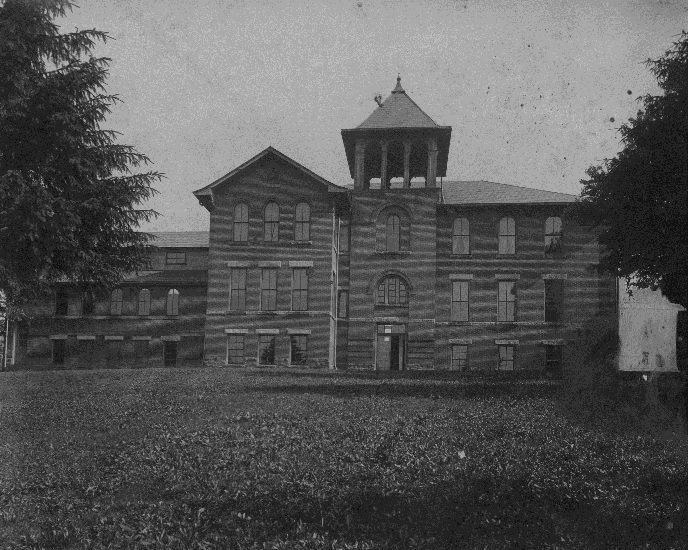 Johnson Hall standing tall between two beautiful pine trees.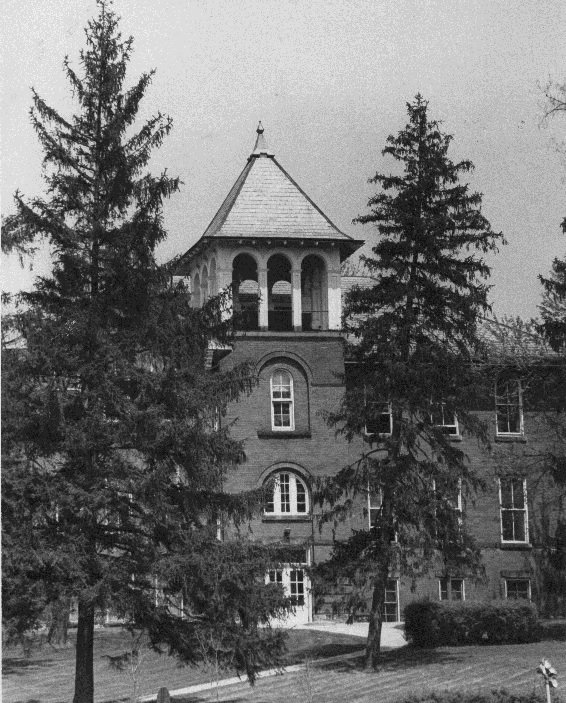 With over 1,000 signature from guest at the Caldwell Hall groundbreaking ceremony, this steel beam from Johnson Hall will be placed in the 4th floor catwalk of the new theater.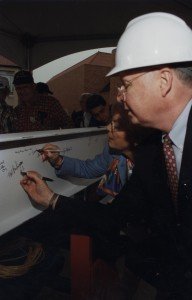 Backstory and Context
Looking through the old photos of Johnson Hall, there is a grad distinction of the Victorian architecture with a twist of modern twentieth century models. The Hall had a brick face with stone trimmings which would match Paul Hall. The roof of Johnson Hall was made from slate and was supported by arcaded arches from all sides of the building. Johnson Hall was three stories tall and measured to be 124 feet long by 50 feet wide by 38 feet high. In the western section of the building, the auditorium and chapel took place until other buildings were made for these purposes. As the years passed and time moved on, the auditorium was converted into the new theater after the major renovations for students to use for additional theater productions. Students who came to Johnson Hall had to walk all the way around to get inside. Therefore, Johnson Hall had its entrance moved to the rear side so it was easy for students and staff to be welcomed in. Johnson Hall was also nominated for the National Register of Historical Places Inventory. This is where old building can be reviewed as a historical building. This was applied on February 1977 by President John Anthony Brown and Dr. Carroll Wood.
When President Jesse Johnson came to Muskingum in 1894, Paul Hall was the only building on campus for classes. It was not long after President Johnson came to office when he made plans to enlarge the campus to make room for more classes. Before the new building was completed, some of the classes were held in the town hall. With the Board of Trustee's approval and the donation of 2,500 dollars from the city of New Concord, the building that would hold classes and make room for development would soon come to campus. With the help of New Concord and the ability to raise the money in half a year, the building funds were set. The total cost for Johnson Hall came to 10,659 dollars which today would be just over 300,000 dollars. An additional 2,000 was used to improve the heating and other details in the building. Johnson Hall would hold new classrooms, labs for the science classes, and the chapel. Even though Johnson Hall was completed, the chapel was moved once Brown Chapel was completed in 1912. The labs also moved in the 1970s when the new science center, Boyd Science Center, was built. Since the chapel was moved to Brown Chapel, what was once the chapel in Johnson Hall was soon converted into the Library. This severed as a place to study and complete research. However, like everting else that was once in Johnson Hall, the Library was moved into a new Library that was built for a larger group of students with better resources. Nevertheless, the old library space did not stay empty for long. The school turned the large empty area into a nice lecture hall. Johnson Hall was also where the four campus literary societies headquarters were. These literary societies called the third floor of Johnson Hall home. As of 1977, the building that was originally made for classrooms, laboratories and the chapel was then turned into the building for modern and classical language, and arts departments. This held the offices and most classrooms that would have these classes.
President Jesse Johnson was a Muskingum Alumni with the class of 1887. Johnson came back to Muskingum after only a few years of graduating to fill in for a professor who was taken ill at the time. After his first term as a professor at Muskingum, Johnson was close to completing his two-year Seminary degree at Allegheny Seminary. After these two years at Allegheny, Johnson came back to Muskingum in hopes for a temporary professor position. What he thought would only last a few years lasted four all together until he was asked to step in as President at Muskingum. Johnson would only accept this new responsibility as long as he was able to finish his courses at the seminary in the winter. Jesse Johnson did not stay very long at Muskingum. His Presidency was from 1893 to 1902. It took two years to find a replacement after Johnson left. After eight years of being president of Muskingum, he felt that this is where he was not meant to be and accepted a position at Xenia Seminary to become a professor. After President Johnson left, it took two years to find the next president of Muskingum.
Although Johnson Hall is no longer with us, the second building that was built on campus was something of impressive and architectural design. Being a building of many abilities, Johnson Hall was the place for everything. However, time will move on and buildings will come and go. Johnson Hall was the structure that helped enlarge the campus and make room for student to come and receive a great education at Muskingum University.
Sources
Griffen, Heather. Kerrigan, William. Worbs, Ryan. Muskingum College: The Campus History Series. Charleston, SC. Arcadia Publishing, 2009.

Fisk, William L. A History of Muskingum College. New Concord, OH. Muskingum University, 1978.

Remembering Caldwell Hall Groundbreaking. Orbit Media. April 11, 2015. Accessed November 28, 2018. http://www.orbitmediaonline.com/caldwell-hall-celebrates-anniversary/.