William J. Clinton Presidential Center
Introduction
Located in the heart of Little Rock's River Market District, the Center is home to the William J. Clinton Presidential Library and Museum, the University of Arkansas Clinton School of Public Service, and the Little Rock offices of the Clinton Foundation. The library and museum offers archives and galleries. The museum's permanent collection features exhibits that follow a time-line of the historic events that occurred during the eight years of Clinton's presidency. The museum includes an exact replica of President Clinton's Oval Office. Outside, guests can stroll through the William E. "Bill" Clark Presidential Wetlands. They can also enjoy a meal at Forty-Two, the Clinton-themed restaurant on site. The William J. Clinton Presidential Library contains genealogy and family history information and artifacts about both President Clinton and Friday Lady Hillary Rodham Clinton. Other genealogical research, often correspondence, for "ordinary people" may be found in "WHORM," the White House Office of Records Management -a system that contains a variety of series created to organize and track documents.
Images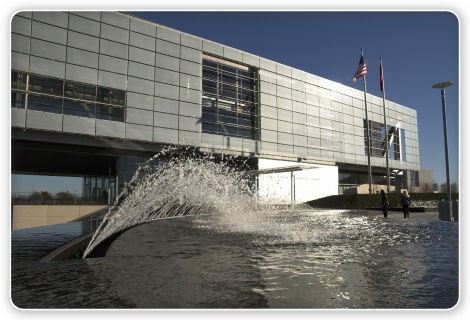 The museum offers the only replica of the Oval Office, allowing guests to get a feel for the White House they can't get on the White House tour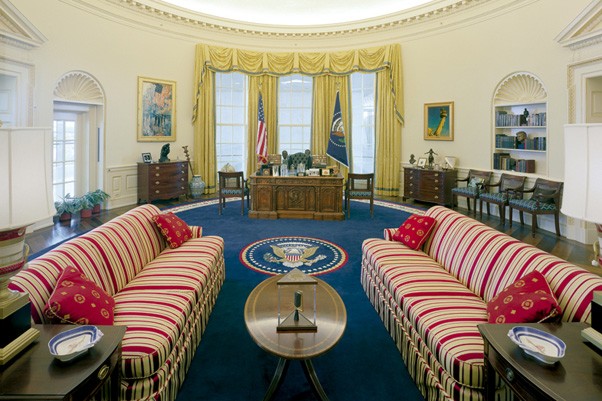 Backstory and Context
Bill Clinton was originally born as William Jefferson Blythe III on August 19, 1946 at Julia Chester Hospital in Arkansas. His father was a traveling salesman and tragically died three months before his son was even born. His mother, Virginia, would go to school in New Orleans in order to study nursing leaving Bill with his grandparents to take care of him. His mother returned to home and even married another man named Rodger Clinton Sr. to which Bill would adopt the surname Clinton at the age of 15. In school, he often became a leader, avid reader of books, and a musician. Bill played the tenor saxophone becoming first chair in the state band's saxophone section. He attributes two things to why he became a politician: his visit to the White House in 1963 meeting President John F. Kennedy and watching Martin Luther King Jr.'s "I Have A Dream" speech on television.
Bill attended Georgetown University in the School of Foreign Service receiving his Bachelor of Science in Foreign Service document and he also became class president in the years of 1964 and 1965. He also worked as an intern in the office of Arkansas Senator J. William Fulbright from 1964-1967. Bill then won a Rhodes Scholarship and attended University College at Oxford mainly getting degrees in politics. He made a friend named Frank Aller, who was unfortunately drafted to serve in Vietnam and committed suicide in 1971 which had a big impact on Bill. Bill did not get a degree after he left Oxford, but got an honorary one in 1994 during his first term as President. Bill refused to serve in the Vietnam War and notably joined in on the protests calling for an end to the conflict.
Bill attended Yale Law School where he would meet his future wife, Hillary, and the two became inseparable once they started dating. He became a coordinator for Senator George McGovern's presidential campaign in 1972 in order to move in with his girlfriend in California. Bill and Hillary lived in New Haven returning to law school and then moved to Texas so Bill could help campaign for Senator McGovern there working with notable politicians like the future Governor of Texas Ann Richards. After he graduated from Yale Law School, he became a professor of law at the University of Arkansas.
Regarding his career in politics, Bill first ran for the 3rd district in the U.S. House of Representatives and even had an early lead thanks to the anti-Republican sentiment following the Watergate scandal, but ultimately lost to his Republican opponent by four points. He moved on to easily win the election as Arkansas's Attorney General serving from 1977-1979. Bill entered the race for the Governor of Arkansas office becoming one of the youngest candidates to enter the election race and he would win the spot. Due to his young age, he was often nicknamed "Boy Governor." Bill served two non-consecutive terms as Governor, first, from 1979-1981 and, second, from 1983-1992. It was then that he entered the presidential race in 1992 winning his party's nomination and defeating incumbent President George H.W. Bush to become the 42nd President of the United States.
President Clinton won re-election quite easily against Senator Bob Dole in 1996 and his Vice President was Senator Al Gore of Tennessee. During his two terms as President, Bill was responsible of signing into law the North American Free Trade Agreement (NAFTA), pushing for welfare reform, signed the Family and Medicare Leave Act of 1993, provided tax cuts to 15 million low-income families, and passing the Foster Care Independence Act. President Clinton was also impeached based on a scandal where he was accused of having sexual intercourse with a female intern named Monica Lewinsky. The House impeached him on the articles of perjury and obstruction of justice making him the second U.S. President to become impeached in history, but he was found not guilty after all of it.
The William J. Clinton Presidential Center holds a variety of exhibits like displaying a timeline of his two terms as President. The full-scale Clinton Oval Office was constructed based on many photos taken of the office to get it exactly replicated in the presidential museum. One thing that seems to be missing is parts of the Monica Lewinsky scandal and his Impeachment which President Clinton was heavily criticized for. The scandal was portrayed as a power struggle between Clinton and Republicans when Republicans took over Congress in 1994. However, there are plenty more personal items like letters to and by the Clinton Family, full-scale models of the Oklahoma City Bombing, a detailed description of Middle East peace efforts, and a display of President Clinton's presidential limousine.
Sources
The William J. Clinton Presidential Center, The Clinton Foundation . Accessed May 10th 2021. https://www.clintonfoundation.org/clinton-presidential-center.
Zeleny ,Jeff . "Clinton tries to shape his legacy with presidential library", Chicago Tribune. November 18th 2004. Accessed May 10th 2021.
"Biography of William J. Clinton", Accessed May 10th 2021. https://obamawhitehouse.archives.gov/1600/presidents/williamjclinton.
Additional Information