Jack Kerouac's Grave (Edson Cemetery)
Introduction
Jack Kerouac, one of the most influential writers of the Beat Generation, was a native of Lowell, Massachusetts. The writer moved often over the course of his life, but Lowell was his childhood home and he lived there with his family until early adulthood. Kerouac died in 1969 and was buried in Edson Cemetery in Lowell, where devoted readers regularly make the pilgrimage to his grave.
Images
Kerouac's original grave stone, inscribed with his birth name, John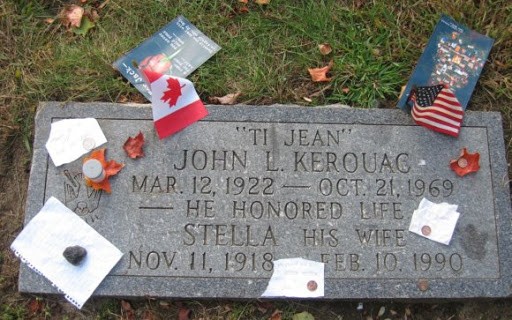 The second, larger grave marker. The original is just in front of it.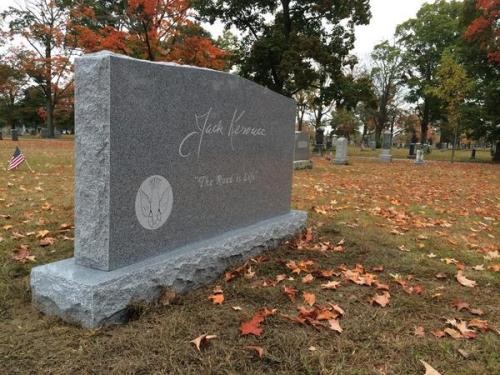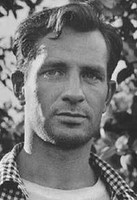 Backstory and Context
The places that writers call home--especially in their youth--often exert a powerful hold on them and their work, and Jack Kerouac is no exception. Though his parents were Canadian, Kerouac was born in Lowell in 1922 and lived there until young adulthood. Kerouac worked briefly as a sports reporter for the Lowell Sun.

While many writers seem to have an ambivalent or even hostile relationship with the place of their birth, Kerouac appeared to have genuine affection for Lowell. The city (or particular places in the city) featured in a number of his novels. Pollard Memorial Library, where Kerouac spent many hours in his childhood, features in Doctor Sax.

Though his life was a peripatetic one, a significant portion of Kerouac's life was spent in Lowell. After serving in the Merchant Marine and then living in New York City, the author returned to Lowell in 1967, in part to care for his mother, who had suffered a stroke. During his second stint in the city, Kerouac wrote Vanity of Duluoz: An Adventurous Education, 1935-1943. He was a regular at Nicky's Bar on Gorham Street, which is now a restaurant.

At the time of his death in 1969, Kerouac was living in St. Petersburg, Florida, with his mother and his third wife, Stella Sampas. The cause of his death was listed as an internal hemorrhage caused by cirrhosis, the result of Kerouac's longtime alcohol abuse. His funeral was held at St. Jean Baptiste Church, which is now Nuestra Senora del Carmen. Kerouac was buried in the Sampas family plot of Edson Cemetery. Kerouac's original grave marker--a simple, flat stone--was regularly adorned with beer cans, cigarettes, and poems written by admirers. That marker is still there, but a few years ago, a larger marker was placed at the grave. The author is also honored with a park--Kerouac Park--on Bridge Street.


Sources
Laudati, Scott. Losers, Lawnmowers, and the Grave of Jack Kerouac. Trebuchet. December 03, 2016. Accessed July 09, 2018. http://www.trebuchet-magazine.com/finding-grave-jack-kerouac/.

Jack Kerouac. National Park Service. . Accessed July 09, 2018. https://www.nps.gov/lowe/learn/historyculture/kerouac.htm.

Harris, Patricia. Seeking Jack Kerouac's Spirit on the Streets of Lowell. Boston Globe. September 30, 2016. Accessed July 15, 2018. https://www.bostonglobe.com/lifestyle/style/2016/09/29/seeking-jack-kerouac-spirit-streets-lowell/rv39d5xbDNKplWrd0BvPTP/story.html.