Charles Lindbergh Lands in Moundsville - August 1927 Historical Marker
Introduction
This historical marker commemorates the lone stop made by Charles Lindbergh in West Virginia when he toured the country after he became the first person to fly solo across the Atlantic Ocean. Lindbergh arrived in Moundsville and landed his Spirit of St. Louis plane at Langin Field on August 4, 1927. After completing the Atlantic Ocean flight on May 21, 1927, Lindbergh became and instant world-wide celebrity and after he returned to the United States he began a tour of the country, making 82 stops in 48 states. Lindbergh's lone stop in West Virginia was in Moundsville where an estimated twelve thousand people welcomed him. Langin Field ceased operation in 1931, but this historical marker marks the place where some of the crowd would have stood to witness the event.
Images
Charles Lindbergh Lands the Spirit of St. Louis at Langin Field in Moundsville. (Courtesy of WV Division of Culture and History)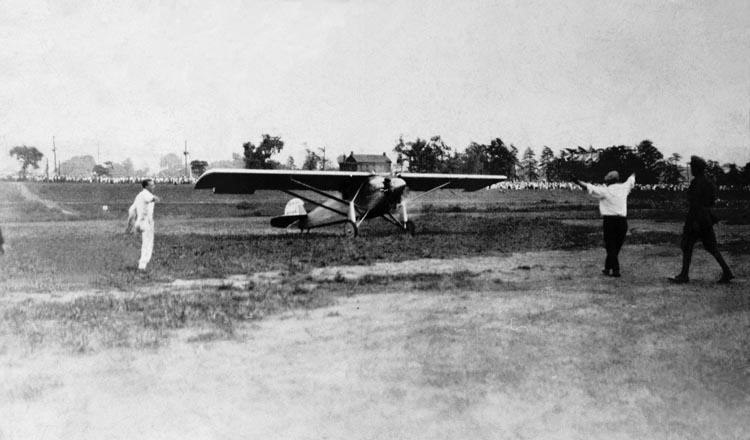 Charles Lindbergh pictured with local officials (Photo courtesy of Creston Burley and Joe Roberts)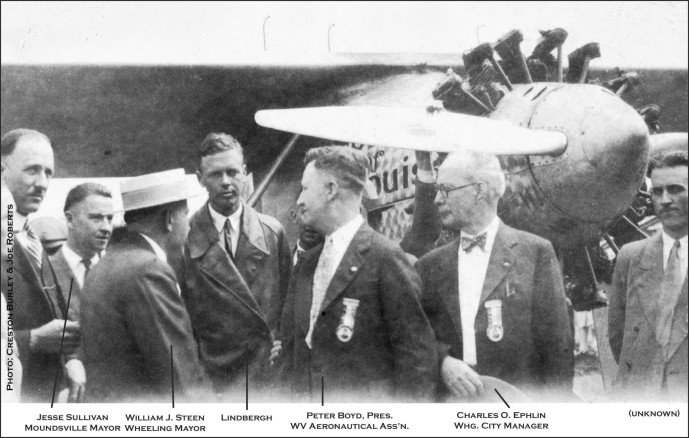 An eyewitness to the landing stands next to the marker representing the location. (Photo courtesy of Thomas James)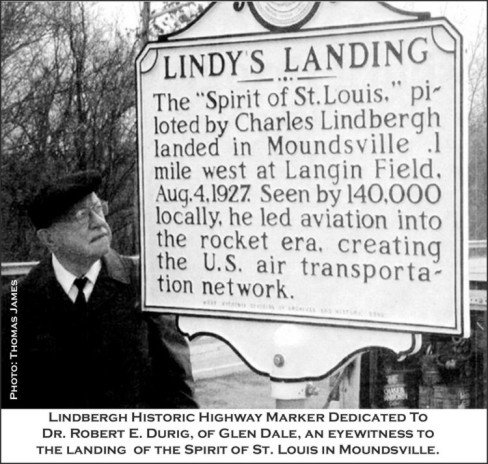 The Lone Eagle, 1927. Made by the Moundsville Airplane Corporation. (Photo courtesy of Indianapolis Speedway)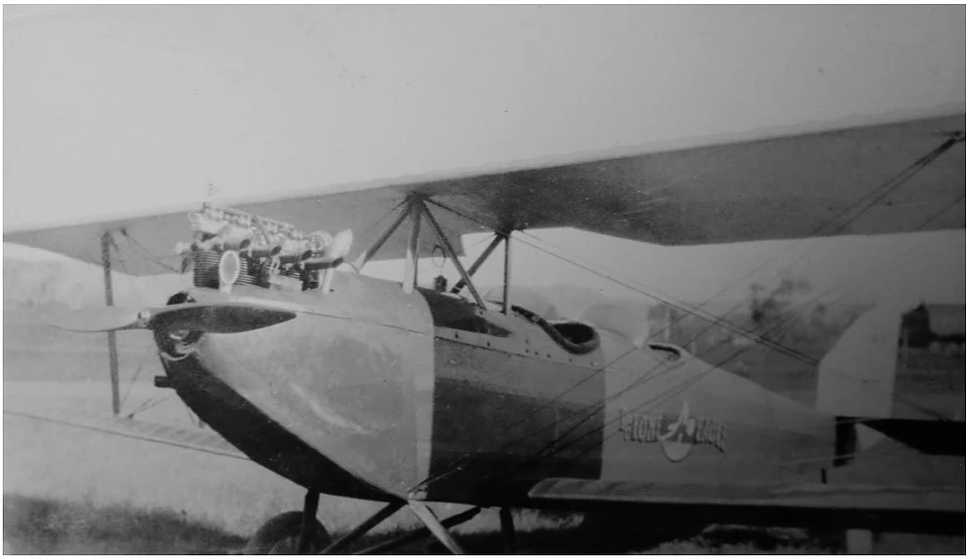 Lindbergh in Moundsville inspecting the Lone Eagle plane, named in his honor.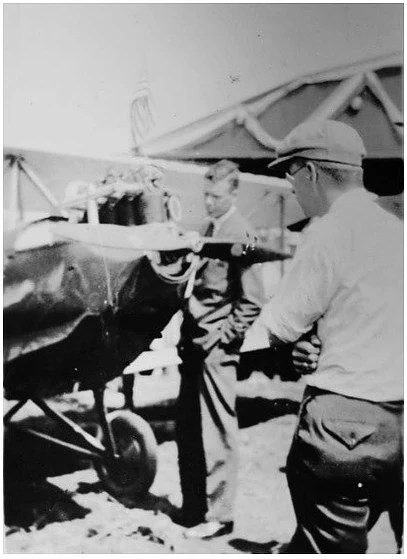 Photo collage by Thomas James. Aerial photo of Langin Field with the location of present-day Perkins Restaurant in Moundsville for perspective.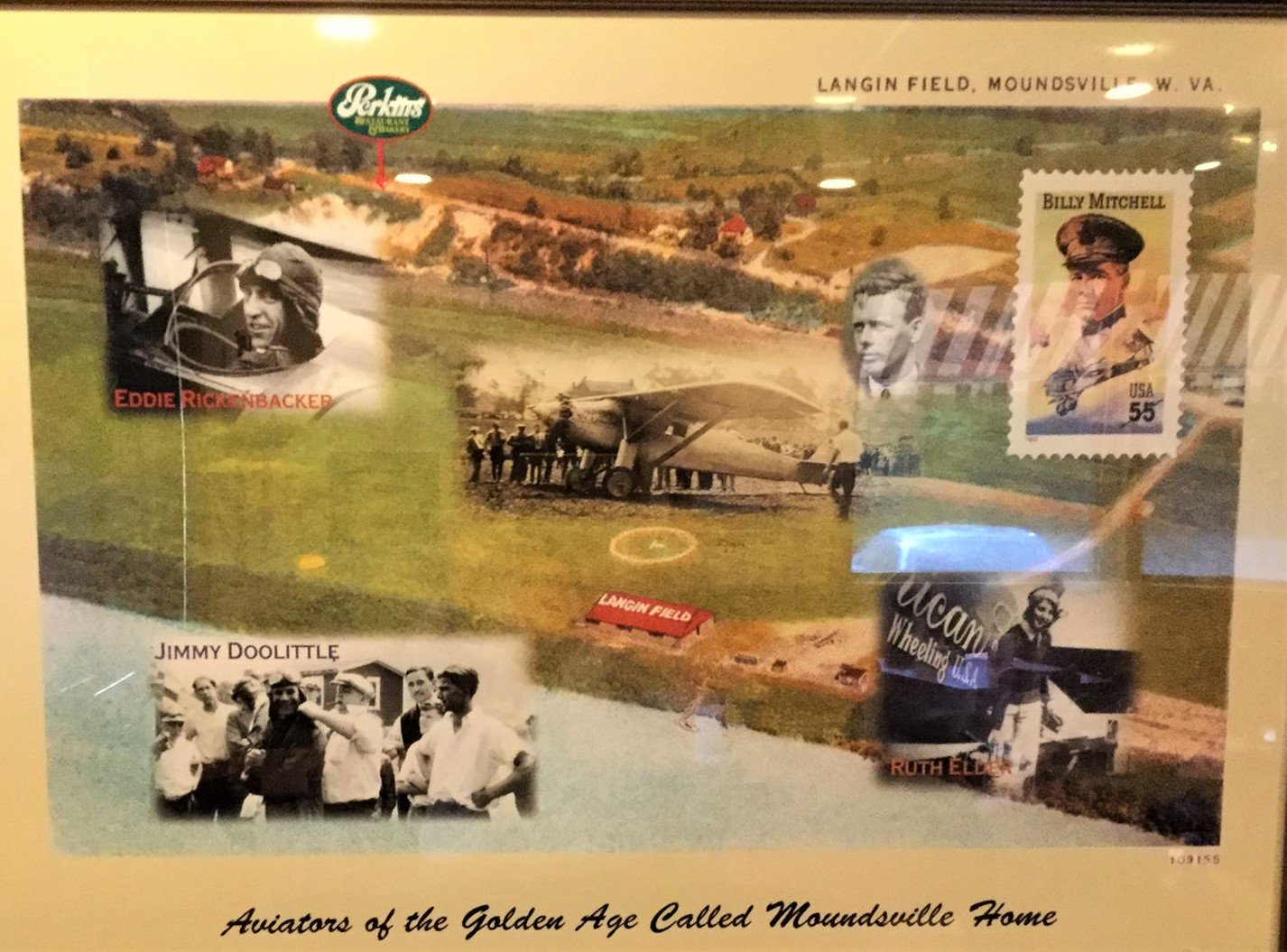 Backstory and Context
Langin Field was created following WWI to offer a refueling station and an emergency landing location given its location exactly halfway between Dayton, Ohio and Washington, D.C. In 1920,
Lt. Jimmy Doolittle (who would go on to make a name for himself leading raids on Japan during WWII) and Lt. Joseph Langin arrived in Moundsville to discuss building an airfield in the area. Moundsville was chosen due to Wheeling and Pittsburgh not having the flat land available for the field and Moundsville having a strip of flat land next to the river that was thought to be ideal. One week later, Lt. Joseph Langin died in a plane crash near Washington, D.C.

In 1921, the U.S. government leased the land in Moundsville, building West Virginia's first federally supported airport, and the airfield was named in honor of Lt. Joseph Langin. It was used primarily by military airplanes for refueling as they flew between Dayton, Ohio, and Washington, D.C. By 1922, due to potential river flooding and fog problems, the decision was made to move the airfield to a mountaintop in Wheeling. That airfield is still in use today as the Ohio County Airport. Langin Field continued serving as a government airfield while the Ohio County Airport was being built, then continued as part of the Moundsville Airplane Corporation. The 1931 Tri-State Air Races was the last significant event held at Langin Field. Planes performed
aerobatics and charged a penny per pound for a ride.
The rich riverside soil of the airfield was used for gardening during the Great Depression of the 1930s and a portion was later turned into a riverside park. Today, it is a restricted area owned by the Moundsville Water Departmen
t.

Part of Lindbergh's visit to Moundsville included inspecting the Moundsville Airplaine Corporation's first product-- a single-seat bi-plane christened by Jimmy Doolittle as The Lone Eagle, in honor of Charles Lindbergh. Despite Lindbergh's endorsement, there were not many "Lone Eagles" produced, and the factory went out of business in 1929.

Although Moundsville was the landing location, he was taken 12 miles north to Wheeling Island (West Virginia's State Fairgrounds at the time) to speak to the crowds. He was first spotted while in the air north of Wheeling then spotted all along the river route south to Moundsville. He circled over both cities as he passed through prior to landing.

A description of the scene as posted on the Lindbergh site reads:

At 2:00 p.m. on that hot August afternoon, the small silver bird came slowly into view from the north. As the Spirit of St. Louis approached Glendale, a paddlewheel riverboat on the Ohio River was the first to signal the arrival by sounding its whistle. The airplane circled the city of Moundsville once before lining up for a perfect three-point landing at Langin Field. A sustained cheer went up from 20,000 spectators and their roar was joined by a chorus of steam whistles from the many factories located at Moundsville, whistles that were then "tied down." The crowd surged forward pouring onto the field, but they were kept well back from the plane by a special contingent of state police officers. Meanwhile, Col. Lindbergh took his time securing the Ryan monoplane before climbing to the ground to shake hands with the reception committee.

His motorcade was supposed to move at a leisurely pace for those along the route to get a look at him and cheer him on but a train stopped the motorcade early in the route at Moundsville and the Wheeling officials insisted that the motorcade be sped up so as not to keep the crowd on the Island waiting any longer.

The contents of his three minute speech was focused on the importance of building additional airports in order to invest in commercial aviation. After two other private stops in the Wheeling area at Linsley Military Institute and the Scottish Rite Cathedral where he attended a banquet in his honor, he spent the night in Wheeling then beat the crowd when he left earlier in the morning than expected from Langin Field. He circled over Moundsville one last time then headed into Ohio.
Sources
This Day in West Virginia History. West Virginia Division of Culture and History. . Accessed July 08, 2018. http://www.wvculture.org/history/thisdayinwvhistory/0804.html.


Charles Lindbergh Lands Spirit of St. Louis at Moundsville. WV Division of Culture and HIstory. .August 04, 1927. http://www.wvculture.org/history/transportation/lindbergh01.html.


Charles Lindbergh Lands Spirit of St Louis at Moundsville. WV Division of Culture and History. August 05, 1927. Accessed July 08, 2018. http://www.wvculture.org/history/transportation/lindbergh02.html.


James, Thomas O. Lindbergh Lands In Moundsville. CharlesLindbergh.com. . Accessed July 08, 2018. http://www.charleslindbergh.com/history/moundsville.asp.


Coleman, Derek. Moundsville, Wheeling, Once Welcomed Lindbergh. Herald-Dispatch News. August 03, 2012. Accessed July 08, 2018. http://www.herald-dispatch.com/news/putnam_news/moundsville-wheeling-once-welcomed-lindbergh/article....

Aviation. Chevrolet Brothers. . Accessed July 11, 2018. https://www.chevroletbrothers.com/aviation.

Schanzle, Allan. The Lone Eagle Manufactured by the Moundsville Airplane Corporation. scribd.com. January 12, 2014. Accessed July 11, 2018. https://www.scribd.com/document/198989913/7-Moundsville-Lone-Eagle-94.


Additional Information