Garrison Creek Trail
Introduction
This is the northern end of the Natchez Trace National Scenic Trail, near Franklin, Tennessee, at milepost 427.6 and is a great place to hike or trail ride. A short part of the trail follows the old Natchez Trace. It joins the Overlook Trail and goes for 1.6 miles. Garrison Creek is the one spot on the trail that allows horseback riding. There is a sweeping view of the area around the trail. The trail starts with the Garrison Creek trailhead and ends with the Outlook Trail. Both are about 15-yards apart.
Images
Garrison Creek. Photo courtesy of ScenicTrace.com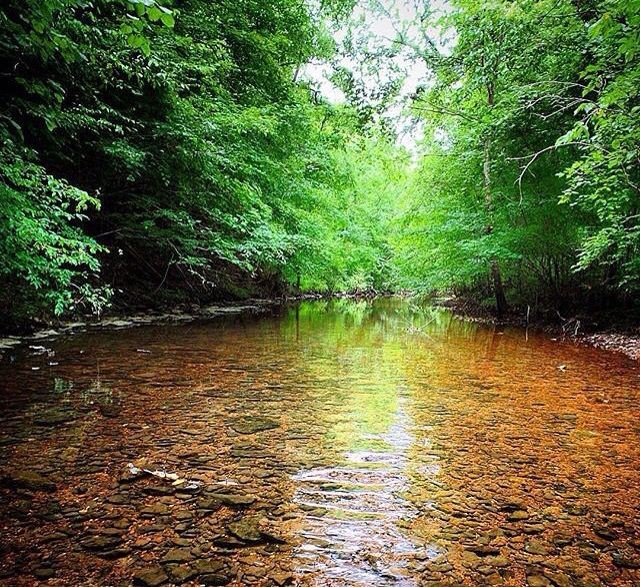 Backstory and Context
According to a 2018 story in the Williamson Herald, Garrison Creek was named after a garrison led by US Army Col. Thomas Butter was stationed there in order to transform the Natchez Trace into a military road starting in 1801, according to Tony Turnbow, president of the Natchez Trace Parkway Association. Turnbow also said that it became perhaps the first trail that was transformed into a highway, made for wheels.

The road was started in Williamson County because a treaty with the Chickasaw Native American tribe yet, but there was time for General Andrew Jackson and John Overton, an early Tennessee banker, judge, lawyer and political leader, to have the road rerouted to Franklin, Tennessee in order to make use of commerce where people could buy supplies.
The rerouted trail went off a ridge to what is currently known as Leiper's Creek Road, and through the Hillsboro settlement (now Leiper's Fork) to Southall Road to Carter's Creek Pike to Natchez Street. The road would finally wind up going through Main Street in Franklin to where it ended, at Granny White Pike.

Turnbow said, "We can thank Thomas Jefferson for the wheel roads we are still using today. Franklin is a Natchez Trace town."2
Sources
1. Brown, Jr, T. (2108) John Overton. Tennessee Encyclopedia. Accessed July 25, 2018. https://tennesseeencyclopedia.net/entries/john-overton/.

2. Robinson, C. (2018) Natchez Trace Parkway offers hikes aplenty to celebrate National Trails Act. Williamson Herald. Accessed July 25, 2018. http://www.williamsonherald.com/features/w_life/article_0b30298e-6441-11e8-95f2-673432ca96b2.html.1
3. ScenicTrace.com. Top Must-See Spots On the Natchez Trace Parkway. Accessed July 07, 2018. http://www.scenictrace.com/top-stops-natchez-trace-parkway/.
4. Trails.com. Natchez Trace Garrison Creek Trail and Overlook Trail. Accessed July 07, 2018. https://www.trails.com/us/tn/nashville/natchez-trace-garrison-creek-trail-and-overlook-trail.

Additional Information