Double Arch Bridge - Natchez Trace Parkway
Introduction
The double arch bridge on the Natchez Trace Parkway near Franklin, Tennessee, provides a scenic view from both the North and South ends. It was completed in 1994 and received the Presidential Award For Design Excellence in 1995 for innovative design. It is the first of its kind built in the United States using a precast segmental concrete arch design and was the last step in finishing the parkway.
Images
No credit is given for this photo from the NatchezTraceTravel.com website.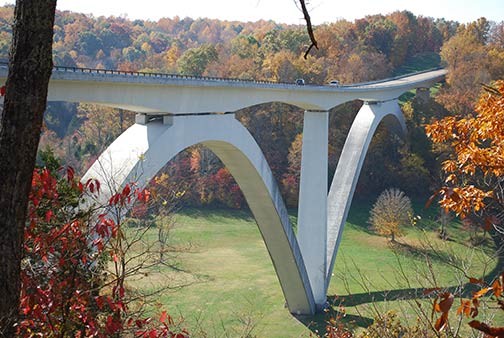 Backstory and Context
This was the last segment of the Natchez Trace Parkway, completed in October 1993 at a cost of $11 million. The span is 1,572 feet using a precast segmental concrete arch bridge - the first of its kind in the United States. It is located near Franklin, Tennessee and crosses over Route 96. The Natchez Trace Parkway was started in 1938, a little at a time.
The Natchez Trace Parkway follows the old Natchez Trace, a road traveled by the "Kaintucks," a group of farmers an boatmen who moved produce, coal and cattle on the Ohio and Mississippi Rivers to the Natchez and New Orleans markets. They would trade their boats for lumber and head home. It became a national mail road in 1800 but became obsolete when steamboats plying the Mississippi both up and down that river.
Engineers had a problem trying to figure out how to best raise the level of the bridge over Route 96 and the trees over the valley and still preserve the natural beauty in the area. The person who engineered the bridge's construction, Eugene Figg, decided on using an open-arched bridge to support the roadway deck, not using spandrel columnns. The use of precast segmental concrete enables those repairing the bridge to easily use other precast segmental concrete that is already cast.

The first arch measures 582 feet and is elevated to 145 feet, meaning that it is 145 feet above the highway. The second arch is 462 long and a rise of 102 feet. They are made of 122 hollow concrete boxes which were precast in Franklin, Tennessee, not far from the bridge. It is called progressive cantilever by engineers, with each one being held by steel cables until they are finished. The foundation and piers were built on site in a traditional manner.

Sources
1. NatchezTraceTravel.com.
Double Arch Bridge - Natchez Trace Parkway. .
Accessed July 07, 2018. https://www.natcheztracetravel.com/natchez-trace-tennessee/nashville-franklin-tn/97-birdsong-hollow-....
2. Natchez Trace Parkway arches are complete. History Channel. Accessed July 22, 2018. https://www.history.com/this-day-in-history/natchez-trace-parkway-arches-are-complete.

Additional Information