Site of Toots Shor's Restaurant (1940-1959)
Introduction
Author-Uploaded Audio
In the 1940s and 50s, there was one place in New York where all the big name entertainers and athletes would gather: Toots Shor's Restaurant at 51 West 51st Street. Baseball heroes such as Mickey Mantle and Joe DiMaggio, entertainers Jackie Gleason and Frank Sinatra, and starlets like Marilyn Monroe all frequented the hang-out in New York known for its round bar. The owner, Toots Shor, was just as large of a personality as all of those famous names. A towering figure over six feet tall, he was a burly man, but the sports enthusiast who was once a bouncer during Prohibition had a heart of gold. Never a strong business manager, Toots would allow his most frequent customers to eat for free. When the restaurant's finances began to suffer in 1959, Toots closed the doors at West 51st. The next year the building was demolished. The restaurateur would try again with another Toots Shor's at a different location, but that too would fail. Today, all that is left of the original is a marker noting this was where the legends of the 20th century would congregate in what was then the greatest city in the world. The tangible evidence of Toots's may no longer be, but the memories and legends of a simpler time linger still.
Images
Bernard "Toots" Shor walking outside of his restaurant on West 51st St. with New York Yankees legend Joe DiMaggio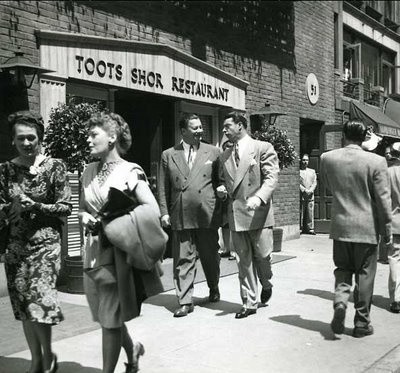 The marker on 51st Street noting the location of the original Toots Shor's Restaurant (1940-1959)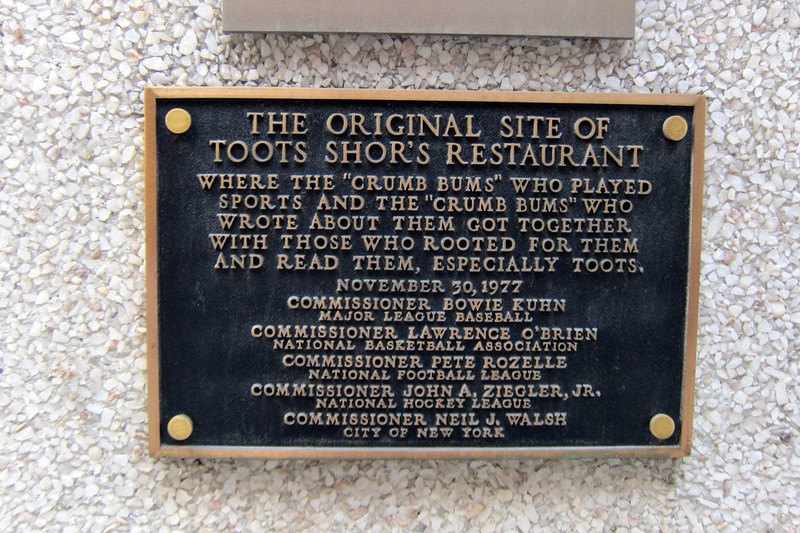 A menu from the 51 West 51st St. Toots Shor's Restaurant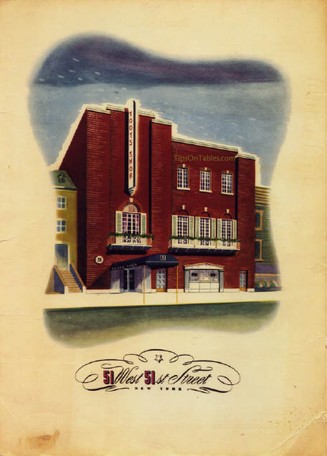 Restaurateur Toots Shor with actor and comedian Jackie Gleason at Shor's infamous "round bar"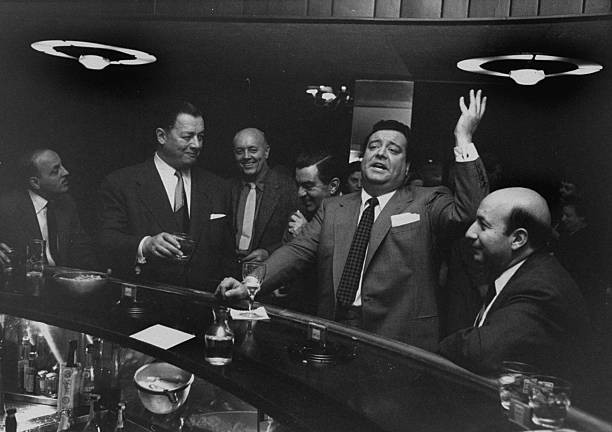 Joe DiMaggio, Toots Shor, and Marilyn Monroe attending Jackie Gleason's birthday party at Toots Shor's Restaurant, February 26, 1955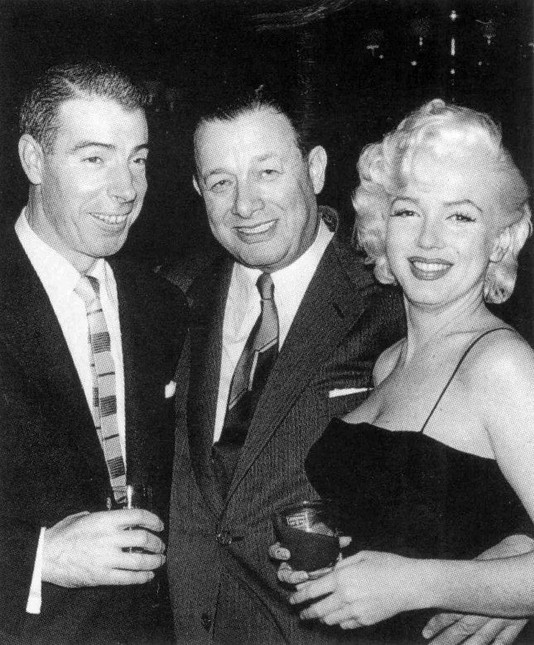 Backstory and Context
Author-Uploaded Audio
Born Bernard Shor in Philadelphia, Toots was a nickname designated to him as a child, and it stuck with him for life. By the time he turned twenty, both of his parents were dead, and Toots was left to the care of his two sisters. A sports enthusiast since childhood, Toots did not make it far at Drexel University or the Wharton School of Finance, he left school and pursued his dream of moving to New York. It was during those early days in New York as a bouncer during Prohibition that Toots had his first introduction to mobsters and gangsters, men he would always consider "pals" if they were good to him.
After serving as host at a sports-hangout in New York called Billy LaHiff, in 1940, Toots decided to open his own place at 51 West 51st St. He named it Toots Shor's Restaurant, but locals came to know it as Toots's. Because of the seemingly fair prices, Toots Shor's was appealing to people from all walks of life, from stars to the average Joe, and that was mainly due to the personality of Toots himself. He made a point of becoming acquainted with his clientele, and affectionately greeted them at the front as "crum-bum." An ardent Yankees fan, he never missed a home game. Toots's became a home away from home for players Joe DiMaggio and Mickey Mantle.
When the legendary crooners Frank Sinatra and Bing Crosby would enter the restaurant, all heads turned their way and then a thunderous applause would break-out. Jackie Gleason also made a home for himself at Toots Shor's, becoming one of Toots's closest friends. When Gleason was not filming his show, he would spend the day socializing at Toots's, then go home for a shower and quick nap before returning for more enjoyment. On Saturday nights after filming his show, Gleason left the theater as fast as he could and went straight to Toots's. Gleason's 39th birthday at Shor's was the social event of the year in New York in 1955, and to Gleason's delight, the show was stolen by the former Mrs. Joe DiMaggio, Marilyn Monroe.
Though it was the most beloved hangout in New York, Toots's was not known for its cuisine. Toots advertised on the atmosphere of the place. He once told actress Audrey Meadows that a couple from Omaha had complained to him they could get better steaks in Omaha. In classic Toots he responded, "So what? When you're through eating, you're still in Omaha!" Toots took more pride in his restaurant being known for its martinis made at the giant round bar. Chief Justice Earl Warren was a fan of those martinis, as was the gangster Frank Costello. It was not uncommon to see the two men drinking on opposite sides of the bar at the same time.
In 1959, Shor's gambling and penchant for allowing his friends to eat for free had taken its toll on the financial well-being of the restaurant. That year he closed the doors on West 51st St. and the next year the building was demolished. A couple of years later he re-opened another Toots Shor's on West 52nd St., persuading some of the old crowd to return. But the culture in New York was dramatically changing and financial problems continued to mount. In 1971 Toots closed his second restaurant, only to return again the next year, but that restaurant closed within a year. Toots's days as a restaurateur were over, his old pals had all grown older, died, or moved away. Shor died in 1977 while living at the Drake Hotel in New York.
Decades later, Toots's granddaughter Kristi Jacobson brought her grandfather and his restaurant back to life in the documentary "Toots." In looking to re-discover her grandfather's personage and legacy, Jacobson interviewed old friends Walter Cronkite, Frank Gifford, Pete Hamill, Mike Wallace, as well as Toots's daughter. Journalist Pete Hamill summed up Toots Shor's Restaurant the best when he remarked, "Toots's was a part of the imagination of people who had never even walked in there. They knew it existed the way they knew the Statue of Liberty existed." At Toots Shor's times were simpler, people were happy; that was all Toots could ask for. 
Sources
Addie, Bob. Sports Patron Toots Shor Dies. The Washington Post. January 25, 1977. Accessed July 09, 2018. https://www.washingtonpost.com/archive/sports/1977/01/25/sports-patron-toots-shor-dies/f9813a15-7925....
Toots Shor's and the art of celebrity male bonding. The Bowery Boys. June 12, 2009. Accessed July 09, 2018. http://www.boweryboyshistory.com/2009/06/toots-shors-and-art-of-celebrity-male.html.
Meadows, Audrey. Daley, Joe. Love, Alice: My Life as a Honeymooner. New York, NY. Crown, 1994.
Goldstein, Patrick. Rubbing elbows at Toots' joint. Los Angeles Times. November 24, 2008. Accessed July 09, 2018. http://articles.latimes.com/2008/nov/24/entertainment/et-bigpicture24.
Image Sources
PBS

North Jersey

The Invisible Agent

Ted Naron

Pinterest

Alcohol Profressor

Additional Information