Albert F. Madlener House (Home of the Graham Foundation)
Introduction
The Albert F. Madlener House, exhibiting both Prairie School and Chicago School features, was built in 1902 in Chicago's wealthy Gold Coast neighborhood. The house was built for Albert Fridolin Madlener, a German-American brewery owner, and his wife, Elsa Seipp Madlener. They inherited Albert's father's medicinal Fig-Rye Whiskey company and the fortune that came with it. Since 1963, the house has been the headquarters of the Graham Foundation for Advanced Studies in the Fine Arts.
Images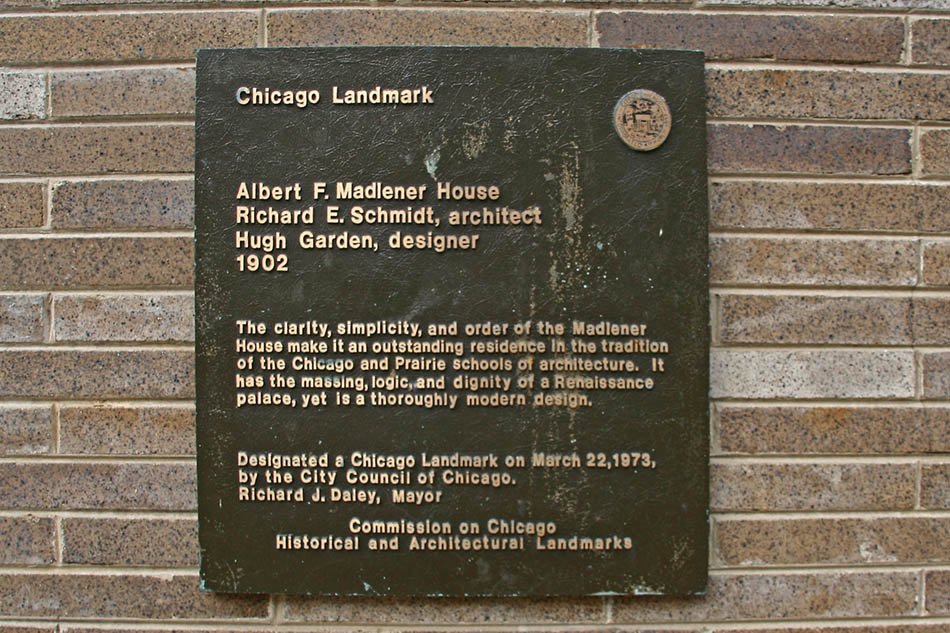 Madlener's Fig Rye Advertisement
Madlener House in Chicago. Since 1963, the home has served as the headquarters of the Graham Foundation for Advanced Studies in the Fine Arts.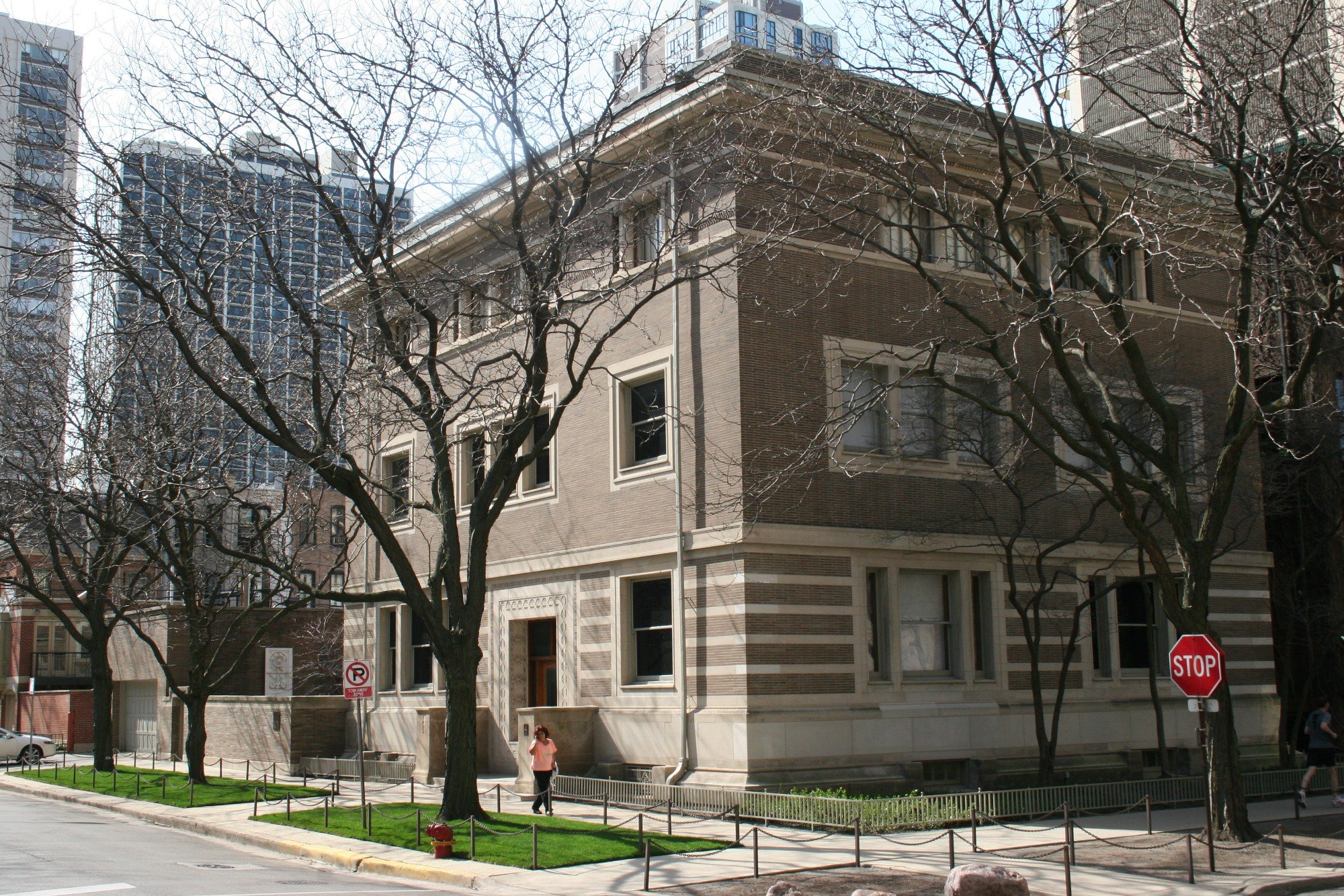 Backstory and Context
The Albert F. Madlener House, built in 1902 and located in Chicago's affluent Gold Coast neighborhood, owes its existence to the convergence of several aspects of history: immigration, architecture, medicinal whiskey, and late twentieth-century fine art.
Known as the house that "Fig-Rye Whiskey built," the home was built for Albert Fridolin Madlener, a German-American brewer, and son of liquor store owner and distiller, Fridolin Madlener. The elder Madlener concocted a fig-rye whiskey that he successfully promoted as a cure for many ailments, and the house's location on the Gold Coast speaks to the fortune built by marketing that product in the 19th century.
The seeds for the construction of the historic house were laid decades earlier, first in Germany and then in Chicago. Fridolin Madlener, Albert's father, arrived in Chicago during the early 1850s from Uberlingen, Baden, Germany where he was born in 1835. He settled in Chicago, which boasted of a large German immigrant population, and was one of the first students at the Dyenforth Business College, founded by a Prussian émigré family in 1857.
At only 23 years old, Madlener embarked on a career of distilling and liquor sales that would eventually bring him tremendous economic prosperity. Like many wealthy men of the era, his fortune received a boost through marriage. In 1866 at the age of 31, Fridolin Madlener married Margaretha Blatz, the daughter of renowned Milwaukee beer tycoon, Albert Blatz. His most famous creation involved a product known as Fig-Rye in the late 19th century.
The last few decades of the 19th Century saw the mass production of products claiming to cure a host of ailments and diseases that inspired Progressive reformers to create laws and federal agencies to provide information about drugs and even regulate the industry on behalf of consumers in the early 20th century. Fig-Rye fell into that category, but on a much bigger, more successful scale than most creations. The financial windfall created by that whiskey allowed for Albert, Madlener's only son, to enter adulthood as a rich man ready to take over the company.
Albert attended the prestigious Latin School of Chicago before moving to Yale University. He followed that with a trip to Germany where he interned at a winery. When the elder Madlener died in 1897, Albert took control of the family business where he continued to promote Fig-Rye Whiskey resolutely. In 1889, Albert also married the daughter of a brewer, Elsa Seipp. Three years later, when Elsa was expecting their first child, Albert commissioned the construction of the now historic house. Albert died in 1947 and Elsa in 1962.
In 1963, the Graham Foundation for Advanced Studies in the Fine Arts (founded 1956), purchased the house from a real-estate developer who managed it after Elsa's death. The foundation supplies project-based grants to individuals and institutions produce public programs relating to architecture and plays a significant role in maintaining art galleries, a bookstore, a library, and an utdoor architectural fragments collection. Indeed, relics and architectural fragments retrieved from demolished buildings in Chicago, from such architects as Louis Sullivan, H.H. Richardson, and Frank Lloyd Wright can be found in the house's courtyard garden and library.
The vast majority of the house's details derive from Chicago's Prairie School, made famous by Louis Sullivan and Frank Lloyd Wright. For instance, in line with most Prairie School designs, the house is comprised of local building materials, such as the Indiana limestone exterior. The house resembles a high point in Chicago's architectural history with its combination of Chicago and Praire School features that mirror much of the work done by the likes of legendary architects Louis Sullivan and Frank Lloyd Wright.
Sources
Brooks, Allen H. "Architecture: The Prairie School." Newberry Library: Encyclopedia of Chicago. Accessed July 06, 2018. http://www.encyclopedia.chicagohistory.org/pages/63.html

Graham Foundation. . Accessed July 06, 2018. http://www.grahamfoundation.org.

Harzig, Chrstiane. "Germans." Newberry Library: Encyclopedia of Chicago. Accessed July 06, 2018. http://www.encyclopedia.chicagohistory.org/pages/512.html

National Park Service. "Albert F. Madlener House." Chicago: A National Register of Historic Places Travel Itinerary. Accessed July 6, 2018. https://www.nps.gov/nr/travel/chicago/c1.htm

Sullivan, Jack. "Fridolin Madlener Gave the World "Fig Rye.'" Those Pre-Pro Whiskey Men!. June 12, 2012. http://pre-prowhiskeymen.blogspot.com/2012/06/fridolin-madlener-gave-world-fig-ry.html

--- --- ---. "A Fig for Your Health!." Bottles, Booze, and Backstories. August 18, 2012. . http://bottlesboozeandbackstories.blogspot.com/2012/08/a-fig-for-your-health.html.

Skilnik, Bob. Beer: A History of Brewing in Chicago. Fort Lee, NJ: Barricade Books, 2006.

Photo Sources
Madlener House - Wiki Media via Curbed Chicago - https://chicago.curbed.com/maps/surviving-gilded-age-mansions-map

Historic Landmark Plaque: Various Internet Sources

Madlener's Fig Rye Advertisement via Booze, Bottles, and Backstories - http://bottlesboozeandbackstories.blogspot.com/2012/08/a-fig-for-your-health.html



Additional Information