Mount Airy Forest
Introduction
Comprised of almost 1,500 acres, Mount Airy Forest is Cincinnati's largest public park and was first established in 1911 when the Parks Department purchased 168 acres of barren farmland northwest of the city. Over the years, the city incrementally expanded the park, undertook an extensive reforestation program and added rustic shelters, lodges, picnic areas, and restrooms. It is considered the first municipal reforestation project in the country. Today, visitors enjoy its miles of hiking and bridle trails, 18-hole disc golf course, 2-acre dog park, playgrounds, ADA compliant treehouse, and Arboretum. It was added to the National Register of Historic Places in 2010.
Images
A gazebo sits beside a pond within Mount Airy's Arboretum.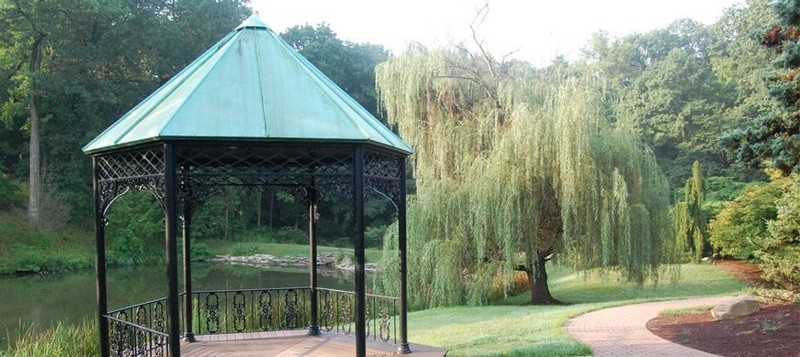 The handicap accessible Everybody's Treehouse in Mount Airy Forest.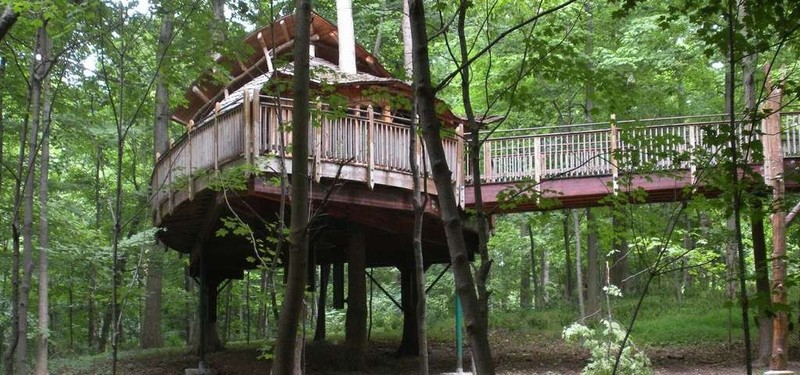 The Pine Ridge Lodge is one of three lodges within Mount Airy.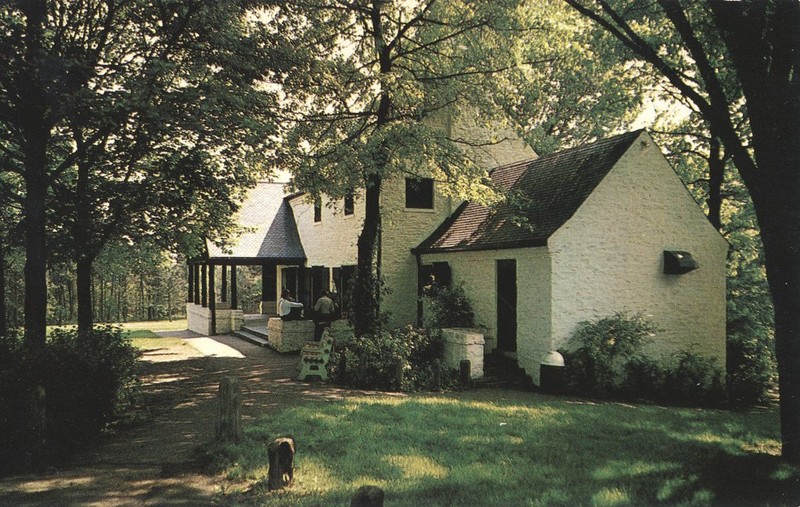 Mount Airy Forest's Arboretum Center.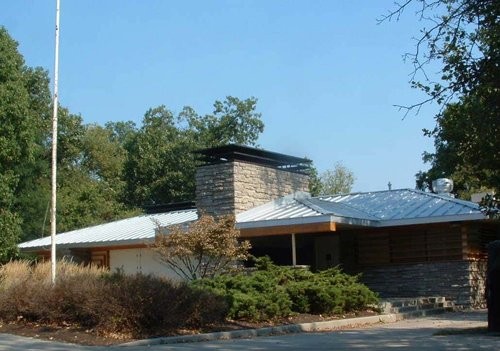 Steps lead down to a valley floor on one of the Forest's many hiking trails.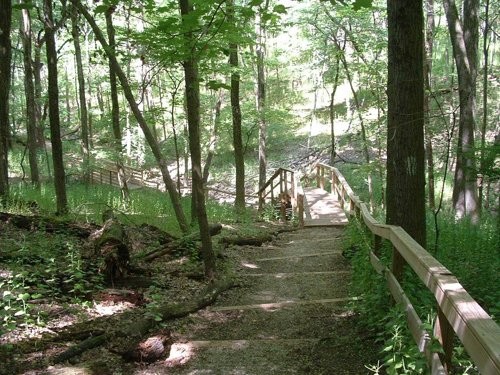 Backstory and Context
The land that is now Mount Airy Forest was gradually cleared of its original growth during the 19th century. The land then went through decades of poor agricultural and grazing habits that led to severe erosion and soil depletion. As a result, by the turn of the 20th century, most of the land sat barren and unused by its owners. Visionary landscape architect, George E. Kessler, then proposed the acquisition of that land, by the city in 1907, with the plan to restore it and convert it into a natural public space for Cincinnati's residents to enjoy. The municipality acted on Kessler's plan when it purchased the first parcel of land in 1911.
During this initial phase, from 1911-1920, the city focused on additional land acqusition and extensive reforestation. To that end, the park swelled to over 1,000 acres and over 1.2 million trees were planted, to include maple, oak, ash, beech and linden. Evergreens, such as pine, fir, spruce, and red cedar were also planted. During the park's second phase of development, 1921-1932, land acquisition (only 150 acres) and reforestation efforts were curtailed. However, the Colerain Avenue entrance was constructed as were two roads through the park.
During the parks third, and final developmental phase (1933-1968) almost all the park's structures, trails, and Arboretum were completed. With federal funding from President Roosevelt's New Deal programs, primarily the WPA, the city employed 200 young men, all African-American, under the Civilian Conservation Corps (CCC) to complete these structures and trails. Most of the rustic shelters, lodges and comfort stations are built of stone and rough timber and were designed by R. Carl Freund. Many of them still stand to this day, as does the CCC camp that housed the workers, although some buildings were moved to make room for Interstate 74 which now bisects the park. The park's 120-acre Arboretum was constructed in 1953 as was its Arboretum Center which reflects Freund's affinity for Frank Lloyd Wright.
Today, the park includes 700 acres of reforested hardwoods, 200 acres of forested evergreens, 269 acres of wetlands, and 170 acres of meadows in addition to the 120-acre Arboretum. Its eight open shelters, three lodges (which permit year-round activities) and various picnic areas are available for rental. The park also features a small lake and pond and its trails are popular among hikers, mountain bikers and horse riders alike.
Sources
Recchie, Nancy. "National Register of Historic Places Nomination Form." United States Department of the Interior/National Park Service. May, 2008. Accessed July 5, 2018. https://www.nps.gov/nr/feature/weekly_features/MountAiryForest.pdf
Schlosser, Paige. "Mount Airy Forest -- Cincinnati, OH." Living New Deal. August 27, 20112. Accessed July 5, 2018. https://livingnewdeal.org/projects/mount-airy-forest-cincinnati-oh/
"National Register of Historic Places Program: Landscape Architecture Feature 2013 Mount Airy Forest, Cincinnati, OH." National Park Service. 2013. Accessed July 5, 2018. https://www.nps.gov/nr/feature/landscape/2013/mount_airy.htm
Additional Information