Tesla Factory / NUMMI / Fremont Assembly
Introduction
The Tesla Factory's sleek exterior belies its beginnings as a General Motors plant over half a century ago, long before Silicon Valley became the dominant industry of the Bay Area. GM's Fremont Assembly Plant, built in 1962, transformed into a joint venture with Toyota in 1984 when it reopened as New United Motors Manufacturing Inc., or NUMMI, as it came to be known. Despite the incredible manufacturing record of the new venture over the next two decades, it became a casualty of GM's bankruptcy during the Great Recession of 2007-2009, and NUMMI was shut down in 2010. Budding electric car manufacturer Tesla purchased the facility only a few months later, bringing thousands of jobs back into the local economy. The Tesla Factory, often the subject of intense public interest, is not currently open to the public for tours.
Images
The 411-acre site of GM's Fremont Assembly being cleared and graded in 1961.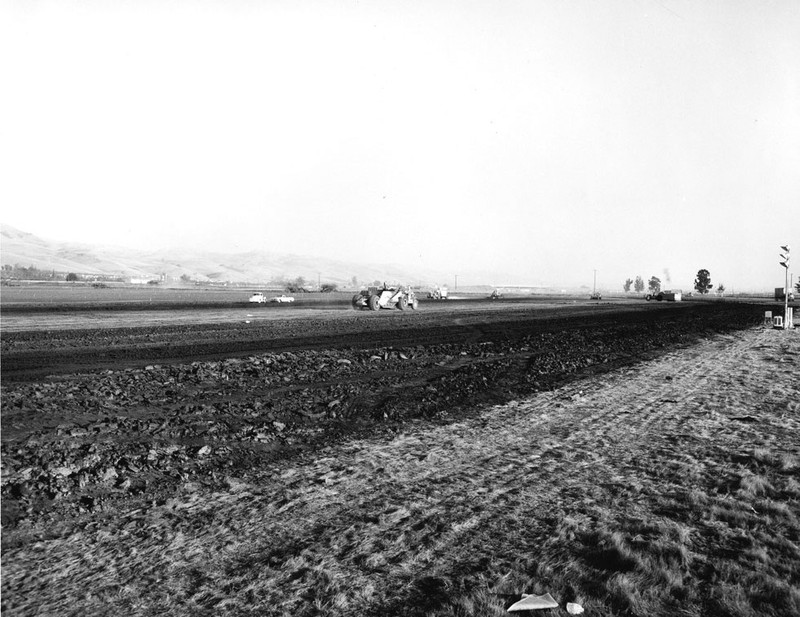 An aerial of the plant still under construction. The massive facility was capable of producing over 1,000 cars a day.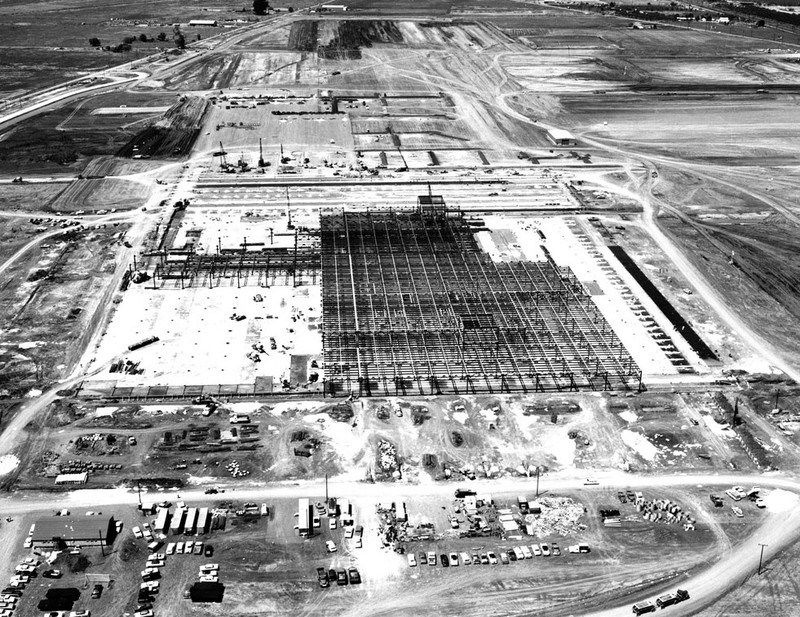 An aerial view of the completed plant. The area around the factory, highly developed today, remained farmland for some time after construction was completed.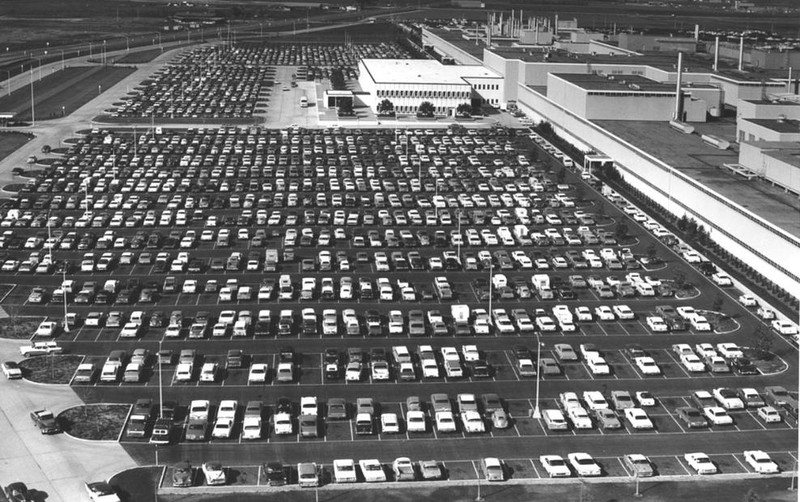 Workers on the line at Fremont Assembly. Unfortunately, the factory was renowned for disastrous quality control, employee absenteeism, and deplorable management practices. Toyota turned the workforce around when NUMMI opened in 1984.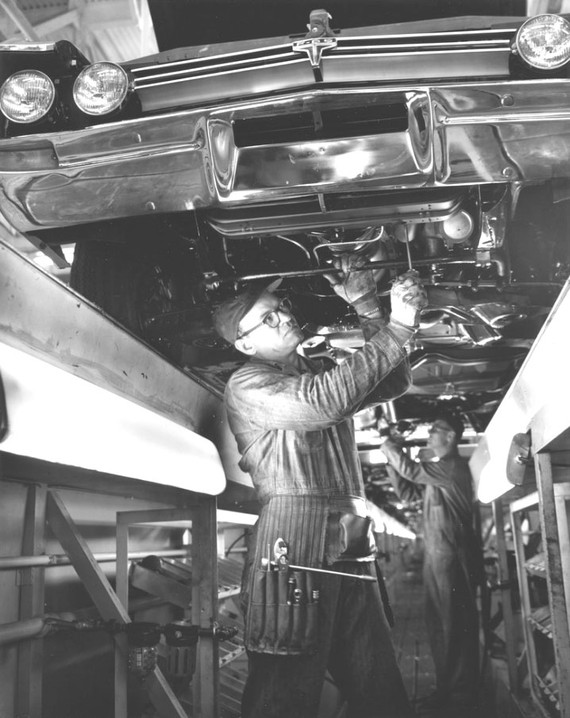 A view of the north side of the plant from the 880 Freeway in 1972. National Archives.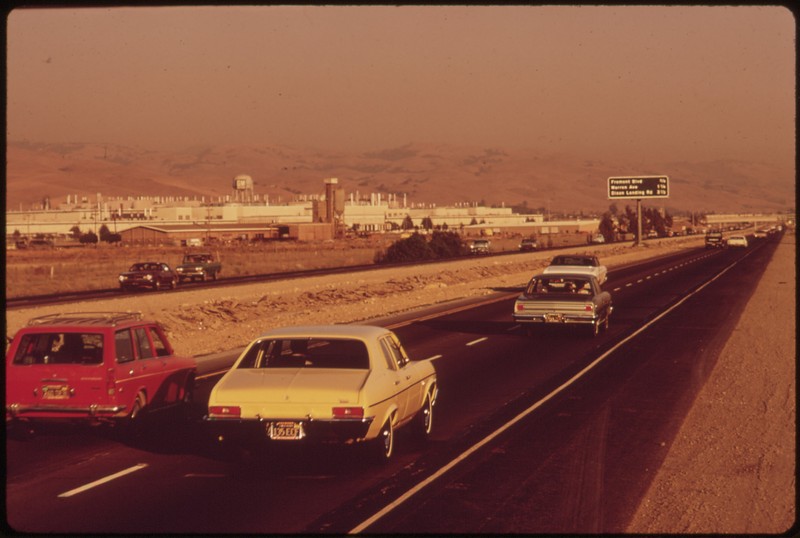 To test for leaks, high pressure water was sprayed across the automobile while a blower created a vacuum inside the vehicle. The interior of the vehicle would then be inspected for any water that might have slipped through the cracks.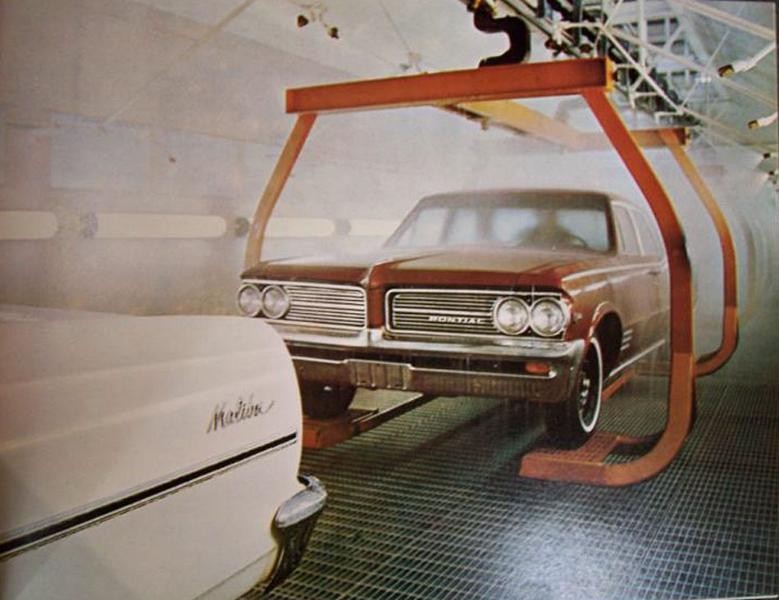 A worker at the joint Toyota-GM NUMMI plant, which served as a national model for quality, employee satisfaction, and production output. East Bay Express.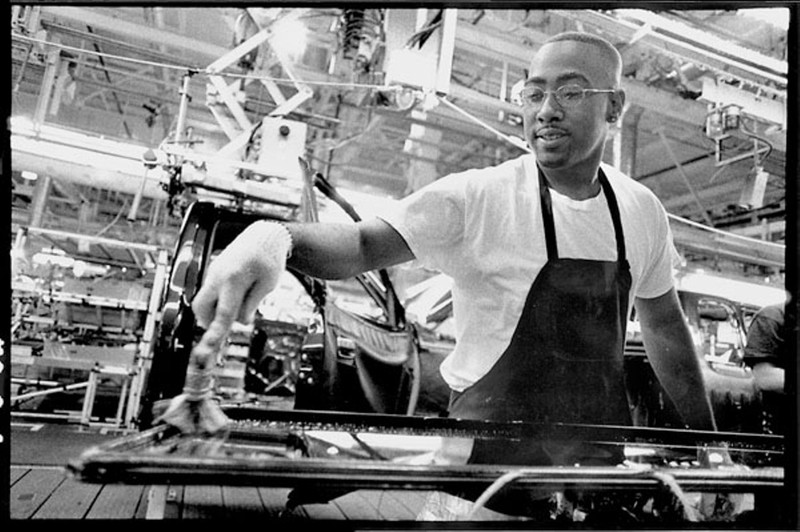 Former California Governor Arnold Schwarzenegger (left) meets with Tesla Motors CEO Elon Musk (far right) and Toyota CEO Akio Toyoda meet to commemorate the sale of the former NUMMI facility to Tesla in 2010. Getty Images.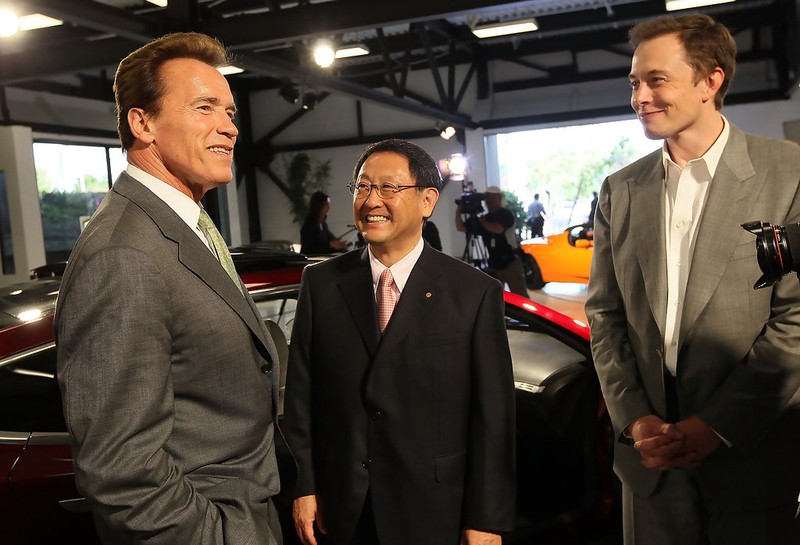 The current facade of Tesla Motors' Fremont factory. All Tesla vehicles are currently made here, though a massive "Gigafactory" was under construction in 2018 in Reno, NV, with plans to open overseas factories in the coming years.
A current map of Tesla's facility.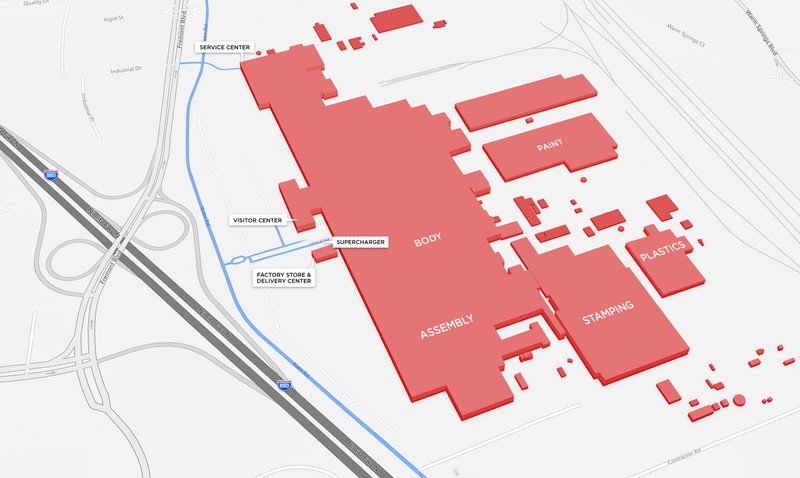 September 20, 1961. A front page article in The Argus newspaper of Alameda County detailing the groundbreaking ceremonies for the Fremont Assembly plant.

A publicity still from the Tesla Factory's interior, showing the high degree of robotic automation in the plant. Despite the application of new technology, Tesla's current output remains only a fraction of NUMMI's.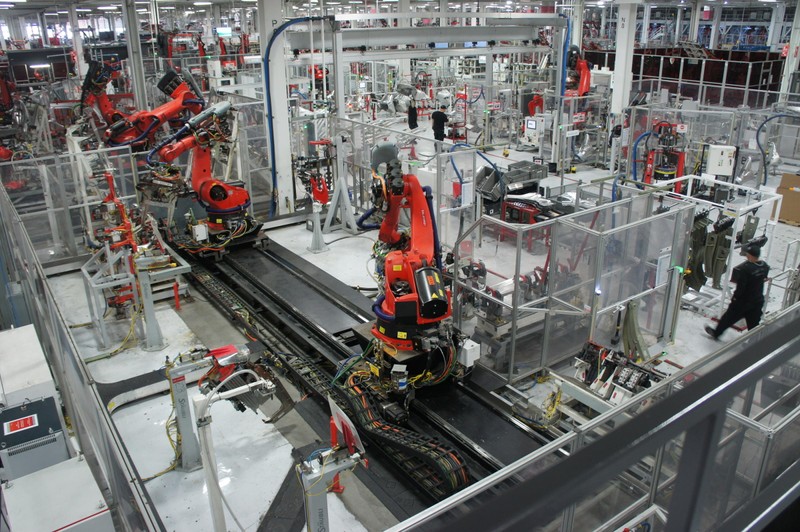 Fremont Assembly's parking lot in the 1960s. The building facade pictured still remains as part of the Tesla Factory today.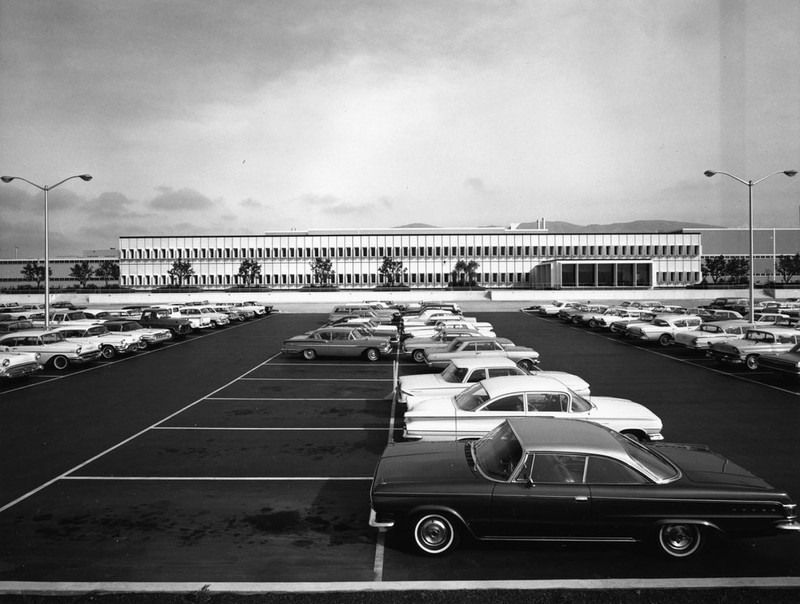 Backstory and Context
Construction of General Motors' Fremont Assembly plant began on September 20, 1961, with a large groundbreaking ceremony featuring circus tents and a banquet for 500 guests. The primary industries of the southeast San Francisco Bay Area, before the blossoming of Silicon Valley in the 1970s, were primarily agricultural. With a small population and comprised mostly of orchards and farmland, Fremont had plenty of space for GM to build the massive plant the automaker intended to replace its obsolete Oakland Assembly.
The first car rolled off the assembly line on May 21, 1963. Despite soon reaching production averages of over 1,000 completed vehicles a day, however, by the late 1960s the facility was plagued by strikes and quality issues. Until its closure in 1982, the plant was known as one of the worst in the United States, hobbled by an irascible workforce with up to twenty-percent absenteeism, plagued by rampant drug and alcohol use in the workplace. Driving this culture of neglect was GM's cardinal rule that the production line could not be stopped--not by any employee, for any reason. This led to large numbers of cars rolling off the line with incorrect or missing parts.
Economic recession caused GM to close Fremont Assembly, along with several other plants across the country, in 1982. Roughly 3,000 workers were out of a job. The closure did not last long, however, as GM struck a deal with the Toyota automobile company of Japan to open up the first jointly-owned car manufacturing plant in the United States: New United Motors Manufacturing Incorporated (NUMMI). Toyota had been looking for a means of circumventing American taxes and tariffs on foreign automobile imports; GM was seeking ways to streamline its manufacturing processes, and saw partnership with Toyota as a means of observing and learning from the Japanese company's famously efficient production processes.
The joint venture was approved by the Federal Trade Commission, despite a lawsuit by Chrysler Motors to prevent it on the grounds that it posed an unfair threat to business competition. Strict contractual limitations had been placed on what could be shared between the two companies, however, that overruled Chrysler's objections.
Toyota was to be in charge of much of NUMMI's management, and against GM's advice they hired most of the former Fremont Assembly's team back to the plant. In preparation for the reopening, most of the American managerial staff was flown to Japan and given a full course on "the Toyota Way." Several employees described it as an eye-opening experience, and when NUMMI opened its doors, the change in the new 4,700-person workforce was almost immediately apparent. Over the next two-and-a-half decades, NUMMI produced 7.7 million cars for both companies, and held one of the best production track records in the country.
The Great Recession of 2007-2009 took its toll, however, as GM declared bankruptcy, received government bailout funds, and underwent massive restructuring. They pulled out of the NUMMI operation, providing Toyota with enough justification to shut down its operation, as well. As the only union plant operated by Toyota in the United States--since 1984, Toyota had opened several more plants across the country, using the lessons it had learned at NUMMI--many employees hypothesized that Toyota simply used GM's divestiture to pull out of their most expensive facility, despite its flawless record. Toyota announced the impending closure of the plant in August 2009, despite popular outcry against it and incentives offered by California's state government.
The last Toyota rolled off the NUMMI line on April 1, 2010--a red Corrolla. Mere months later, the facility was snapped up by Tesla Motors, then a new and untried manufacturer of premium electric cars, for a bargain-bin price of $42 million. The value of the facility had been estimated in the hundreds of millions, but GM was determined to shed unused assets as quickly as possible. Since then, the former NUMMI plant has been the primary production facility for the cutting-edge company (though a new factory began construction in 2018 in Reno, NV), which has been both praised and criticized for functioning more like a Silicon Valley software startup than a mass-producer of cars--perhaps one of the leading factors in failing to meet production quotas in 2018 for its Model 3 sedan. In June 2018, under pressure to meet the quota of 5,000 Model 3's a month, a massive tent was erected in the facility's parking lot to expand the production line.
Though public tours of the NUMMI plant were once a Fremont attraction, public access to Tesla Motors is not currently available.
Sources
Fremont Factory. Tesla Motors. . Accessed July 03, 2018. https://www.tesla.com/factory.
"GM to close its Fremont plant today." The Desert Sun(Palm Springs)March 04, 1982. . https://cdnc.ucr.edu/cgi-bin/cdnc?a=d&d=DS19820304.2.25&srpos=3&e=-------en--20--1--txt-txIN-General...
Fremont Tour. Ultra High Compression. Accessed July 02, 2018. http://www.ultra-high-compression.com/fremont-tour.html.
Squatriglia, Chuck. "Tesla's Got the Factory, Now It Needs To Fill It.." Wired Magazine. Wired Magazine. October 28, 2010. https://www.wired.com/2010/10/teslas-got-the-factory-now-it-needs-to-fill-it/
Bacon, David. "A Tribute to NUMMI Workers." East Bay Express. East Bay Express. September 09, 2009. https://www.eastbayexpress.com/oakland/a-tribute-to-nummi-workers/Content?oid=1371089
Fremon, Celeste. The Miracle & the Betrayal of...NUMMI. WitnessLA. April 02, 2010. . http://witnessla.com/the-miracle-the-betrayal-of-nummi/. Accessed 7/2/2018.
Kiley, David. "Goodbye, NUMMI: How A Manufacturing Plant Changed the Culture of Car Making." Popular Mechanics. Popular Mechanics. April 02, 2010. https://www.popularmechanics.com/cars/a5514/4350856/
Gomes-Casseres, Benjamin. "NUMMI: What Toyota Learned and GM Didn't." Harvard Business Review. Published 9/1/2009. https://hbr.org/2009/09/nummi-what-toyota-learned
Shook, John. "How to Change A Culture: Lessons from NUMMI." MIT Sloan Management Review, vol. Winter 2010. Published 1/1/2010. https://sloanreview.mit.edu/article/how-to-change-a-culture-lessons-from-nummi/
Benac, Nancy. "FTC offers mixed views on GM-Toyota venture."
The Desert Sun
(Palm Springs). , Automotive sec. https://cdnc.ucr.edu/cgi-bin/cdnc?a=d&d=DS19840413.2.282&srpos=4&e=-------en--20--1--txt-txIN-General+Motors+Fremont-------1
Additional Information