A. Everett Austin House
Introduction
This Hartford landmark was the home of Arthur Everett "Chick" Austin Jr., and is known locally as the "Facade House" and other nicknames. The home's exterior was designed to replicate the appearance of a spacious mansion when in reality, the majority of the structure is quite narrow deep despite the property's length and grand exterior. Austin was only in his 20s when he assumed directorship of Hartford's venerable Wadsworth Atheneum. The man behind this Scarborough Street home described his residents as being "just like me." He went on to clarify that this was due to the house's reputation as being "all façade." In fact, "Façade House" was one of the nicknames given to this residence, along with "Hollywood House" and "Pasteboard Palace" although those even less enamored of its peculiar charm would go so far as to call it "an excrescence." The house, whose impressive-at-a-distance 86 foot long exterior belies its narrow, 18 foot wide interior, is nevertheless as full of surprise and intrigue as its former owner.
Images
The Austin House, looking majestic from far off.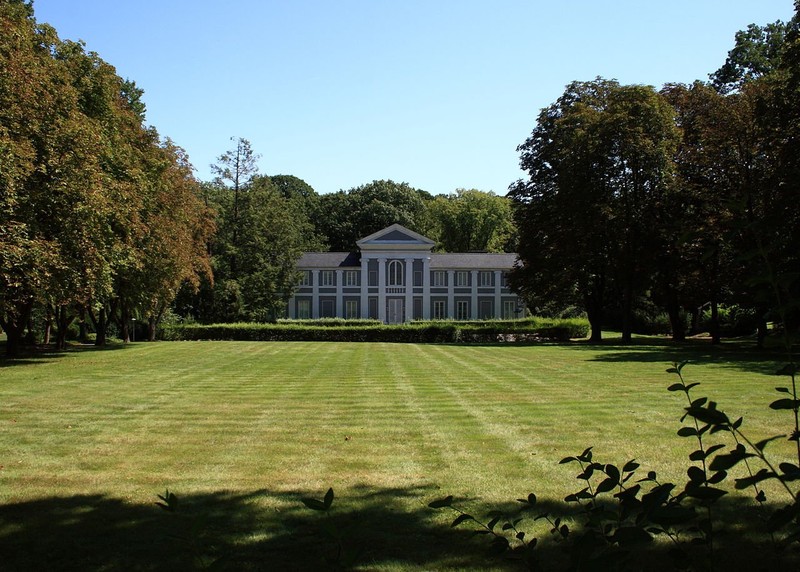 The Austin House, looking a bit shallower the closer you get.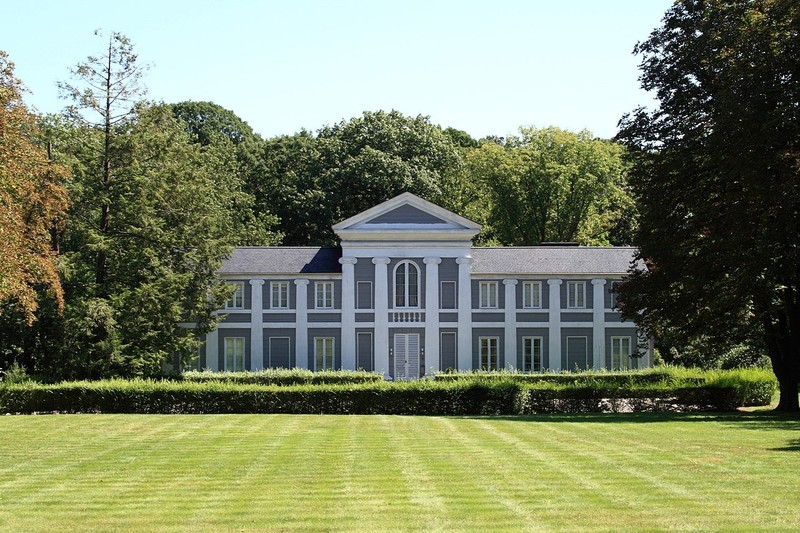 The Austin House up close, fabulously faux.
The downstairs, going for baroque.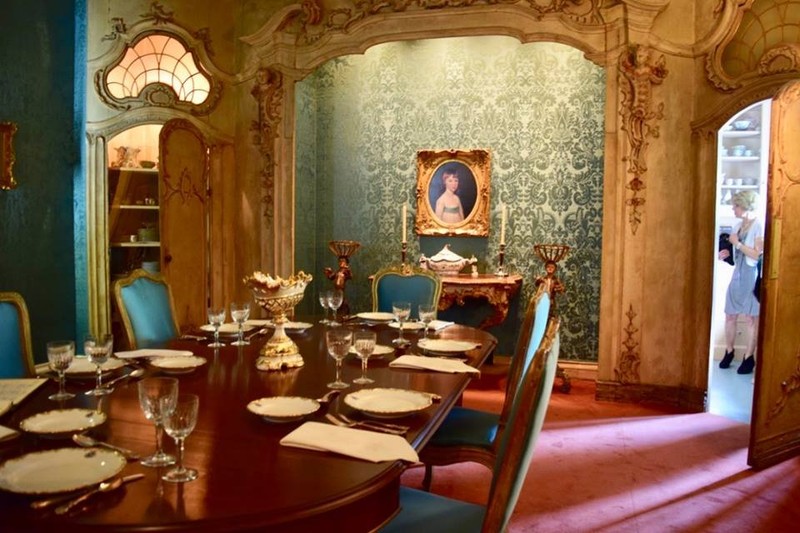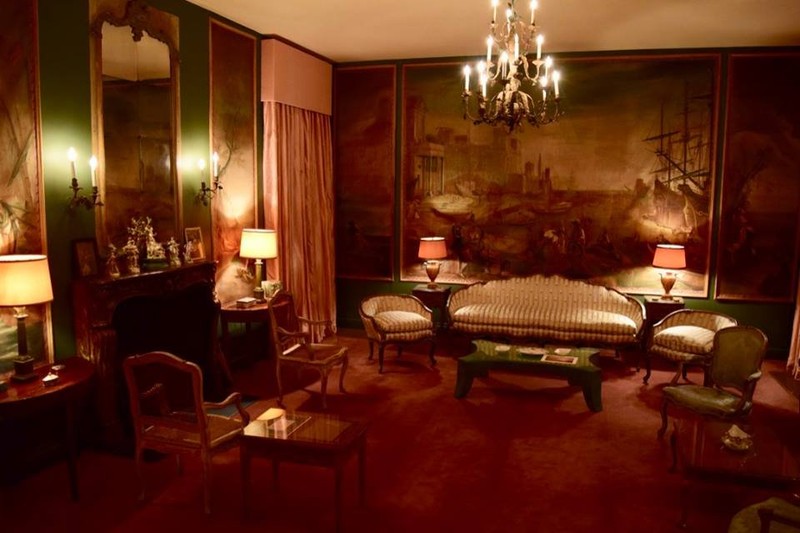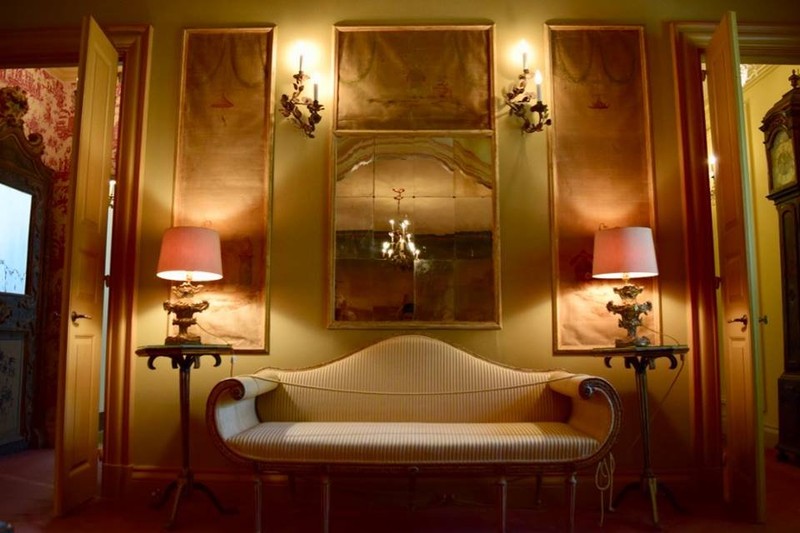 Yet more downstairs, silk panels and all.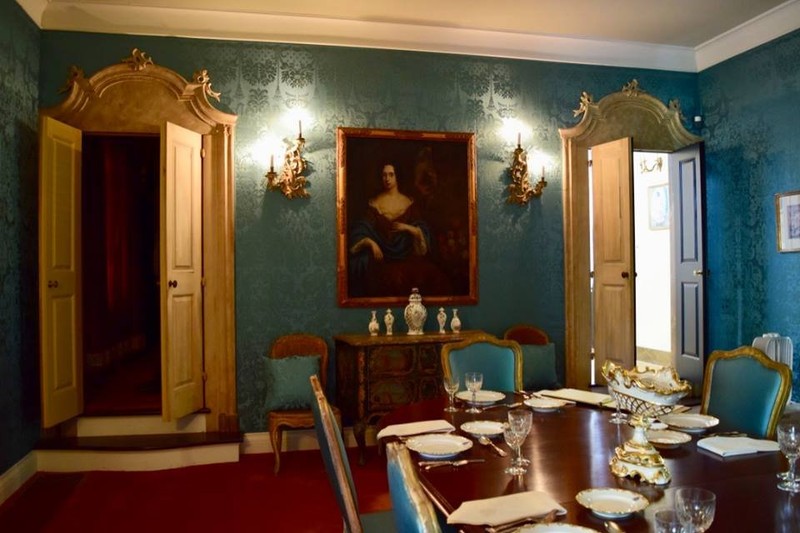 Upstairs now, very modern circa 1930.
And a bedroom, whose modernity is somewhat offset by Chick's chintzy hand-sewn bedspread'n'curtain set.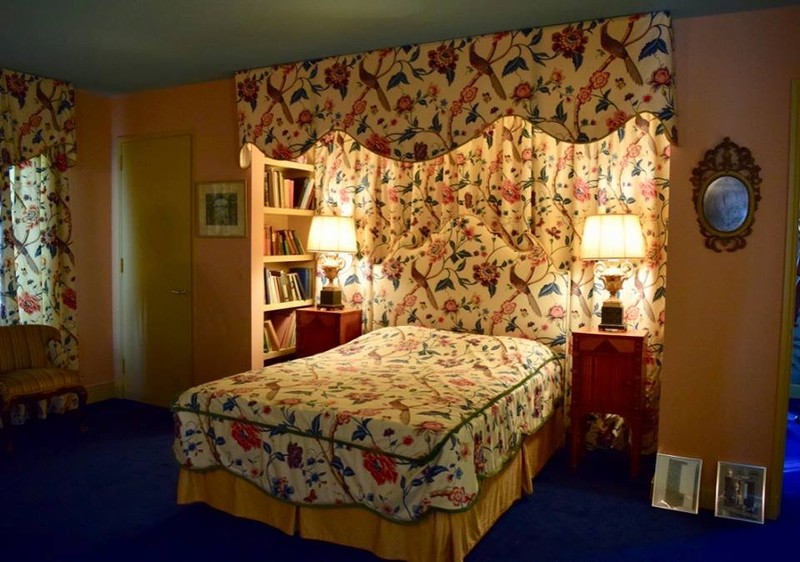 Chick Austin as The Great Osram.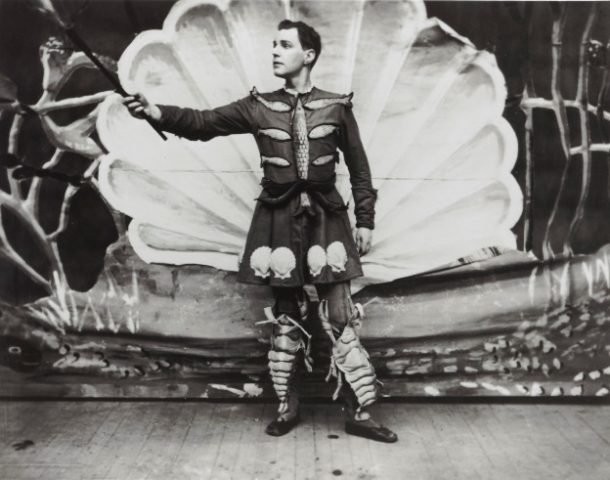 Backstory and Context
The Austin House was built in 1930, three years after 26 year old Chick Austin had assumed directorship of Hartford's renowned Atheneum. Its neo-Palladian style was inspired by a 16th century Venetian villa Austin and his wife had admired while on their European honeymoon. While this copy gives the initial appearance of marble-columnned majesty, a closer look shows that the exterior is, like a stage set, made from painted wood. This trompe l'oeil trickery is actually rather appropriate, considering that Chick was, in addition to being a museum director, wealthy playboy, dilettante artist, and showman, also a magician who performed as the Great Osram.
Inside, the house is a unique mashup of different styles and techniques. While Chick did not actually build the house with his own two hands, he certainly had more than a hand in the interior design and decoration. Downstairs, the house is somewhat in keeping with the Italian Renaissance exterior, with the rooms reflecting baroque splendor which, as with the exterior, is slightly less impressive on a closer viewing since Chick's own attempts at painting and upholstery are a bit rough around the edges. Upstairs, he indulged in his secondary passion for modernism – in fact, the Osram lighting fixtures in the Bauhaus-inspired bathroom were to lend Chick his stage name. The dressing room he created for his wife Helen is considered to be one of the country's first International Style interiors, with its Black linoleum floor and walls painted each one in a different color.


While the Austin House may not have been to everyone's taste aesthetically, it soon became quite the gathering spot for the Smart Set, a regular Who's Who of midcentury artistic elite. No lesser lights than George Balanchine, Alexander Calder, Salvador Dali, Martha Graham, Agnes de Mille, and Gertrude Stein once sat down to dine on Chick's home-cooked meals in his hand-decorated dining room, while composer Aaron Copland once sat and played the piano in the silk-panelled music room until 4 am. All this revelry continued until the early 1940s when WWII put a damper on everyone's fun, and the party was definitely over by 1944 when Chick and the Atheneum came to a parting of the ways. Chick didn't stick around Hartford much after that, returning to the nest only at Christmastime and then one final time in 1957 to die.


Helen Austin stayed on in the Hartford house even after her wandering spouse had moved on. She lived there up until 1985, at which time she, somewhat surprisingly, donated it to the very institution that had given her husband the boot some 40 years earlier. It might have given Chick a little posthumous satisfaction, however, to note that the Atheneum was subsequently stuck with nearly two years and half a million bucks worth of renovation work on the old place. The house and its interior had originally cost around $80,000, but most of the bills had been picked up by Chick's indulgent mother.


Today, the Austin House remains one of Hartford's more exclusive attractions. The house is only open for tours a few times a month and usually tours are limited to small groups and require a $25 per person donation.
Sources
Bendici, Ray. Austin House, Hartford. Damned Connecticut. July 01, 2010. Accessed July 03, 2018. http://www.damnedct.com/austin-house-hartford.

Not Very Big, and Not Very Old. Big Old Houses. June 12, 2013. Accessed July 03, 2018. http://bigoldhouses.blogspot.com/2013/06/not-very-big-and-not-very-old.html.

Austin House Visit. Hartford.com. . Accessed July 03, 2018. https://hartford.com/event/austin-house-visit/2018-08-18/.

Reservation Required: Austin House Visit. Wadsworth Atheneum Museum of Art. . Accessed July 03, 2018. https://thewadsworth.org/event/reservation-required-austin-house-visit/?instance_id=24286.

Chappe, Claude. A. Everett Austin Facade House. Atlas Obscura. . Accessed July 03, 2018. https://www.atlasobscura.com/places/a-everett-austin-facade-house.

Hartford's "Façade House": The Unique Home of Chick Austin. Connecticut History. . Accessed July 03, 2018. https://connecticuthistory.org/hartfords-facade-house-the-unique-home-of-chick-austin/.

Chick Austin Modernizes a Connecticut Institution. Connecticut History. . Accessed July 03, 2018. https://connecticuthistory.org/chick-austin-modernizes-a-connecticut-institution/.

Hamilton, William L.. Beguiled by an Illusionist. The New York Times. June 01, 2000. Accessed July 03, 2018. https://www.nytimes.com/2000/06/01/garden/beguiled-by-an-illusionist.html.

NHL: A. Everett Austin House. Connecticut Museum Quest. . Accessed July 03, 2018. http://www.ctmq.org/20-a-everett-austin-house/.

The Ringling's First Director: Chick Austin Before Ringling. The Ringling. January 19, 2018. Accessed July 03, 2018. https://www.ringling.org/ringlings-first-director-chick-austin-ringling.

Leary, Lynn. Sarah Goodwin Austin: Artist Whose Father Ran Atheneum. Hartford Courant. April 20, 1994. Accessed July 03, 2018. http://articles.courant.com/1994-04-20/news/9404200294_1_austin-house-wadsworth-atheneum-art-history.


Additional Information