Twin Palms - The Frank Sinatra Estate
Introduction
Author-Uploaded Audio
The year was 1947 and Frank Sinatra was not only one of the most famous crooner's in the world but also a hot ticket at movie theaters. Wanting a vacation home away from the hustle and bustle of Hollywood, Sinatra fell for the dry air and beautiful mountain scenery that Palm Springs offered. He commissioned famed mid-century modern architect E. Stewart Williams to design the modern home that would bear the name Twin Palms, because of the two trademark palm trees on the property. A part of the famed "Movie Colony" in Palm Springs, Twin Palms hosted some of the desert's wildest parties thrown by "the Chairman of the Board." The home was also witness to some of Sinatra and his second wife Ava Gardner's most vehement arguments. The couple resided in the home together for three years, then Sinatra sold the home in 1957, the same year he and Gardner divorced. Over the years, owners have rented out the home for weddings, parties, and to tourists curious as to what it was like to live like Sinatra did. In 2011 the city of Palm Springs listed the estate as a Class 1 historic site and five years later Twin Palms was added to the National Register of Historic Places. For Sinatra fans and mid-century modern enthusiasts, the party never ends at Twin Palms.
Images
Twin Palms - The Sinatra Estate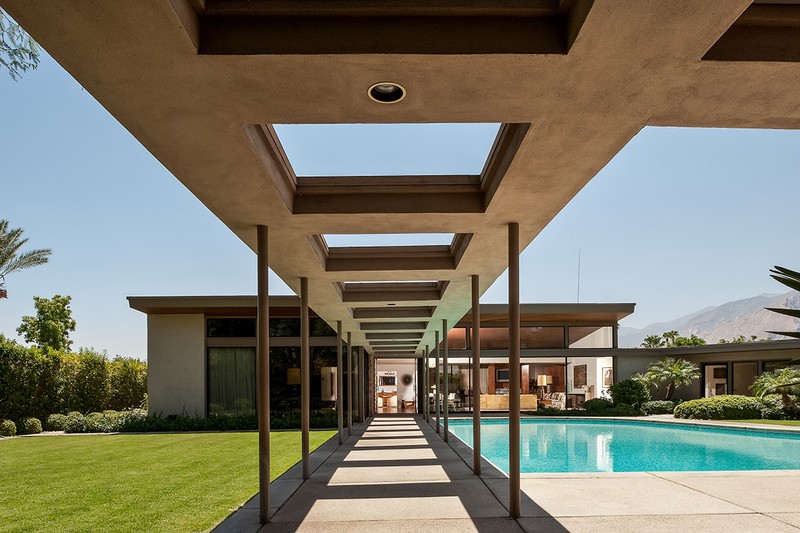 The Front of the Twin Palms Estate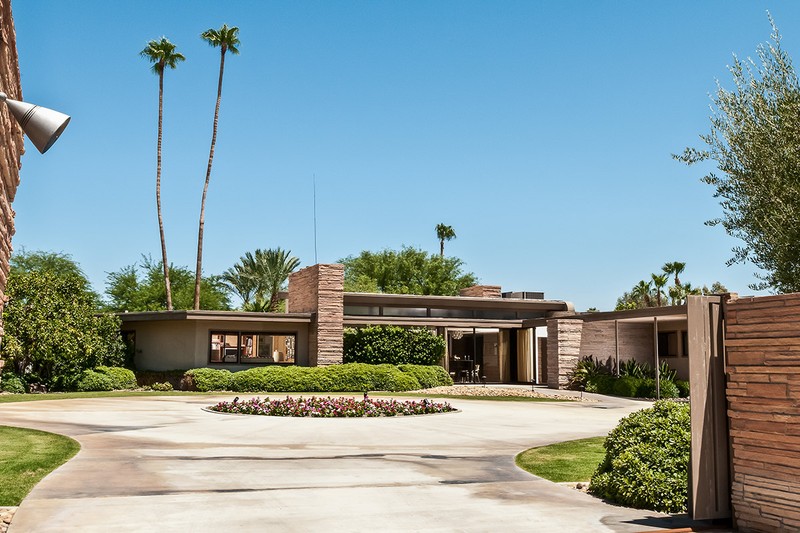 The Historic Marker in Front of Twin Palms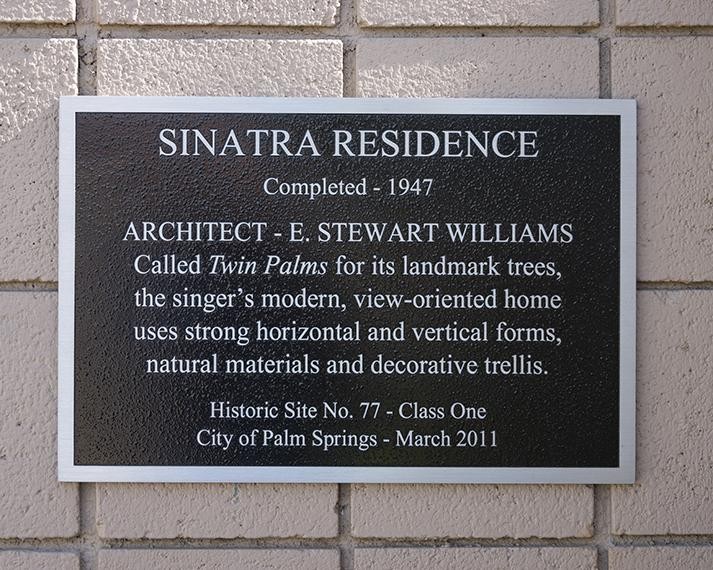 A Party Hosted at Twin Palms During the Sinatra Years, Early 1950s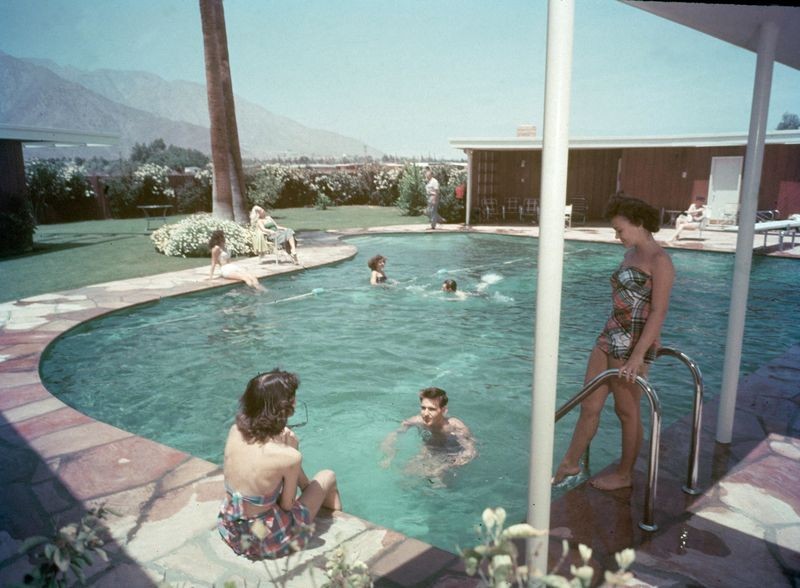 Frank Sinatra and Ava Gardner on Their Wedding Day, November 7, 1951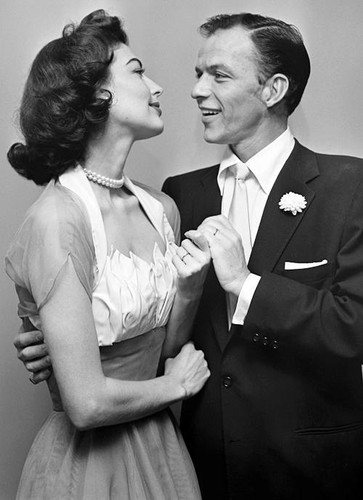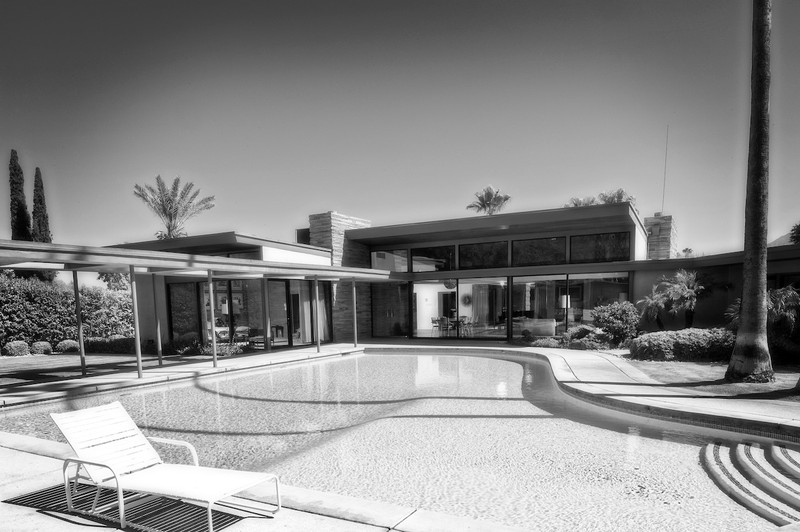 Backstory and Context
Author-Uploaded Audio
Frank Sinatra first stepped foot in the town that he would eventually put on the map in 1947. The most popular singer in the world and a star at Metro-Goldwyn-Mayer, the married father of two went to Palm Springs looking to build a get-away home for his family. In the summer of that year, Sinatra met with architect E. Stewart Williams in his office and spoke of wanting to build a Georgian style home. Williams was enticed by Sinatra's statement that money was no object, however the thought of designing a Georgian mansion in the desert city of Palm Springs personally repelled him. When Sinatra returned to look at Williams' plans, he was presented with two different designs: one the Georgian home he requested, and the other a modern design with a pool the shape of a grand piano. Williams won, Sinatra settled on the latter.
Work on the 4,500 square foot house began immediately because Sinatra voiced that he wanted to host a lavish Christmas party in the home, which was just six months away. Williams and his construction team rushed against the clock to fulfill Sinatra's wishes, and the $150,000 home was completed in time for Christmas. The modern home came to be called "Twin Palms" and it epitomized Hollywood living. With horizontal and clean lines, a modernist trait, the four bedroom house was completely air conditioned, something almost unheard of in the 1940s. Frank and his wife Nancy's master suite was separate from the main wing, and their three children each had their own room. For a few years, the family resided in the home and hosted some of Hollywood's elite, such as pals Humphrey Bogart, Sammy Davis, Jr., and Dean Martin. But none were more important to Frank than Ava Gardner.
Days after his divorce from Nancy in 1951, Frank married the beguiling star at a friend's home in Palm Springs and Ava settled into Twin Palms with Frank. It was during their marriage that some of Twin Palm's most lavish parties were held, with Sinatra hoisting a Jack Daniels flag when cocktail hour arrived. The Sinatra's honeymoon was short-lived, as both were passionate and ill-tempered. Twin Palms served as witness to the couples' tempestuous fights, including a time when Frank threw a champagne bottle at Ava in the master bathroom, leaving a crack in the sink that remains today. On another occasion it was said he became so angry at her accusing him of having an affair with Lana Turner, one of her closest friends, he gathered all of her belongings and placed them in the driveway.
Sinatra's fame began to crumble at the same time his marriage did, his records were no longer selling and his contract with MGM had been thrown-out. All of that changed when Sinatra got the role of "Maggio" in From Here To Eternity (1953), which earned him an Oscar. Frank Sinatra was once again at the top of the heap. He retreated to Twin Palms to strengthen his voice and, as a result,  his best-selling albums emerged. His marriage to Ava Gardner was unable to be saved, unlike his career, and the couple divorced in 1957. That same year he sold Twin Palms.
Today, Twin Palms is furnished in period-style furniture, and Sinatra continues to loom large in the home he built and where his Valentino recording equipment still resides. The desert remained Sinatra's true love, he and his fourth wife and widow, Barbara, resided in Rancho Mirage until they sold the home known as "the Compound" in 1995. Both are buried in nearby Cathedral City with Sinatra's parents and some of his closest friends. Twin Palms remains available to rent for a couple thousand a night and is a must-see on local historic tours. The estate remains a symbol of simpler times, when Hollywood and Frank Sinatra were swinging. 
Sources
From There To Eternity: Frank Sinatra and Twin Palms. Emirates. November 22, 2015. Accessed July 04, 2018. https://www.emirates.com/ci/english/open-skies/2805534/from-there-to-eternity-frank-sinatra-and-twin....  
Schiro, Caitlin. The Homes He Lived In: Frank Sinatra in Palm Springs. WNYC. November 21, 2015. Accessed July 04, 2018. https://www.wnyc.org/story/house-i-live-frank-sinatra-palm-springs/.  
Image Sources
Dezeen

CR Fashion Book

Holley Snaith

WNYC

From the Bygone

Sinatra House

Additional Information