James P. Allaire House, Allaire Village
Introduction
In 1836 James P. Allaire, the owner of this vast ironworks complex that was home to as many as four hundred people, moved his family from New York to this home. Prior to his decision to move his family here, Allaire lived in the home for only a few days each month as he traveled between this property, New York, and other properties where he had investments. Allaire purchased the land and built this iron-producing village in 1822. At that time, he referred to this village as the Howell Works as he already had an iron-producing factory that bore his name. Allaire used this home for his business before making it his family's permanent residence in 1836. Located within the Historic Allaire Village, Mr. Allaire's home includes period furnishings and artifacts to allow visitors to explore how Mr. Allaire and his family lived.
Images
James P. Allaire referred to this home as the "Big House" just as many Southern planters referred to their mansions.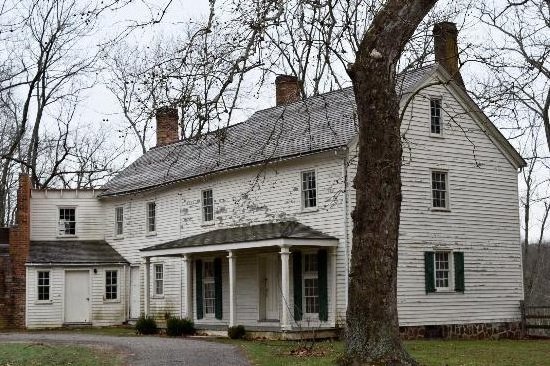 Backstory and Context
Created by iron businessman Mr. James P. Allaire, Allaire Village was an iron-producing and self-sufficient town. The town included a Blacksmith's shop, bakery, gristmill, carpenter shop, a boarding house, a school, a church, mills to finish iron products, and a general store with a post office. This home served as a headquarters for the Howell Works until 1822 when James P. Allaire purchased the property in 1822. Allaire's home was built and used for Mr. Allaire's every other weekend for business arrangements. Allaire would use the home to ensure an iron source for his New York City steam engine business. When a cholera outbreak struck New York City in the mid-1830s, Mr. Allaire decided to make the Howell Works home his family's permanent residence. When the family moved to the home permanently in 1836, it was renamed "the Big Home."
The Big Home was constructed in three sections. The first portion was built in the 1790s, which included the front porch. The Allaires constructed the second part by adding on a kitchen in the 1820s. The last section, a three-story dormitory for boys apprenticing at the home, was added soon after the kitchen. After Mr. Allaire retired, he used the dormitory for private use such as guest rooms and ball/banquet hall. In 1950, a hurricane that hit the Monmouth County area destroyed most of the three-story dormitory as well as the upstairs of the Big Home. Most of the Big Home has been reconstructed, but, unfortunately, the boy's dormitory area is in ruins. The home is currently set up as if the Allaire's were currently living there.
After Hal Allaire, Mr. Allaire's youngest son passed away in 1901, the house changed hands several times. The state of New Jersey obtained the property in 1941 from a civilian owner, Phoebe Brisbane. Afterwhile New Jersey could not uphold the funds to manage the land. This caused the state to make a deal to lease to the land to a non-profit called "Deserted Village of Allaire." The board of the non-profit contained a descendant of James Allaire named Edwin Allaire that helped restore and reopen the home and village in 1958. 
Tours are available from April to December 12pm-3:30pm. A guided tour takes about 20 to 30 minutes. The Historic Village does charge a small fee for admission and no food, drinks, or photography are allowed.
Sources
Honig, Milton; 1958, Ghost Town Opens at a Jersey Park, May 25, 1958, Page 68
"Old Monmouth County Village Returning to Life", The New York Times, June 4, 1966, Page 25
The New York Times, "Ghost Town Opens at a Jersey Park", May 25, 1958, Page 68
"Mr. Allaire's House." The Historic Village at Allaire. Accessed June 29, 2018. https://allairevillage.org/mr-allaires-house/.
Additional Information