Battle of Buffington Marker
Introduction
The Battle of Buffington Island occurred in Meigs County, Ohio in July 19, 1863. This battle only lasted one day and ended in a Union Victory for Brig. Gen. Edward H. Hobson. The Union had a brigade of about 3,000 while the Confederates also had a brigade but of only about 1,700. After this battle the Confederate Brig. Gen. John Hunt Morgan lost 800 soldiers, some of which were captured, and had to retreat east. He also lost a lot of his supplies and weaponry to the Union
Images
This is the monument. It has the information of the battle written on four plaques that surround the monument.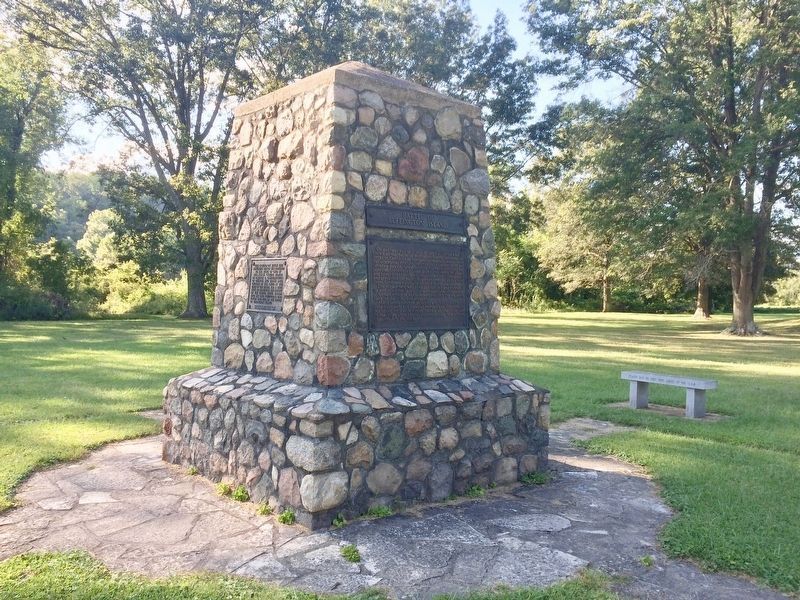 Backstory and Context
On July 11, 1863 Brigadier General John Hunt Morgan had a mission. He was to lead his cavalry of 2,000 soldiers across the Ohio River into Southern India and loosen up pressure on the Confederacy. Throughout this march, they spread fear and anxiety wherever they went. On July 13, 1863, he crossed the Ohio once again near Cincinnati and begun to attack Northern troops around the area. A group called The First Michigan Sharpshooters from the Union to pursue Morgan and deal with the crisis at hand.
The raiders that Morgan had sent down met with some unexpected surprises as two Union armies and gunboats had already foreseen Morgan's plan. This resulted in a ferocious battle between the two forces on July 19,1863 near Buffington Island. During this battle hundreds of Morgan's forces were captured, and he was forced to be on the run. From that point on, Morgan was on the run with Union soldiers are on his tail, being only minutes away from him and his soldiers. This made raiding very difficult.
Morgan's remaining forces moved North in hopes of escaping the Union forces that were chasing after them. A few difficulties stood in his way that ultimately led to his capture. There had been a lot of rain that summer, so the Ohio river was high, and the Union had riverboats that could easily out pace the horses that the Confederates had in their possession. The soldiers tried there best but they were exhausted from running away from the Union soldiers and their morale was low from being chased. Ultimately Morgan was captured a week later in a brief battle at Salineville.
Morgan and his officers were sent to the Ohio State Penitentiary in Columbus to be treated as horse thieves and criminals instead of soldiers in retaliation of the treatment Confederate prisoners were receiving. Four months after being captured, Morgan and six prisoners burrowed their way through the floor of the prison using kitchen knives until they tunneled into freedom. A year later, Morgan was killed in Tennessee and his remains rest in Lexington, Kentucky.
Sources
Harrison, John. "July 11-26, 1863 : John Hunt Morgan's Raid Terrorizes North." MSU Libraries. Accessed June 28, 2018. https://blogs.lib.msu.edu/red-tape/2017/jul/july-11-26-1863-john-hunt-morgans-raid-terrorizes-north/.
Spec. "Morgan's Raid through Ohio." Miami University Libraries Steward Sustain Department. Accessed June 28, 2018. http://spec.lib.miamioh.edu/home/morgans-raid-through-ohio/.
Ohio State University. "Buffington Island (St. Georges Creek )." The Rise of Big Business | EHISTORY. July 19, 1863. Accessed June 28, 2018. https://ehistory.osu.edu/battles/buffington-island-st-georges-creek.
Additional Information