Salvador Vallejo Adobe
Introduction
This is the location of one of Captain Salvador Vallejo's ranches in Sonoma, California. Captain Vallejo is the lesser known brother of General Mariano Vallejo, the founder of Sonoma. The original inhabitants, native Coastal Miwoks were put to work when Captain Vallejo decided this was the location for his ranch. He lived on a property north of the ranch, in Napa, California. Captain Vallejo was given a mission by Governor Figuera to survey the land north of Mission San Rafael. He was granted 44,000 acres to live on, and then later another 22,000 on top of that to gain control of the area, considering Mexico did not provide much support to this Spanish Colony. Captain Vallejo operated here until the Bear Flag Revolt in 1846, when Captain Vallejo was taken as a prisoner of war alongside his brother General Vallejo, and sent to Sacramento. Since then, the Native Sons of Golden West, a native born California organization that is dedicated to preserving history, purchased the adobe in 1910, and preserved it until 1951, when the state purchased it, and declared it part of the Petaluma Adobe State Historic Park, as well as a National Historic site.
Images
Plaque located outside adobe location. A brief history of the building.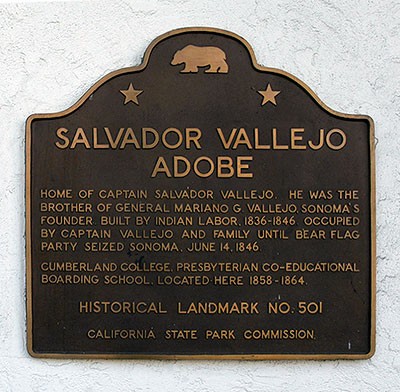 The unfinished building of the Salvador Vallejo Adobe, now a museum that offers tours of the property.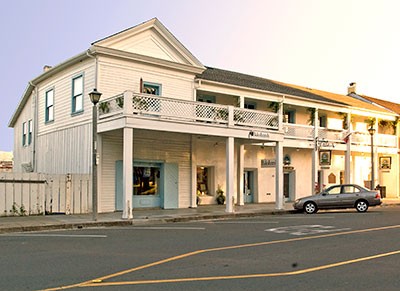 Captain Salvador Vallejo escorted General Mariano Vallejo's wife from San Diego to Sonoma, where he fell in love with her sister along the way.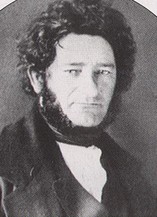 Backstory and Context
Before Captain Vallejo decided to live in the Solano/Petaluma area, it was scouted for a mission location by Spanish priests. Padre Jose Altimira looked for a location originally in the San Francisco area, but later settled in Sonoma, and founded the Mission San Francisco Sonoma, near what ended up being Captain Vallejo's home. This was beneficial to Vallejo because the Indians all would live in the mission and learn various trades before moving to build and work in his ranch later. Captain Vallejo was given an assignment by Governor Figuera in 1834 and began building his ranch right away. The Hispanic style building was built by the local Coastal Miwok in the area. When the ranch began to function, they also worked on it as servants, ranch hands, as well as a variety of other trades under Captain Vallejo. The adobe was the largest privately owned within California. With the 66,000 acres total granted to him by the Mexican government, Captain Vallejo would be able to secure the area and specifically carry out his mission. His mission was to secularize Mission San Francisco Solano, colonize the area as well as start a pueblo, and to keep an eye on the nearby Russian outpost at Fort Ross. Captain Vallejo was constantly overshadowed by his older brother, General Mariano Vallejo, and was sent all over Alta and Baja California for various military operations through the Mexican government.
The adobe's prime location allowed for the Vallejo brothers to become rich and powerful, and control most of the Alta California area. As the Vallejo family rose to power, tensions between Mexico and the United States were rising. At this point American settlers greatly outnumbered the local Mexicans, and the Native people had been driven out especially since the beginning of the Gold Rush happening around this time, and Mexico City began withdrawing interest as well as resources from the territory. The Petaluma Adobe property area became a popular spot for squatters and American settlements. The Vallejo brothers were very supportive of these newcomers and in many cases gave them food, money, and land.
As tensions were rising between Americans and Mexicans, the Mexican government knew not before long the United States would add California territory to its country. Captain Vallejo was a supporter of this idea, so when the Bear Flag Party arrived in 1846, he did not put up a fight. Captain Vallejo was informed he was a prisoner of war, and after a friendly conversation, he went peacefully with his captors to Sacramento until his release two months later. Many of the Captain's belongings were destroyed, and although he tried to maintain his property after his release he was unable to do so, and eventually sold it to French colonists. After the Salvador Vallejo Adobe was captured, many similar conquerings happened, until the Bear Flag Party essentially had control over the entire Spanish colony. California became a republic at this time under the power of the Bear Flag Party, and Americans had taken what little Mexican authority was left in the area. Shortly after the Republic was formed, it was taken over again in 1850, when California officially became part of the United States. When Captain Vallejo was captured in 1846, his house was still under construction and remains this way still today. There is a museum in the main body of the house where visitors can go to learn more about this once prestigious military family.
Sources
Whittle, Syd. Salvador Vallejo Adobe. Hmdb.org. January 12, 2018. Accessed June 07, 2018. https://www.hmdb.org/marker.asp?marker=15256.

Petaluma Adobe State Historic Park. California State Parks. . . http://www.petalumaadobe.com/briefhistory.html.

This Day in History: June 14th. History. . . https://www.history.com/this-day-in-history/californias-bear-flag-revolt-begins.

Petaluma Adobe State Historic Park. California State Parks. . .

. . https://goo.gl/images/EUB5MK.

. . https://goo.gl/images/Bs4KMg.

. . https://goo.gl/images/FFVDLz.


Additional Information